---
Breathe in God's Presence — Exhale Life's Anxieties
By Jennifer Tucker
•
January 23, 2023
•
5 Minutes
---
Excerpt from BREATH AS PRAYER: Calm Your Anxiety, Focus Your Mind, and Renew Your Soul. Copyright © 2022 by Jennifer Tucker. Thomas Nelson, an imprint of HarperCollins Publishers. Reprinted by permission.
God Calms Your Anxious Heart
Breath prayers have changed me. They are my lifeline when I walk through dark and difficult days. They comfort me, not just in times of high anxiety but on any day, strengthening both my body and soul by helping me tuck important truths in my heart.
Breath prayers are not a cure for anxiety, nor are they a replacement for professional medical treatment or therapy. But they can be a powerful tool to add to your mental health toolkit.
Anxiety doesn't have to trigger you to spiral into panic, but it can instead trigger you to turn to Christ in prayer. So when anxiety begins to press in, try a Breath Prayer:
Breathe in deeply. Things may not feel ok right now, but that's okay because God is still with you.
Breathe out slowly. No need to rush. God is in control. He knows what He is doing. You are safe and held and loved.
Pray Scripture. As you breathe, meditate on a truth from God's Word. For example, with Psalm 23, you would focus on "The Lord is my Shepherd" as you inhale – and on "I have all that I need" as you exhale.
Repeat. Continue the prayer as many times as you need to until your anxiety eases, your body and brain calm, and your soul and mind come back into alignment with Christ and His love for you.
You are created for so much more than an anxious life full of fear and worry – you are called to an abundant life of peace and joy as you are transformed by Christ and your mind is renewed day by day.
Anxiety is not an enemy you need to fight. It is an opportunity to slow down and invite Christ into your struggle, to breathe deeply in His presence, and let His peace enter into all your broken places.
By turning your thoughts to truth and reorienting your heart to Christ through prayer, you participate in the work of the Holy Spirit and "let God transform you into a new person by changing the way you think" (Romans 12:2 NLT).
Overcome Anxiety: A Breath Prayer to Practice
Anxiety can feel like a storm inside you. Thick clouds of fear fill your mind as showers of sorrow and suffering spill from your heart and the winds of uncertainty blow in from every side. It's easy to feel tossed on the waves, drowning in a raging sea of worry or pain.
But God is powerful. With a word, He can calm the waves. With a breath, He can still the storms. His presence alone turns thunder to a whisper and crashing waves into hushed silence. The same God who calms the storms of the sea can calm your heart today. The waves of your circumstances may keep rising, and the thunder of fear may continue to boom, but there can be peace and calm in your soul when you focus on the One who is with you rather than the storm that surrounds you.
What waves are crashing into you today? What thunder is drowning out His voice? Name the storm you're in; then trust that God has the power to calm it to a whisper. And trust that if He doesn't calm the storm, He will calm you through the storm. He's riding those waves with you, right by your side (Psalm 107:28-29).
Inhale: You still the storms to a whisper.
Exhale: You hush the waves of the sea.
…
Order your copy of BREATH AS PRAYER: Calm Your Anxiety, Focus Your Mind, and Renew Your Soul by Jennifer Tucker.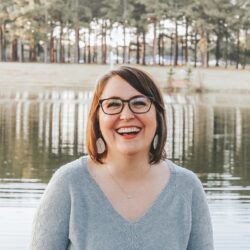 Next Steps To Strengthen Your Walk
We are here for you. Simply click on the button below to reach us by form, email or phone. Together we will lift our hearts and voices with you in prayer.
I Need Prayer
Sow a seed of faith today! Your generous gift will help us impact others for Christ through our global salvation outreach and other faith based initiatives.
Give Online Today
Watch Christian content from your favorite pastors, christian movies, TV shows and more.
Watch Now