---
Katy Nichole: God Makes All Things Possible (Part 1)

By John Farrell
•
September 23, 2022
•
13 Minutes
---
John Farrell: Can you tell me a little bit about your self-titled debut EP?
Katy Nichole: Yeah, absolutely. So, there are four new songs, and "In Jesus Name" is also on there. There are six songs.
The new songs that I wrote that are brand-new to everyone are just another piece of my heart and they are so incredibly important to me. I call my songs "song babies" because I love them so much. They're like children to me. These songs are really close to my heart and I wrote all of them from different seasons of my life. So, they're not all at one time. I didn't write them all at one time. They were all different parts of the year or they were last year.
Specifically, I'm writing from a place that's talking about real things because I didn't just wanna talk about the same ideas that have been heard many times before. I love to tell the name of Jesus, so I've put songs in there that do that as well.
A lot of these are stories of my life, and what I want people to take away from this is that it's not just my story, but it's our story.
In Jesus Name
JF: One of the six songs on the album is "In Jesus Name (God of Possible)," which is extremely popular and is still number one on several charts. Its video even garnered you recognition as a trending artist on the rise by YouTube. What is it about the song and its message that resonates with so many people?
Katy: That's an interesting question because I honestly did not expect for that many people to be impacted by the song. There was a part of me that was like, "Why is this different from any other song?"
I think what I've realized over time and having heard the stories behind why people are feeling this song different than others is that there's power in prayer. And people are finally finding the words to pray. There's something about that that just blows my mind because I know for a fact that it has nothing to do with me, but it has all to do with the words that God gave to me and He's allowing me to speak over others. And now they get to speak it over their loved ones and their friends. That is an incredible gift.
JF: What is the genesis for the song?
Katy: I wrote the song in August 2021. I wrote the song as a prayer, but it was a completely different song at the time. Only a portion of the song was the prayer part.
I love praying. I love talking to God. It's something that I do that is a fun thing for me. I've been writing in a prayer journal. That's the way I talk to God. I've been writing in this prayer journal for the last three-ish years.
While writing the song, I was definitely taking away from that, but not really. It wasn't like actively in my mind as we were writing the song. But about five months later after we wrote the whole thing and "In Jesus Name (God of Possible)" was fully written, I go back into my prayer journal and start to realize that I was once praying that prayer over myself. I was praying for my healing. I was praying for circumstances to change. So, a prayer I once prayed over myself is now a prayer I get to pray over others.
Worship Song of the Year
JF: Early this summer you received your first KLOVE Fan Award for "In Jesus Name (God of Possible)." What was it like receiving such a huge honor for that song?
Katy: I went to the KLOVE Fan Awards not thinking I was gonna win at all. I had an interview that was right before the awards and they were like, "Out of the nominations you have, which one would you wanna win?" I said "Worship Song of the Year" because I feel as though I'm a worship leader at heart and that would be one of the greatest honors to receive. Then I ended up winning and I was completely blown away because I've been leading worship now for the last three years and it's something that's so special to me.
To win an award like that is just unbelievable because that's how God can move. That's what I was seeing in winning that award.
JF: And you were going up against some pretty steep competition in that category?
Katy: Absolutely! I thought there's no way I'm gonna win over any of these people. And to be honest, it was kind of like, I wanted them to win because I love their music.
JF: Is it correct to say that it was a shock and you were stunned when you got up there to accept the award?
Katy: Oh, absolutely!
God Is in the Story
JF: So, there's another song on your album called, "God Is in the Story," and you had the opportunity to work with Big Baddy Weave on it. What was it like collaborating with the group?
Katy: We didn't actually write this song together. I was going out on tour with Big Daddy Weave. That's kind of how this all started.
I went out on the road with them, and I was singing the song "God Is in the Story" every night. And we were talking about how possibly there would be a collaboration on "God Is in the Story" and we were going through some different people and then they brought up Mike Weaver. I was like, "There is no better person to share their story." Mike Weaver is one of the best humans I've ever met. And we were discussing it with him and he was like, "Absolutely." So, we talked about it and ended up going in and recording it. I was like this is not my story, it's our story. I just thought that was such a cool thing.
JF: So, what is the story behind that song?
Katy: The story behind the song is I was going through a really rough season of life and I was actually telling someone my story. It was really hard for me in the very beginning to talk about some of the things that have happened to me in my life because it can bring back some really negative memories for me.
But I was telling someone my story and they said, "The coolest thing about your story is that God is in it." I walked away from that being like, "Oh, I gotta write that down. God is in this story." I went to write the next day, told the other writers what I had heard and this idea I had, and they loved it. We all discussed parts of our stories.
I really thought that was a cool moment, being able to share my story and their stories as well. And kind of talk about how God is in the details. God is in every part of our story, not just the best parts, but the hard parts too, and how God just completely shows up. He is the greatest author of all time in writing these stories of our life.\
JF: Amen.
I think a lot of times it's hard for people to remember that in those dark times that God wrote your story. He knows the ending, and He's not going to lead you astray.
Katy: Yeah, absolutely.
Jesus Changed My Life
JF: There's another song on that album titled "Jesus Changed My Life." How did Jesus change your life and where did the idea for this song originate?
Katy: This happens to be probably one of my favorite songs on this EP.
I remember the day that I wrote it. I walked into the room, and I was like I need to tell people how Jesus changed my life. We ended up writing this song called, "Jesus Changed My Life."
I've spent a lot of my time in my life running through all the wrong places and trying to gain satisfaction in this world and realized very quickly how that was never gonna do anything for me. It never satisfied the way I needed it to. I started having a relationship with Jesus because I've been a Christian my whole life, but when I started truly having a relationship with Jesus and trying to grow in a more intimate way with him, I realized how different my life was. I realized that there was no love like Jesus and how that was transforming me as a person.
I've made a lot of mistakes in my life, too. And I look back on those things and I'm like, "Look at how Jesus took me from that to where I am now." I truly think of it as He took me from death to life. And that is just a beautiful thing. There's a line in the song that goes, "Hell bound lost and then found." That truly was how I felt in certain moments of my life. I'm not bound for good things if I'm not truly following Jesus with my whole heart. And so I made that decision to follow Jesus with my whole heart.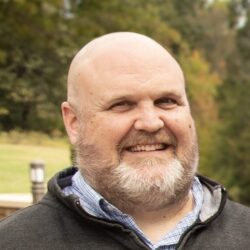 John Farrell is the Digital Content Manager for www.inspiration.org. In addition to having written more than 1,000 articles, press releases, and other pieces of content for Inspiration Ministries, NASCAR, Lionel, and Speed Digital, he authored The Official NASCAR Trivia Book: With 1,001 Facts and Questions to Test Your Racing Knowledge in 2012. John is a graduate of Appalachian State University and lives in Concord, N.C., with his wife and two sons.
View Author Posts
Next Steps To Strengthen Your Walk
We are here for you. Simply click on the button below to reach us by form, email or phone. Together we will lift our hearts and voices with you in prayer.
I Need Prayer
Sow a seed of faith today! Your generous gift will help us impact others for Christ through our global salvation outreach and other faith based initiatives.
Give Online Today
Watch Christian content from your favorite pastors, christian movies, TV shows and more.
Watch Now