---
Carla Bianco: A Vessel of God's Love (Part 2)

By John Farrell
•
July 21, 2023
•
10 Minutes
---
John Farrell: Since the songs on this album, You Love Me as I Am, come from a very personal time in your life, what is it like sharing these feelings and emotions, and performing them live?
Carla Bianco: It's truly a beautiful experience. I have to say that making this transition into Christian music, there was nothing else for me. There was no other music that I felt compelled to sing, but at the same time God is in the deepest parts of my heart and my soul, so to sing about Him and my feelings about receiving His love and that personal reflection of God is really personal.
It was scary too to put this music out there and to say God loves me and I love God. But I'm so thrilled and happy to be able to share this with everyone. It was definitely a vulnerable move. And at the same time so beautiful and just feels so right.
It's really just a great experience to be able to share it with people and to have that give and take of how they're receiving the music, receiving the love of God when they hear it, when they feel it in their own way, and to be able to talk about it with them afterwards. It's really just a beautiful experience.
Getting to the Root of the Truth in Her Music
JF: How would you describe your sound to someone who's never heard you sing before?
Carla: This is always hard for me to describe myself because I guess it's the sound of comfort and peace and love with the lyrics, the sound of my voice, the music that supports it. It also has a life and an energy underneath it too. An undercurrent of positive energy underneath it, but it's definitely filled with a natural expression of knowing God's love. It's a truthful expression.
JF: You're not only a well-known singer, but you've had numerous roles on Broadway and on the big screen. So, how does your music and acting influence each other as you go back and forth between the two?
Carla: It comes to that root of truthful expression whether I'm writing a song or acting a part. Whatever it is I'm doing in that expression of art, it's always getting to the root of the truth of the feeling that I'm expressing.
Most of the parts that I've played have had some theme around love and now it's really specific to God's love, but God is love. I've been really blessed that the work that I've gotten to do has surrounded the goodness of God and had that love theme in it. But it's always connected. It has that connective tissue of getting and expressing the truth.
A Broadway Star
JF: What's been your favorite role?
Carla: I guess it would have been Maureen in the musical "Rent." That was at a different time of my life. She was just a fun character because she's doing this performance art piece where she's protesting the eviction of the homeless because they're trying to get rid of their tent where they live. She's standing up for what's right.
In the piece, she talks about everybody taking this leap of faith, and she gets everybody to moo like a cow. It was a fun, comedic piece in a show that's about love.
The biggest song in that show that's known is "Seasons of Love." It's about living each moment and seeing the love that's in each moment, whether it's in a cup of coffee or in the sunrise or in a friend's kind words. I just had so much heart being in that show because of the message that it was getting across, but I especially had a blast playing that part.
JF: When were you with "Rent"?
Carla: I was in the original West Coast premiere. That was in 97, and I was in it through 2000 when I went to do it on Broadway after that. Then I was in and out of the show a couple of times in New York.
JF: Would you say you're an actor, singer, or songwriter first?
Carla: I would say a songwriter. I've been writing since I was ten. I feel like the place where I make the biggest connection with the spirit of God is in writing. And that goes back even before the transformative experience I had in 2015. Even when I was writing as a kid, that's where I find I'm communing with God. That's my favorite.
Meeting an Icon in the Music Industry
JF: Could you please tell me a little bit about when you first met Jellybean Benitez?
Carla: I had just moved to New York. I was going to NYU. I actually applied to the school because I was going to school in Pittsburgh and I wanted to move to New York, and I knew my parents were never going to let me go to New York. So, I applied to NYU in secret via cassette tape to the jazz department. I learned how to sing jazz. You were able to do it through the mail.
I applied and I got accepted. I told my brother and sister, and they helped me go to my parents. Everybody convinced them to let me go.
I went in the spring semester of my junior year, which was the last possible moment that you could transfer to another school. I was there for two months. It was spring break, and everybody was going to various places. I didn't have any money to go anywhere, and I remembered that someone had told me, "You should look up Jellybean Benitez. He's always looking for new talent."
I knew he had discovered Madonna and I followed her career because I was inspired by the fact that she was an Italian girl like me and had made it in music from nothing.
I found out where his office was, and I went there the first day of spring break at 6:00 a.m. and sat outside his office. I really had no idea what he looked like. I just had an album cover of a distant photo of him, and nobody came by that looked like him.
The second day I met the security guard in the building. I told him what I was doing. He said, "Jellybean comes in around eleven. He wears a black suit and white tennis shoes. The third day I'm sitting outside on this steel pipe that comes up out of the ground. I'm listening to music, and I see this guy walking down the street. He says, "Hi." I said, "Hi." I look at the ground and I see white tennis shoes, and then I see the black suit and he goes into the building.
I thought, "Oh no, what if that's him?" So, I ran in and I said, "Jellybean." It's echoing in this big marble lobby. He turns around. I'm like, "Hi. I've been waiting for you for three days. My name is Carla Bianco. Can I have ten minutes of your time? I just want to show you what I can do."
He looks at me and puts his two fingers up to gesture to come here. He invites me to go up in the elevator. I sat down at the piano in his office and played a song that I wrote. He then asked for a demo and everything.
A week later, he called me to his office and offered me a management deal, a production deal, and a publishing deal, and he put a song that I wrote on his next record. That's how I broke into the music business.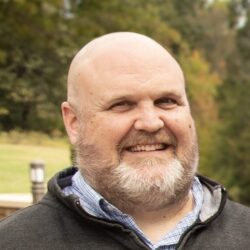 John Farrell is the Digital Content Manager for www.inspiration.org. In addition to having written more than 1,000 articles, press releases, and other pieces of content for Inspiration Ministries, NASCAR, Lionel, and Speed Digital, he authored The Official NASCAR Trivia Book: With 1,001 Facts and Questions to Test Your Racing Knowledge in 2012. John is a graduate of Appalachian State University and lives in Concord, N.C., with his wife and two sons.
View Author Posts
Next Steps To Strengthen Your Walk
We are here for you. Simply click on the button below to reach us by form, email or phone. Together we will lift our hearts and voices with you in prayer.
I Need Prayer
Sow a seed of faith today! Your generous gift will help us impact others for Christ through our global salvation outreach and other faith based initiatives.
Give Online Today
Watch Christian content from your favorite pastors, christian movies, TV shows and more.
Watch Now