---
Roger Gates: Have Cross, Will Travel

By John Farrell
•
August 30, 2023
•
13 Minutes
---
At 72, Roger Gates is doing something most of us would never think of doing … young or old.
In 2019, Roger heard God speak to him. He told Roger it was time for him to go on a walk.
"God gave me the spiritual ears to hear, and I hear his voice. He doesn't say a lot, but it's just little things," Roger said during a phone interview. "And I know what it means when He says it because He's said it to me before."
The walk, however, wasn't your typical trip around the neighborhood or a couple of miles. In fact, he's still on his walk.
Of course, when your route is approximately 3,500 miles (from the Atlantic Ocean off the coast of North Carolina to California's Pacific Ocean), it can take some time. Roger estimates it may take him a year and a half to complete (after starting in March 2020). He could probably walk the route in less time, but several factors are slowing him down.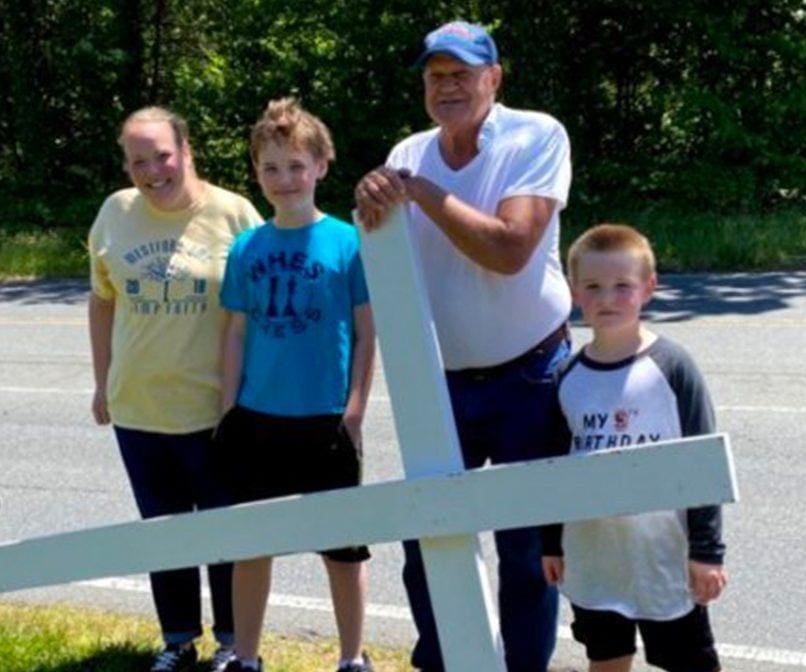 The first is a wooden cross standing about 11-feet tall with a 4-foot cross-section. At the base of the cross is a box that seals for all of his necessities, such as a tent and food. The box has two wheels to allow for easier transport. In all, the cross weighs between 40 and 60 pounds, depending on how full the box is. Sometimes, however, the cross feels heavier.
"When I go uphill, it feels like the weight doubles," Roger stated. "It really gets tough, but my legs are getting stronger. It's not quite as bad now going up the hills, but as I go along I'll be able to walk farther and farther."
The second thing he has to contend with, which he promises is not a problem at all, are all the people who stop him along the way. Although Roger is just a couple of months into his journey, he has already developed a huge following on social media, primarily Facebook.
About a month after Roger started his walk near Wilmington, NC, several ladies contacted him with an idea to create a Facebook page to track his progress and let his fans know where he is along his journey. As he walks from town to town across the U.S., he welcomes the opportunity to stop and talk to everyone he meets. (As of August 2020, the Ministry of Truth also has a new website where people can learn more about Roger, track his progress, read articles, buy merchandise, and donate.)
"So many people are stopping me along the road that it actually slows me down, but that's what it's meant to be. God told me not to turn anybody away that comes to talk with me. I listen to what they say and then I let the Lord answer them back through me.
"Sometimes, we're just sitting there laughing and carrying on talking and just having fun. But, sometimes it's serious."
To ensure that he's not skipping any section of the trek, Roger makes sure he starts walking from the exact spot he finished the previous day. Some nights he may find transportation to a hotel and a ride back to the same spot the following morning. Of course, he also has no problem sleeping in his tent on the side of a road.
The challenge of walking across the country isn't new for Roger. Thirty-one years ago, again at God's request, he made the journey from the Atlantic to the Pacific in a year and two weeks (about six months shorter than his current planned trek). Of course, back then, there was no social media and no one following him online. He was also considerably younger.
"The biggest thing when I started this walk was my age because I started as an old man," Roger stated. "I don't exercise and I didn't get ready for this. When I started, I was walking four or five miles a day and I thought it was going to kill me. Every inch of my body hurt, but as I went along the Lord got me to where I can now walk 20 or 21 miles and still be able to walk."
The Message
About eight months after Roger heard God's voice, he started his journey with a simple message in his heart and a grand plan in mind.
"The main message I'm putting out to people is that God truly loves us all despite our faults," said Roger. "He waits for us to come to His way."
Like so many others, this was a message Roger had to hear years ago. As a youngster, Roger was close to the Lord, but as he got older and became more entangled with all the trappings of the world he strayed.
"I walked so far away that I couldn't even think of God or Jesus, and I wound up in prison. That's where I found my Lord after I was in prison for a year. I didn't find Him, He found me and He point-blank told me who I needed back in my life. He told me I needed His Son Jesus Christ. Right then, I surrendered my life unto His hands. I was hurting and crying because He made me see what I had become and I was a very ugly, ugly person."
After opening his heart to Christ while in prison, Roger, who refers to his mission as the Ministry of Truth, allowed himself to be shaped by God into the person he believes his Holy Father wants him to be. He's dedicated his life to being more receptive to God's instructions and doing whatever God tells him to do.
Even if it is to walk across the country with a cross.
In regards to why he was tasked with taking the cross with him on his journey, Roger explained it this way: "The cross He had me build and carry is to get the attention of the people. The cross symbolizes what Jesus did for us, but it also allows me to share with the people who come out to see who's carrying it. It allows me to talk with them and have a good time with them and let them know how much God loves them."
According to Roger's website, "The Ministry of Truth is a Christ-centered movement that has a simple mission of sharing the gospel, impacting lives, and giving hope of transformation in Christ."
The Warehouse
Roger isn't only walking to spread the message of Christ to everyone he meets. He has a specific cause in mind.
Just outside of his small hometown of Braggs, Oklahoma, tucked up in the hills, sits about 100 acres of unused land that happens to be for sale. Roger has his eyes on the spot for a massive 80-acre disaster warehouse – a warehouse that God has instructed him to build.
The warehouse, which will be built in three stages, will be stocked with tents, medical supplies, first aid kits, food, bedding, and all kinds of other supplies to distribute during major disasters nationally and internationally.
According to Roger, the warehouse "is going to be able to reach around the world at a moment's notice and send supplies to disaster areas. The warehouse will be owned by the people to glorify God and no one, including me, will receive a paycheck. One hundred percent of the funds will go toward doing the will of God for His people."
If the warehouse staff is unable to get into a disaster zone, Roger hopes that the nearby military base will be able to help deliver the supplies to the affected areas.
After the Walk
As of August 26, 2020, Roger is in western Tennessee with his eyes set on Arkansas next. If he's still on pace to make it to the Pacific Ocean 18 months from the date he started, he should arrive at his final destination around September 2021.
Roger's original plan for the cross once he reaches the Pacific Ocean was to dig a hole and stick the end of the cross in it. He planned to leave the cross there until it either rotted away or someone tore it down. Instead, he has decided to place it in the museum that will be a part of the warehouse.
Once the warehouse is built, one of its walls will chronicle his walk across America – a route that will take him through North Carolina, Tennessee, Arkansas, Oklahoma, Texas, New Mexico, Arizona, and California. Everything people give Roger along the way will eventually become a part of this memorial. From drawings to hero coins to cross necklaces and everything in between, every item will find a home on the wall, and visitors to the museum can see where he visited and what he was given.
Roger, however, already has plans for after his walk. He wants to retrace his journey … albeit this time in a car. He hopes to visit with many of the people he met along his path that made the trip so memorable and fun.
Of course, why wouldn't Roger want to retrace his journey when he's "really enjoying life for the first time in 72 years"?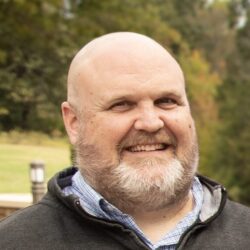 John Farrell is the Digital Content Manager for www.inspiration.org. In addition to having written more than 1,000 articles, press releases, and other pieces of content for Inspiration Ministries, NASCAR, Lionel, and Speed Digital, he authored The Official NASCAR Trivia Book: With 1,001 Facts and Questions to Test Your Racing Knowledge in 2012. John is a graduate of Appalachian State University and lives in Concord, N.C., with his wife and two sons.
View Author Posts
Next Steps To Strengthen Your Walk
We are here for you. Simply click on the button below to reach us by form, email or phone. Together we will lift our hearts and voices with you in prayer.
I Need Prayer
Sow a seed of faith today! Your generous gift will help us impact others for Christ through our global salvation outreach and other faith based initiatives.
Give Online Today
Watch Christian content from your favorite pastors, christian movies, TV shows and more.
Watch Now