---
By Jeremiah J. Johnston
•
August 8, 2022
•
13 Minutes
---
Excerpt taken from Unleashing Peace: Experiencing God's Shalom in Your Pursuit of Happiness by Jeremiah J. Johnston
William Thackeray's nineteenth-century novel Vanity Fair has been recognized as one of the best English language novels of all time.¹ Thackeray was so influential that Charlotte Brontë dedicated her novel Jane Eyre to him. Thackery described his book's setting "as a very vain, wicked foolish place full of all sorts of humbug, falseness, and pretension … not a moral place certainly, nor a merry one, although very noisy — a world where everyone is striving for what is not worth having."² It is sad to say that his description mirrors the human soul today, with so many striving for what is not worth having.
You may not be aware that John Bunyan originally coined the term "Vanity Fair" more than 150 years earlier in The Pilgrim's Progress, describing a town called Vanity with a never-ending fair of evil organized by Beelzebub, Apollyon, and Legion. Christian and Faithful search for truth in Vanity and only find contempt. Faithful is burned at the stake, and Christian barely escapes with his life.
Then I saw in my dream, that when they were got out of the wilderness, they presently saw a town before them, and the name of that town is Vanity; and at the town there is a fair kept, called Vanity Fair: it is kept all the year long; it beareth the name of Vanity Fair, because the town where it is kept is lighter than vanity; and also because all that is there sold, or that cometh thither, is vanity.³
Like Christian and Faithful, perhaps you have found yourself looking through the stalls of your own Vanity Fair. There is no truth for sale in Vanity Fair, though, only lies — lies that lead to anxiety, distrust, despair, and loneliness.
The Scriptures tell us "there is no peace … for the wicked" (Isaiah 48:22) and again, "there is no peace for the wicked, says my God" (Isaiah 57:21). If we have learned anything in this book, it is this: Anything that costs you your peace is too expensive. But how do we find peace? How do we recognize peace? How do we know peace? Truth is the first step. For Jesus said, "I am the way, and the truth, and the life; no one comes to the Father, but by me" (John 14:6).
Peace to You!
It is Sunday night, April 5, AD 33, and gathered together behind locked doors is the faithful group of disciples along with, we can speculate, the women mentioned in Luke 8 and 24. The day has been full of empty-tomb discoveries and resurrection appearances. Early Sunday morning, Mary Magdalene discovered the empty tomb and nearly mistook the resurrected Christ for the gardener (Matthew 28:1–10; John 20:1–18). We don't know exactly when, but at some point Jesus appears to Simon Peter. The Emmaus disciples have had a particularly busy Sunday, for we know they walked seven miles earlier in the day from Jerusalem to Emmaus (see chapter 14 of this book for more details). Little did they know, the stranger who joined them for the walk and a meal was the resurrected Jesus himself. And let us not forget, they walked, or perhaps even ran, seven miles back to Jerusalem to spread the news, "He is alive!" Luke's account is fast-moving, for even as the disciples, no doubt breathless, are reporting to "the eleven" about their experience with Jesus, he appears in their midst with a "mic drop" expression of shalom!
As they were talking about these things, Jesus himself stood among them, and said to them, "Peace to you!" Luke 24:36 esv
Shalom functions as a major descriptor throughout the Bible for salvation, but it centers on the finished work of Jesus Christ. Only in the physical, bodily resurrection of Jesus does the full expression of shalom come true. Jesus used the common greeting, "Shalom to you," but from this moment on, "Shalom to you" means so much more because of his decisive victory over sin and death. Professor George R. Beasley-Murray writes: Never had that "common word" [shalom] been so filled with meaning as when Jesus uttered it on Easter evening. All that the prophets had poured into shalom as the epitome of the blessings of the kingdom of God had essentially been realized in the redemptive deeds of the incarnate Son of God, "lifted up" for the salvation of the world. His "Shalom!" on Easter evening is the complement of "It is finished" on the cross, for the peace of reconciliation and life from God is now imparted. "Shalom!" accordingly is supremely the Easter greeting.4
When you discover the true meaning of shalom, it will transform your life. Jesus is our shalom. In Jesus we experience peace with God (Romans 5:1) and the peace of God (Colossians 3:15). Jesus established a lasting, eternal peace for us through his death and resurrection, which is available to all on the basis not of works but of faith in him. As pastor Nicky Gumbel says, "Peace is not the absence of trouble, it's the presence of Jesus in the midst of trouble."5
Luke and Paul wrote more than half of the New Testament,6 and peace is significant in all of their writings. At various places "peace" and "salvation" are used interchangeably. It is noteworthy that in Luke's gospel and his sequel, the book of Acts, the word peace appears thirteen and seven times respectively. Luke's gospel is written for a Roman audience. The peace of Rome (Pax Romana) or, more specifically, the peace of Augustus, was the great lie of the first century. Clearly, Luke is writing about true and lasting peace found not in Augustus or Rome, but in Jesus, the Lord of all. Luke records Zacharias's prophecy of peace: "Because of the tender mercy of our God, with which the Sunrise (the Messiah) from on high will dawn and visit us, to shine upon those who sit in dark-ness and the shadow of death, to guide our feet [in a straight line] into the way of peace" (Luke 1:78–79 amp). The backdrop to this prophecy uttered by Zacharias, John the Baptist's father, is Isaiah 59:8: "They do not know the way of peace" (amp). In other words, without Jesus we do not know the way of peace. It is unattainable.
In the magisterial work of Romans, Paul's letter is bookended with the word peace (1:7; 16:20). His one mention of Satan in Romans comes with this victorious promise: "The God of peace will soon crush Satan under your feet" (16:20). Elsewhere in Romans, Paul writes that we serve "the God of hope" who fills us with "all joy and peace as [we] trust in him" (15:13 niv). In Ephesians, Paul utilizes the first three chapters to share with believers all that is theirs in Jesus Christ: "But now in Christ Jesus you who once were far off have been brought near by the blood of Christ. For He Himself is our peace" (2:13–14 nkjv). Also in Ephesians, Paul states that the gospel itself is "the gospel of peace" (6:15), and that Jesus "came and preached peace to you who were far away, and peace to those who were near" (2:17 nasb 1995). And in 2 Thessalonians, Paul prays for the peace of fellow saints: "Now may the Lord of peace himself give you peace at all times and in every way. The Lord be with all of you" (3:16 niv).
Paul uses the phrase "the God of peace" six times, and, and as we have seen, God's peace is the antidote to anxiety (see Philip-pians 4:9). We serve "the God of hope" who fills us with "all joy and peace as [we] trust in him" (Romans 15:13 niv). Isaiah 9:6–7 tells of the coming Messiah King known as the Prince of Peace: His name will be called
"Wonderful Counselor, Mighty God,
Everlasting Father, Prince of Peace."
Of the increase of his government and of peace there will be no end.
Jesus established peace for us! Jesus' peace is an objective reality, and the subjective feeling of peace will come as we allow Christ to be established in our hearts through communion with him in his Word.
The night before Jesus was crucified, he told his disciples, "Peace I leave with you; my peace I give to you, not as the world gives do I give to you. Let not your hearts be troubled, neither let them be afraid" (John 14:27). The double use of "peace" in Jesus' last words is inspiring.
Jesus gives something the world (i.e., Vanity Fair) cannot give: peace. Temporary "peace," the only peace the world offers, is circumstantial at best. And notice Jesus' words: "I leave with you . . . I give to you." He gives us a gift, a gift called peace. This is a "Christ-given serenity,"7 and you can have it right now in Jesus.
…
Jeremiah J. Johnston, Unleashing Peace: Experiencing God's Shalom in Your Pursuit of Happiness. Bethany House, a division of Baker Publishing Group, 2021. Used by permission. www.bakerpublishinggroup.com
Order your copy of Unleashing Peace: Experiencing God's Shalom in Your Pursuit of Happiness by Jeremiah J. Johnston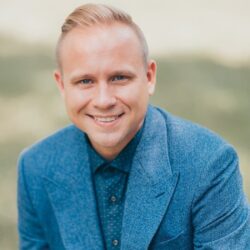 Jeremiah J. Johnston, PhD, is a New Testament scholar with a calling to equip Christians to love God with all their hearts and minds. As president of Christian Thinkers Society, Jeremiah is passionate about working with believers to give intellectually informed reasons for what they believe. Learn more at christianthinkers.com
View Author Posts
Next Steps To Strengthen Your Walk
We are here for you. Simply click on the button below to reach us by form, email or phone. Together we will lift our hearts and voices with you in prayer.
I Need Prayer
Sow a seed of faith today! Your generous gift will help us impact others for Christ through our global salvation outreach and other faith based initiatives.
Give Online Today
Watch Christian content from your favorite pastors, christian movies, TV shows and more.
Watch Now