---

By Caitlyn Scaggs
•
May 10, 2022
•
5 Minutes
---
You Can Hope Again
As followers of Jesus we are called to be a radiant light. We must shine bright in our world that so desperately needs it. However, there are undoubtedly days and seasons when the brokenness of this world threatens to dull our brilliance.
Between news cycles that lead with tragedy or negativity shared on social media, things can feel downright hopeless. It seems to be part of our human condition to wrestle with deep discouragement, trials, and tribulations. However, Jesus shows us that there can be a different way. Jesus affirms that we can get our hopes up.
Get Your Hopes Up in Jesus
One of the most striking biblical accounts about getting our hopes up takes place in Luke 8: 40-53,  when we see the reality of what it looks like to hope in Jesus. This truth is revealed in two stories, happening simultaneously.
First, we meet a prestigious leader, desperate for Jesus because his beloved 12-year-old daughter is on her deathbed. He is aware that time is running out, and soon it will be too late. While this urgency unfolds, a woman who has been bleeding for 12 years is also in pursuit of Jesus. She follows Jesus in a large crowd of people, desperate and earnestly believing that if she can simply reach out and touch the Messiah, she will be made well.
In my mind's eye I can picture the swirling chaos of that scene unfolding. A desperate father. A dejected woman. The Son of God, swept up in a surging crowd.
And yet.
In the swirling chaos, Jesus was sensitive enough to feel the touch of one woman on His garment. He sensed it. He stopped. He gave her His time, attention, and focus.
It Is Never Hopeless
In that beautiful and profound interaction Jesus affirmed that with Him, it is never hopeless. A health situation that had gone unresolved for twelve years was brought to healing in a moment because He said so. Wow.
While this woman is rejoicing in her healing, the father enters into despair. We learn that while Jesus was healing the woman, the little girl took her last breath. A desperate father has now become grief-stricken.
The people tell Jesus not to bother anymore — it is too late. And yet, we quickly learn that with Jesus, it is never too late. We can always get our hopes up in Him. Jesus arrives, enters in, and restores what was lost — the girl's spirit re-enters her body, and she is brought back to life.
This Is Our Jesus
When I read through this account of Jesus' profound power, I love noticing how He interacts with each person. He is so intentional and they are known by Him. He makes time for them, and He shows up. The crowd was surging and swirling but the slightest touch was not lost in the chaos.
The people said there was no reason to come, she was dead. It was a lost cause but He came and restored what was lost. Not only demonstrating His deep love for them but also showing His sovereignty over death.
Jesus offers hope, life, and healing to those who persist and reach out. His touch and His ways of restoring may not always look like what we think it will and it may not happen in our timing. Never, ever, forget the significance of how Jesus stopped, entered in, and spoke to both the woman and the father.
This is our Jesus, the same today as yesterday and forever. All-powerful yet beautifully personal. It is because of Jesus, who He is and what He has done, that you can hope again!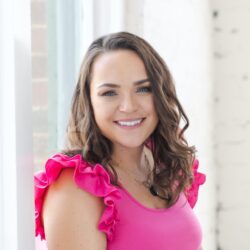 Caitlyn Scaggs is Executive Manager at New Hope Girls and author of Worth It & Wonderful. She is on a mission to positively impact others by encouraging the pursuit of whole-hearted living while reflecting a life that aligns with a faith in Jesus Christ. Learn more at boldlypursue.com or Amazon.com
View Author Posts
Next Steps To Strengthen Your Walk
We are here for you. Simply click on the button below to reach us by form, email or phone. Together we will lift our hearts and voices with you in prayer.
I Need Prayer
Sow a seed of faith today! Your generous gift will help us impact others for Christ through our global salvation outreach and other faith based initiatives.
Give Online Today
Watch Christian content from your favorite pastors, christian movies, TV shows and more.
Watch Now