---
How You Can Enjoy God in Chaotic Times

By Larry Tomczak
•
October 12, 2022
•
10 Minutes
---
In 1646, the Westminster Catechism stated what our ultimate goal as humans is supposed to be. It said, "The chief end of man is to glorify God and enjoy Him forever."
In our generation. God tweaked this classic statement and used two stellar servants, John Piper and S.J. Hill, to both say the same thing. "The chief end of man is to glorify God by enjoying Him forever." Does changing one word make all that much difference?
Absolutely! It makes all the difference in the world, and it's a life-changing revelation that can liberate you to discover a new dimension of living abundantly in these chaotic times. Those who embrace this insight enjoy God in a newfound way rather than endure Him in the old religious way.
Amid the escalating tensions and unprecedented turbulence of today's world, it really is imperative that we humble ourselves and pray that God pulls back the veil and shows us how we can truly enjoy a life-transforming relationship with Him.
Through this commentary and the embedded podcasts with one of the teachers on this theme who revolutionized countless lives at the Brownsville Revival, lean in and let God minister grace to you.
Her Last Words to Me: "Enjoy Jesus"
In the past decades, I had the distinct privilege of ministering numerous times in Great Britain. What was labeled the "House Church Movement" exploded across the United Kingdom, and it was not unusual to speak to 10, 20, even 30,000 people who came to hear God's fresh word on restoration!
One of my favorite times was when I shared meals with some of the senior leaders and their wives. Arthur Wallis was recognized as the primary catalyst for influential leaders to come together and pray, build relationships and learn from each other. He was a spiritual colossus, and I'll never forget our times together.
After Arthur went to heaven, his wonderful wife, Eileen, lingered for a number of years and eventually was on her deathbed when I called her. We enjoyed a memorable conversation, and after I prayed for her, I asked if she would draw from her lifelong spiritual treasure chest to share one thing I could cherish as her parting words to me.
She pondered for a few seconds and then without hesitation gave this simple yet profound advice to me. "Enjoy Jesus, Larry." I never forgot what she told me right before she departed to her heavenly home.
John Piper, a brilliant Bible teacher and exemplary servant of the Lord, says in his classic book Desiring God that "scripture reveals that the great business of life is to glorify God by enjoying Him forever. … The debate between duty and delight doesn't truly exist because delight really is our duty."
S.J. Hill in his outstanding and just re-released book, Enjoying God, encourages us to let go of the rigid religious duty of performance to please God and transition to a relational approach stemming from an awareness of how much God loves us as Father, not as taskmaster. Not minimizing the holiness of God or a healthy fear of God, S.J. shines light on finding our identity not in what we do for Him, but rather through celebrating what He's done and continues to do on our behalf. Our assignment is to be alert to the hundreds of ways He's involved with us each and every day.
S.J. echoes what my buddy Mike Bickle has brought to us beautifully over the years: "Our relationship with God is not based on our sins, shortcomings or even our successes, but rather His setting, His unchanging, covenantal love upon us as His sons and daughters." He's "Abba" (Daddy) and lavishes His love upon us immeasurably.
In S.J.'s interview with me on the podcasts, he acknowledges that finding freedom in friendship with God just like Abraham shared with Him is not accomplished overnight. Multitudes today have to deal with "father issues," background and baggage that the enemy preys upon to distort the image of God in our minds. Strongholds based on dads who have been abusive, abandoned their offspring or affirmed their children only when they did everything right must be eradicated to enter the promised land of life-transforming intimacy with God.
Dealing With a Caricature of God
Jesus came to reveal the nature and character of God the Father. Satan works overtime to paint a twisted portrait of God on the canvas of our minds so we will cower in fear and condemnation rather than enjoy unconditional love and acceptance. The most repeated phrase in all the Bible tells us "the steadfast love of the Lord endures forever," and we do well to daily celebrate this reality that transcends emotions and circumstances.
Nearly 30 years after Jesus's death and resurrection, Paul wanted "to know Him, and the power of His resurrection" (Phil. 3:10). Increasing in revelation knowledge of Jesus Christ enables us to better comprehend the beauty of God as our Creator and Father.
As we regularly interact with sacred Scripture, especially the Gospels, we grow in understanding the nature and attributes of our magnificent, awesome God. As we engage in the practice of prayer as dialogue (not merely monologue), we deepen in intimacy with the Bridegroom Lover of our souls. Recently deceased theologian J.I. Packer reminded us to remain passionate in this pursuit: "Remember, what you think about when you think about God is the most important thing about you."
Jesus wants us to truly know and enjoy relationship with Father God. He doesn't want us following Him out of cold, rigid, legalistic obedience as if He were an impersonal taskmaster or an exacting judge. He desires to relate to us not as some distant, mysterious, angry militaristic being but in the warm context of a Bridegroom with us as His bride. And He wants us to obey Him because we love Him and delight to do His will as He protects us from the devastating consequences of sin.
Enjoying a Personal Relationship
Years ago at Harvard University, where my son was enrolled in the Kennedy School of Government, the following message was once scrawled in chalk on an aged wall:
"Who do men say that I am?
"Thou art the eschatological manifestation of the ground of our being; the ultimate Kerygma in whom we find the profound solution to our mystical inner quest.
"Jesus snapped His head in bewilderment and declared, 'What?'"
The Bible was written so that we might find forgiveness and new life with a Person—Jesus Christ. "Jesus performed many other signs in the presence of His disciples, which are not written in this book. But these are written that you might believe that Jesus is the Christ, the Son of God, and that believing you may have life in His name" (John 20:30-31).
C.S. Lewis said it best: "We come to scripture not to learn a subject but to steep ourselves in a Person."
Here's the Deal: Religions all over the world use mysticism and fear to manipulate people contrary to the will of God. Unfortunately, Christianity has not been exempt. Together may we enjoy fresh new freedom, fascination, and friendship with our Savior and loving, living Father God.
…
© Larry Tomczak. Used with permission.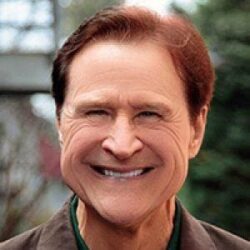 Larry Tomczak has been a cultural commentator for nearly 50 years. He is a best-selling author, a public policy adviser with Liberty Counsel, and a board member for Intercessors for America. Learn more at larrytomczak.com 
View Author Posts
Next Steps To Strengthen Your Walk
We are here for you. Simply click on the button below to reach us by form, email or phone. Together we will lift our hearts and voices with you in prayer.
I Need Prayer
Sow a seed of faith today! Your generous gift will help us impact others for Christ through our global salvation outreach and other faith based initiatives.
Give Online Today
Watch Christian content from your favorite pastors, christian movies, TV shows and more.
Watch Now