---

By Caitlyn Scaggs
•
August 2, 2022
•
6 Minutes
---
There is often a yearning in our hearts to experience God's abundance within our lives. We want to feel his divine provision poured out to the point of overflow. This yearning may leave us wondering, how can I be blessed?
When considering how we can be blessed first we need to consider what we even mean by the word "blessing." It is so commonly used these days — from hashtags punctuating our social media posts to how we describe our families. Perhaps we use it so often, and hear it so often, we have forgotten the power packed into that 8-letter word.
A blessing is God's favor, protection, and provision in our lives. It is His abundance, given to us in a way that produces inner joy and delight.  When I think about God's blessings in my own life I think of that word as describing "God's best" for me. With that definition in mind, it is worth diving deep into how we can seek to be blessed with God's best in our lives.
Embrace a Kingdom Upside Down
Often God's ways are drastically different from the ways of the world!  It is this Kingdom upside-down approach that we are reminded of in Isaiah 55:8, "For my thoughts are not your thoughts, neither are your ways my ways," declares the Lord.
When it comes to seeking blessing you should stop focusing on trying to obtain blessing and focus first on pursuing a relationship with God. Make intimacy with God your end goal and trust His best will follow.
We are admonished in Proverbs 3:6, "In all your ways acknowledge him, and he will make straight your paths." No matter where you go, or what you experience, seek first God. It feels like the opposite approach if what we really want is to be blessed but in intimacy with God we will find life blessed beyond measure.
The Beatitudes Lead to Blessings
In the Sermon on the Mount Jesus speaks extensively about what it will take to be blessed by God. In this sermon, he talks in a way that may seem counterintuitive to those who are unfamiliar with the ways and teachings of Jesus. Once again we are reminded that a Kingdom mentality is different from worldly wisdom.
In these "beatitudes" Jesus walks us through eight different ways we can receive blessings from God. For example, in verse 3 Jesus says, "Blessed are the poor in spirit, for theirs is the kingdom of heaven." In this verse, He is telling us that in our humility we will be rewarded by God.
It also tells us in verse 6, "Blessed are those who hunger and thirst for righteousness, for they shall be satisfied." We are again reminded that blessings come from the way we position our hearts in relationship to God. When we are hungry and thirsty for His ways we enter into God's best for us. It is about seeking God first, above all else, and watching His blessings unfold in the wake. It really is that simple but often something we overcomplicate or never even notice.
Eyes That See and Ears That Hear
One aspect of being blessed by God is having the spiritual sensitivity to perceive it as it is happening. Between the busyness of our days and our over-packed schedules we may miss his provision and protection because of the onslaught of errands, dings and chirps of technology, and our productivity-driven culture. Let us have eyes that see and ears that hear all the good God does for us and around us!
In James 1:7, we are reminded that "every good and perfect gift is from above." When you are given a kind word of encouragement, discipline yourself to stop and thank God for that blessing — the favor of that gift. When you receive an encouraging health report, stop and thank God for that blessing — the favor of your physical protection from illness and disease. When you look at your family and feel your heart swell with gratitude, turn your thanks to the Father — for the favor of that gift.
How Can You Be Blessed? You Already Are.
Sometimes the questions we ask — like how can I be blessed? — have already been answered. You already are in so many ways!
As you seek to be blessed, seek first the Kingdom of heaven and love the Lord with all your heart, soul, and mind. Never miss a moment to inhale and exhale the goodness He surrounds you with each and every day.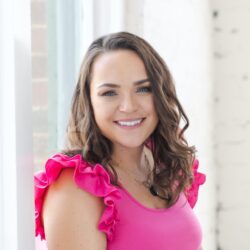 Caitlyn Scaggs is Executive Manager at New Hope Girls and author of Worth It & Wonderful. She is on a mission to positively impact others by encouraging the pursuit of whole-hearted living while reflecting a life that aligns with a faith in Jesus Christ. Learn more at boldlypursue.com or Amazon.com
View Author Posts
Next Steps To Strengthen Your Walk
We are here for you. Simply click on the button below to reach us by form, email or phone. Together we will lift our hearts and voices with you in prayer.
I Need Prayer
Sow a seed of faith today! Your generous gift will help us impact others for Christ through our global salvation outreach and other faith based initiatives.
Give Online Today
Watch Christian content from your favorite pastors, christian movies, TV shows and more.
Watch Now