---
Stephen Kendrick: 'Everybody Has a Fatherhood Story' (Part 2)

By John Farrell
•
January 18, 2022
•
11 Minutes
---
John Farrell: How has God's example of being the perfect father impacted how you are as a father to your own children?
Stephen Kendrick: Scripture communicates that Jesus didn't just show up to introduce us to God, but that He came so that we can relate to God as a Father. In the Sermon on the Mount, He's explaining "pray to Him as our Father. He gives good gifts to you as a Father, and don't worry because your Father knows your needs."
In John 14, He explains that He came to not only enable us to have a relationship with the Father, but that He came to represent and show us how loving and perfect and awesome our heavenly Father is. It is easy for us to look at the great or poor example of our earthly father and project that over on to God.
The statistics and research show that when a person becomes an atheist it is oftentimes a result of them being deeply wounded by their earthly fathers and not trusting their earthly fathers. They've actually translated that over in how they view God. The same could be true in a positive way as we realize that our earthly fathers are broken like Scripture says.
Jesus is actually who we need to be looking at to understand what God our Father is like. That is a key paradigm shift, even for believers that have walked with the Lord for years, to realize that Jesus came to show us the Father. Spiritually we're hoping that people will come to Christ if they don't have a relationship with Jesus, but that they will also relate to God as that perfect loving Father who is everything they have wanted and hoped for in an earthly father.
JF: How can fathers build healthy relationships with their children?
Stephen: I would say first, they need to relate to God as their own loving Father because the message of Scripture is not "Here's the great example, now go and try your best to live it out." The message of Scripture is to connect with your heavenly Father through Jesus. Let Him pour out His spirit, His love, His grace, His strength into your life, and then through you on to everybody else around you.
An earthly father needs to first forgive their earthly father. Forgive their own dad. And then begin to ask their heavenly Father to reveal to them His love, His mercy, His grace, His provision, His protection in their lives.
Then they need to start sharing with their kids what God is doing in their hearts. They can provide much better for their kids when they're looking to God for provision. They're going to protect their own kids better when they're saying, "Deliver us from the evil one." They're going to be more loving to their children when they realize how much God loves them like Ephesians 3 says. They're going to be much more ready to bless and affirm their kids when they realize that Ephesians 1 says that "we are blessed with every spiritual blessing in the heavenly places in Christ."
I would encourage dads to watch Show Me the Father and to pray that God will reveal more of who He is to them first. That will enable them to plug into a never-ending source of grace, compassion, patience, kindness for their kids when they oftentimes will feel completely inadequate as an earthly father and not know what to do in raising their own children.
Lessons from a Father
JF: You've mentioned your own father a couple of times. What lessons of fatherhood did you learn from your father?
Stephen: He modeled loving affection and promise-keeping and integrity in our own home. He did discipline us, but he also blessed us and encouraged us and would share with us how God was working in his heart and answering his prayers and teaching him things through the scriptures.
We saw the power of God at work in our earthly father and it inspired us to want to be sincere in our own walks with the Lord and to be authentic with our kids. We didn't see our dad lying to us, being one person at church and another person at home. We have desired to try to be the same person as a dad for our children at home in secret as we are at church or somewhere in public. That example of integrity is an incredible foundation for your kids.
Our dad also taught us how to repent and apologize when you blow it. He would come to us and ask us to forgive him when he disappointed or had anger or didn't represent our heavenly Father well in a sense in his parenting to us. We appreciated the humility and that he didn't worry about looking perfect in front of us. He was more concerned with being authentic and staying humble before us. It just caused us to love and respect him all the more.
With our own kids, I think we tried to stand on our dad's shoulders, but then take it to the next level in our involvement in their lives, our teaching, training, affection demonstrated toward them. We've tried to do at least what dad did, but also ask God to help us to take another step toward what our heavenly Father does for us in Christ.
JF: What does the word "fatherhood" mean to you?
Stephen: The word "father" means source. It means leader. It means founder. It can mean the word "chief." But the concept of fatherhood on earth actually flows out of the eternal fatherhood of God. He created fatherhood on earth to introduce Him, but not to replace Him.
So, when I think of all the roles that a dad plays in his home as a provider, as a protector, as a teacher, as an encourager, as a compassionate friend, as a disciplinarian even for his kids, those are vital necessary roles that he needs to step up and be privileged to do those things with his kids. It is one of my favorite things about my life that I get to be a dad to my six kids, and relate to them on a daily basis. I treasure that opportunity and that privilege.
My own sons are already talking about how they can't wait to grow up and get to be a dad to their kids one day. So, the word "fatherhood" is a very special thing to me. It is epic in scripture. It's epic in culture. And I think it should be epic in our own hearts.
JF: You mentioned at the beginning of our conversation that you're also re-releasing the popular film Courageous, which is celebrating its 10th Anniversary. What made you want to release that movie now?
Stephen: It hit us that it's been ten years since Courageous came out in theaters, and it is such a cinematic film with a relevant message for this generation that is desperately needed now, as well. But we have millions of men who have become dads over the last decade who have not seen the film or would watch it differently now that they hold their own children in their arms.
So, we went back and re-edited the movie. We added some new great aerial shots in it. We've added bonus scenes in it … some deleted scenes that we had cut out earlier that are really good. We added in an introduction video showing the impact the movie's had around the world. We've beefed up the sound and the color correction and sound effects and music. And then we shot a new ending to show where these police officers are ten years later.
It is really an event now. I think Courageous fans are going to love the film. It's the best version that they will have ever seen, but also we're hoping that people will help us to spread the word and invite men and young dads to come watch the film because it is so desperately needed for such a time as this.
…
Stay Tuned for the Final Part of Stephen Kendrick's Interview
For more information about Show Me the Father, check out showmethefathermovie.com.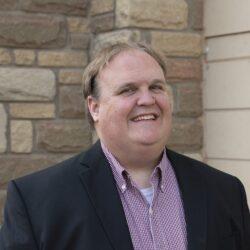 John Farrell is the Digital Content Manager for www.inspiration.org. In addition to having written more than 1,000 articles, press releases, and other pieces content for Inspiration Ministries, NASCAR, Lionel, and Speed Digital, he authored The Official NASCAR Trivia Book: With 1,001 Facts and Questions to Test Your Racing Knowledge in 2012. John is a graduate of Appalachian State University and lives in Concord, N.C., with his wife and two sons.
View Author Posts
Next Steps To Strengthen Your Walk
We are here for you. Simply click on the button below to reach us by form, email or phone. Together we will lift our hearts and voices with you in prayer.
I Need Prayer
Sow a seed of faith today! Your generous gift will help us impact others for Christ through our global salvation outreach and other faith based initiatives.
Give Online Today
Watch Christian content from your favorite pastors, christian movies, TV shows and more.
Watch Now