---

By Justin Thomas
•
May 12, 2022
•
14 Minutes
---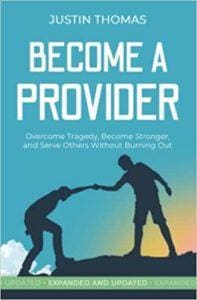 Excerpt taken from Become a Provider: Overcome Tragedy, Become Stronger, and Serve Others Without Burning Out by Justin Thomas
Chapter 7
Our Turn to Provide
To be the provider, you simply need to provide. However, I learned firsthand how difficult this is when trying to implement it in real life. So, I set out to explore and test this theory of trying to provide for others intentionally. I had invested in myself through my sabbatical season, education, and training to become a health coach, and hours of intentional conversations with mentors, so, I was ready and eager to walk the walk and provide for someone in a meaningful way. It's an experiment filled with zest and awkward moments that I am sure will entertain and hopefully inspire you with positive momentum along your journey, without the clumsiness.
Before Pop passed away, my wife and I moved to the historic town of Hillsborough, NC. Pop was able to visit our new home shortly after our move, which is a fond memory. He asked how we liked the area during his trip and I told him I was getting involved in the community by starting a new F3 workout downtown.
F3 is an established community and there were workouts around my new hometown, but nothing in Hillsborough at the time. So I decided to start one! F3 describes itself as a "national network of free, peer-led workouts for men. We plant, grow, and serve these groups to invigorate male community leadership." That sounded like a great, real-life case study into becoming a provider.
Pop asked what F3 stood for and I told him it was for fitness, fellowship, and faith.¹ I was part of the team that helped establish and organize three workouts a week and a monthly happy hour. However, we weren't doing anything around the third F, the faith component. I continued being very involved in F3, not thinking about that third F until Pop passed. Then I came across a convicting Scripture in James 1:27, which reads: "Pure and genuine religion in the sight of God the Father means caring for orphans and widows in their distress and refusing to let the world corrupt you" (New Living Translation).
My heart broke as I realized my mom was now a widow. This passage in James motivated me to think of other people in need, specifically widows, who didn't have anyone in their lives to support them and who may need practical help. I had an idea.
At the next monthly F3 social, I brought up the concept of "adopting a widow" as part of our faith work in F3. We would serve a widow and help with whatever she needed. After all, we were men waking up early and working out at least three times a week. We were all in decent shape (or at least had a desire to get there!), which seemed to fit our mission. There was wholesale agreement amongst the group to give this idea a shot, so we just needed to find a widow.
I asked the men to send me recommendations and even e-mailed a couple of local pastors. Unfortunately, I didn't know of any widows in my neighborhood, and apparently, I was not alone. After this "brilliant idea," I had no leads until I met the "poodle-walkin' guy."
I decided to ruck (i.e. walk while wearing a weighted backpack) to and from the workout one morning. So I was walking back to my house, sporting a sweat-drenched outfit and a shovel flag, when the unexpected and divine meeting occurred. At every F3 workout site, a flag is attached to a shovel to indicate the starting point. Picture a tired, disheveled, bearded homeless-looking guy walking the streets with a flag and that was a pretty accurate image of how I must have looked on this particular morning after a challenging exercise session.
As I labored towards home, I saw a man walking his dog towards me. The man stopped dead in his tracks and asked, "What's your mission?" looking inquisitively at my American flag connected to a shovel.
I told the gentleman that I was part of a free men's workout group. Then I noticed he was wearing a t-shirt from a local church. It reminded me of James 1:27, and I told him about our "adopt a widow" idea. I mentioned we were looking for someone to serve in our area and asked if he knew of anyone. His eyes brightened up. He had just worked at a lady's home who was in need. I immediately took out my phone and asked for his contact information. Right there on the spot, I sent him an email and signed it "workout guy Justin" so that he could remember me and possibly share my contact information with the lady he had in mind.
A few hours later that day I received the following e-mail from him:
Hello, Justin.
A pleasure meeting you this morning! Wendy is the lady I met this week through work.
She resides in an early 1990s-model doublewide. The yard needed some attention/maintenance, and her crawlspace needed work to keep out creatures.
She expressed to me her financial woes due to poor health and extreme prescription drug cost. She would probably be receptive to your mission.
Have a great day!
Poodle-walkin' guy
I loved how he signed his email and how he kept referring to my mission. Being the provider does make life more exciting, as if we are on a secret and critical mission, challenging us to care for ourselves and others. His friendly gesture went above and beyond friendly salutations and description of my "mission." In addition, he broke several confidentiality rules of engagement by including Wendy's full contact information from his work database!
I don't want to get this guy fired, so I'm trying to keep details of his profession limited. The point here is that we both took a risk. I was bold enough to tell him about the adopting a widow "mission," and he was willing to provide a client who came to his mind. I finally had a lead. It felt like all of this was a divine meeting!
Then I did nothing.
A week or so later, I was sitting in my home office. I had an afternoon free of any client calls or pressing deadlines. Then I thought back to Wendy. I wanted to make sure this idea didn't continue to get lost in the noise of my life. I recognized that I wasn't taking action even though it was an important project, and I could meet a potential need. At that moment, for some reason, I thought the best and most practical thing to do was to drive to Wendy's house unannounced.
I know this sounds crazy, but I was afraid that I might lose motivation if I waited any longer and that Wendy wouldn't answer her phone or respond to an email from a stranger. Why I thought she would answer the door from a stranger is beyond me! I simply believed that I would have a better chance of meeting her in person.
I walked out of my home office and into the kitchen where my wife prepared lunch for our two young girls. I matter-of-factly asked her if I should wear a suit and tie since I was going to a lady's house unannounced. She naturally wanted more details regarding this idea before answering this peculiar question.
Amy emphatically stated that I would look like a cheesy salesman if I changed into a suit and went knocking on strangers' doors. She also said it was ridiculous that I was driving and not emailing or texting first. Fair point. Yet, I was undeterred and full of enthusiasm and I didn't want to lose the momentum that seemed to be pushing me forward at this moment. So I loaded up in my car, still wearing my casual t-shirt and shorts from my work-from-home wardrobe, and started driving to Wendy's house.
Fifteen minutes later, the GPS announced I had arrived. I was in the middle of a trailer park but I didn't see the house number I was looking for. I drove up and down, scouring the homes but had no luck finding Wendy's number. I then decided that I would go to the house closest to the GPS marker. It did not look welcoming. In fact, it was the worst home in the lot.
I drove past the "Do Not Trespass" signs and walked up the driveway. The steps and porch had lumber littered all on it. There were multiple cars broken down in the front lawn and a no-soliciting sign on the door. A lot of signs were telling me to stop, abort the mission! My zeal had not waned, however, so I pressed on; or rather I balanced as I placed my feet on some of the uneven stacks of lumber on the front porch and cautiously knocked.
No one came to the door. As I waited for the first time, my excitement meter started to drop. Perhaps this plan might have some strategic holes in it. Before I risked getting any trespassing charges levied against me, I left and headed quickly back to my car. Perhaps my wife was right, I may need to try calling Wendy.
Wendy's number went to voicemail and I proceeded to ramble on about who I was, what F3 was, our desire to help out, and to call back. I didn't feel condent she would return my call.
Before giving up, I wanted to try one more strategy. I would drive to a more welcoming-looking home, without all the "No Trespassing" signs, to ask if they knew Wendy. I located just the house across the street. As I pulled in, there was a car exiting the driveway and a lady walking beside it. I pulled over to allow space and then jumped out.
"Do you know Wendy?" I asked her.
"I'm Wendy," she replied.
"Great! I just left you a message."
…
Order your copy of Become a Provider: Overcome Tragedy, Become Stronger, and Serve Others Without Burning Out by Justin Thomas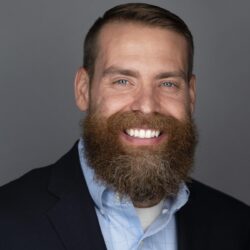 Justin Thomas is a successful author, entrepreneur, and founder of Justin Thomas Coaching. He is a National Board-Certified Health and Wellness Coach, having started and operated multiple 7-figure businesses. Justin coaches entrepreneurs on how to turn their professional success into a more fulfilling personal life. As President of dooable health, and licensed health benefits consultant, he provides businesses with custom employee benefits that save money and keeps employees healthier. In addition, Justin is the co-founder of The C.L. Thomas Fellowship, a non-profit that encourages people to become better providers for their families through intentional small groups based on Christian faith. To subscribe to his podcast, "Become a Provider," go to justinthomascoaching.com and learn how to live a more fulfilling, happy, and healthy life.
View Author Posts
Next Steps To Strengthen Your Walk
We are here for you. Simply click on the button below to reach us by form, email or phone. Together we will lift our hearts and voices with you in prayer.
I Need Prayer
Sow a seed of faith today! Your generous gift will help us impact others for Christ through our global salvation outreach and other faith based initiatives.
Give Online Today
Watch Christian content from your favorite pastors, christian movies, TV shows and more.
Watch Now