---
The Gift of Becoming a Provider

By Justin Thomas
•
November 29, 2022
•
7 Minutes
---
Excerpt taken from Become a Provider: Discover the Joy of Blessing & Protecting Others by Justin Thomas
2
The Gift of Becoming a Provider
I used to think my hand was empty. Now I know God is too generous to leave me empty handed.
An amazing transformation occurred in my life from the time I received that final "CHP" text and today. I've experienced a new sense of calling and purpose in my life. On the surface this makes no sense. The father I loved and respected is gone forever and I have the audacity to claim I am enjoying life more? Sounds downright heartless. However, my heart had to break to discover this truth and my hope through this book is that yours does not need to go through the fire to discover the same great opportunity in your life.
So, what's the secret? Become a provider.
Adopting a provider mindset has changed my life and I believe it can do the same for you. Whether you are single or married, male or female, I believe all can step into the fullness of who God designed you to be by becoming a biblical provider. A biblical provider is one who receives their provision from God and then provides for others. The passing of my father and the subsequent decisions, traumatic experiences, and career-changing decisions showed me the power of becoming a provider. Adopt this before you are faced with a crisis like the sudden passing of a parent, and you will be well prepared to handle the unexpected challenges life will throw at you.
A provider is defined as "one that provides." OK, so what does provide mean? Some definitions from Webster's are telling: to make preparation to meet a need; to prepare in advance; to supply something four sustenance and support¹. The very title of being a provider is assuming action. It means both having foresight and doing the work. A provider is not a fly-on-the-wall, stagnant role in life. Before you start providing, you have to have something to give. Here is the great news. Each and every one of us has something to give. Imagine your hand not empty-handed but rather with something God has uniquely given you to provide for others. We all have something in our hands because God is a generous God.
Fortunately God does not have "good" and "bad" days when it comes to generosity. Unlike you and I who can be extremely generous one moment and then selfish the next, God is consistently generous. Scripture captures the generosity of God's character through creation and forgiveness when it says in Psalms 36:5-8,
Your lovingkindness and graciousness, O LORD, extend to the skies, Your faithfulness [reaches] to the clouds. Your righteousness is like the mountains of God, Your judgments are like the great deep. O LORD, You preserve man and beast. How precious is Your lovingkindness, O God! The children of men take refuge in the shadow of Your wings. They drink their fill of the abundance of Your house; And You allow them to drink from the river of Your delights.²
Therefore, if we truly believe we serve a generous and loving God, we must believe that God provides for you and me. If you don't believe you have anything to give to others, nothing to provide, than you are spitting in God's face. You are claiming that the God who sent his son Jesus to this earth to sacrifice for you and me is not generous. Sound harsh? I want to make sure you know that it is not humble to think you don't have anything to give—it is sinful, as you are claiming God does not provide for you. Believing you don't have anything to provide is not believing in the very nature of God.
The great news is that if we accept the truth that God generously provides for us, we than have something to provide others. In order to earn the title of provider, we then have something to provide others.
Here's what I hope for this short book: that you will commit to being a great provider based on the incredible, imperfect legacy of CL Thomas—"Pop," as he was known to his family. That you will know what providing means. That you will make a covenant to bless and protect anyone who needs your specific gifts—from a stranger on the side of the road to the kids in your home.
I want you to remember that providing on Earth is an imitation of Jesus—whose feet my father is sitting at right now.
I hope that, like Pop, you will see becoming a provider as a great adventure. Whether you have a strong or weak provider muscle, this book is for you to help improve and maximize how you provide. Let's start your journey of becoming a stronger provider. The people around you need you to develop into the provider God wants you to be and who you were designed to be.
…
Order a copy of Become a Provider: Discover the Joy of Blessing & Protecting Others by Justin Thomas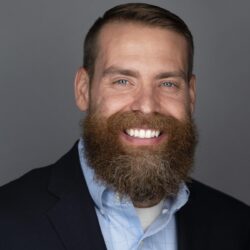 Justin Thomas is a successful author, entrepreneur, and founder of Justin Thomas Coaching. He is a National Board-Certified Health and Wellness Coach, having started and operated multiple 7-figure businesses. Justin coaches entrepreneurs on how to turn their professional success into a more fulfilling personal life. As President of dooable health, and licensed health benefits consultant, he provides businesses with custom employee benefits that save money and keeps employees healthier. In addition, Justin is the co-founder of The C.L. Thomas Fellowship, a non-profit that encourages people to become better providers for their families through intentional small groups based on Christian faith. To subscribe to his podcast, "Become a Provider," go to justinthomascoaching.com and learn how to live a more fulfilling, happy, and healthy life.
View Author Posts
Next Steps To Strengthen Your Walk
We are here for you. Simply click on the button below to reach us by form, email or phone. Together we will lift our hearts and voices with you in prayer.
I Need Prayer
Sow a seed of faith today! Your generous gift will help us impact others for Christ through our global salvation outreach and other faith based initiatives.
Give Online Today
Watch Christian content from your favorite pastors, christian movies, TV shows and more.
Watch Now