---
Jenn Gotzon & Jim Chandler: The Farmer and the Belle (Part 2)

By John Farrell
•
December 19, 2022
•
12 Minutes
---
John Farrell: I've read that there were a lot of family and friends involved in making the film. How did those connections and the ability to work with your family and friends affect the overall movie?
Jim Chandler: Well, it actually just made it so much bigger, so much better, so much less about me and Jenn and more about the community that helped make it happen. We couldn't do it without Walker County and the Walker County Commissioner's Office. And we couldn't have done it without my family, and we couldn't have done it without the property.
There was a day on the call sheet where everybody from my family that lives here in Georgia was listed. That was such a special moment. It had my dad. He plays the tree man. Then it had my niece who played my daughter. My two nephews had roles in the nativity scene. My mom was one of the catering leads and she helped bring in so many things from the community. Even my cousin who also lives on the same homestead property. She, with her husband, was able to help with the art department.
It was so important and special for me to have my family involved. And then by extension, the community, which created this great atmosphere for us to work in.
Jenn Gotzon: We filmed in North Georgia in Chickamauga. The population here is over 3,000 people and I would say that half of those people came out and participated in the making of the movie.
We got Christmas decorations from the Christmas parade in Chickamauga. Our Santaland was built by our neighbor. He literally built our production designer's vision. He built all of Santaland that you see, minus the barn. The stage that John Schneider and Beckah Shae sing on. We shot at all the different locations that were all given to us complimentary. It was really truly a community event.
JF: How does the film fit in its own niche and sit in context to all of the other movies and entertainment options out there?
Jenn: We created it specifically as a fun family Christmas movie to be enjoyed as a tradition each year. It was inspired by fun movies like Christmas Vacation, Elf, and Home Alone.
We worked with a beautiful writing team that has won awards for their work on the film, but Bob Saenz transformed it into a rom-com that would fit on a television format. So, we went from a broad comedy to a romantic comedy for the family. And that's what differentiates us from a Hallmark movie. We have more laughs. We have more depth. We have pearls of wisdom. We have a message, but we also have that fun Christmas family feel.
JF: I can see that. Now, a little bit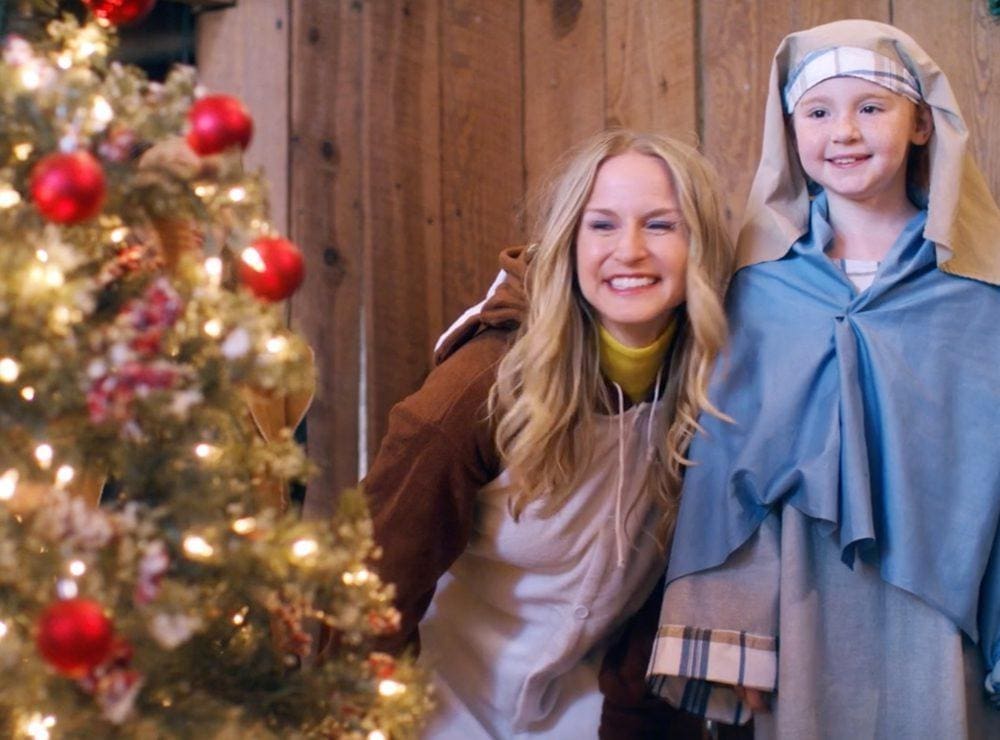 about the two of you personally. How did you meet and fall in love?
Jim: We met on a film set in 2014. I was playing the bad guy in a movie and Jenn was playing the good girl. In that movie, she actually gets the better of me because I'm trying to do terrible things to her and her husband's career. We met there. That was how we started. I courted her and wanted to try to be her friend. She was going through a difficult time at that point and I was going through the things that I was going through and we just developed a friendship. It blossomed quickly, but we started as friends and that's how our journey began.
Jenn: His pastor at the time explained that you need to focus on three elements of love from Hebrews: Raya, Ahava, and Dod. What they mean is this. One is friendship. You build that friendship like Jim said. The next is commitment, that loyalty to one another. And then the Dod is that passion, that fire, that attraction. When you have all three of those loves combined together underneath God's love, that is what the makings of a relationship should be. And Jim really taught me that as we pursued our relationship that ended in marriage, which we filmed for the movie.
JF: That is really cool. How has your faith affected your career?
Jenn: For me, prayer, perseverance, and faith has been the motto that's led me since I was 15 years old. Every time I focus on Him, His Kingdom, and His righteousness I experience opportunity. When I focus on the palm of God's hand of what He will give me through prayer, I get stunted in my journey.
My faith has been intricate to the journey of the call in my heart, which is to inspire and impact audiences through the storytelling in film as a lead actress.
Jim: For me, just by being on this journey, our faith has really been tested in many areas. Making a film is not easy and we've had to overcome some obstacles. Truth be told, faith has been something that we've really had to lean into. When things haven't worked out, we've often had to wonder. But the thing that we've always had to come back to is that God is faithful and He's been with us and He's done so many good things.
For myself, Jenn, and probably everybody, when things aren't going very well, it's very easy to focus on those negative things and forget about all the positive things that God is doing in our lives and that these negative moments are opportunities for us to lean into Him. A message we've been hearing recently is to just fall asleep next to Him in the boat while the storm rages on knowing that He's got it all under control.
There have been some challenges and our faith has been tested, but we've always come through knowing that God is on our side. He's not going to forsake us, and He has plans for this film even if it may not be what we want necessarily. His plans are good; they're true; and they're going to take shape. We're just a part of that journey.
Jenn: One example is that we were filming the Christmas tree farm and we envisioned it to not be raining, but that day it rained. We had to put up the umbrellas in this movie and you know what's so cool is that God knew what He was doing for storytelling because it set up the popularity of this Christmas tree farm, which is a setup that gets paid off later in the movie.
Another day it was raining so we needed to change locations. We had to change it to the hayloft, where the kids met. And then we, as adults, had to film there. Now, it's one of the most magical scenes in the movie where we have snow falling. So God really tested our faith during production as we saw these beautiful moments culminate on screen.
JF: What's next for you?
Jenn: For me, I am excited to go to churches and women's conferences and share about the devotional book and the bracelet and really work with girls, teens, and women to be able to take these lies and overcome them with God's truth.
Jim: Whenever she's not able to take care of the baby during that time, I will be taking care of the baby and being Mr. Support Man and assisting her at these churches. I enjoy being of service to my wife and helping wherever I can. That'll be a wonderful journey because we are new parents.
But as far as for me, I actually have a couple of movies that'll be coming out next year. In addition to this one, I just finished a project called Castle Falls. We shot in Birmingham, Alabama, and it was directed by Dolph Lundgren. I also have a part in a movie coming out next year called Lansky, which stars Harvey Keitel. Those are some projects I have coming up. Then, hopefully we can get going on a Farmer and the Belle 2. We'll have to see how that takes shape.
Jenn: I forgot to tell you, I have three Christmas movies out this season and Forgiven is a suspense movie that's in Walmart. The Gift of Christmas is a movie with Dee Wallace and Hope for the Holidays is also out along with The Farmer and the Belle: Saving Santaland.
JF: I'm not sure if you know this, but both The Farmer and the Belle and The Gift of Christmas are on our Inspiration TV on Demand streaming platform.
Jenn: Woohoo!
JF: And congratulations on your newborn! How old is your little boy?
Jenn: He's two months old. For our premiere yesterday, Grandma made him a little bowtie and sewed it onto his onesie so he can match momma and dadda.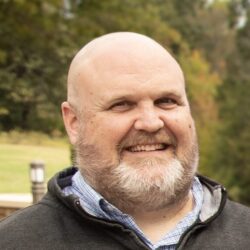 John Farrell is the Digital Content Manager for www.inspiration.org. In addition to having written more than 1,000 articles, press releases, and other pieces of content for Inspiration Ministries, NASCAR, Lionel, and Speed Digital, he authored The Official NASCAR Trivia Book: With 1,001 Facts and Questions to Test Your Racing Knowledge in 2012. John is a graduate of Appalachian State University and lives in Concord, N.C., with his wife and two sons.
View Author Posts
Next Steps To Strengthen Your Walk
We are here for you. Simply click on the button below to reach us by form, email or phone. Together we will lift our hearts and voices with you in prayer.
I Need Prayer
Sow a seed of faith today! Your generous gift will help us impact others for Christ through our global salvation outreach and other faith based initiatives.
Give Online Today
Watch Christian content from your favorite pastors, christian movies, TV shows and more.
Watch Now