---
Mothering from an Empty Nest

By Linda Gilden
•
January 13, 2022
•
10 Minutes
---
Society would like parents to think their job is done when the children go off to college or begin living on their own. And, in some ways, it feels that way. With an empty nest, parents are on their own, free to choose their activities without consideration for children. The work load around the house definitely reflects a change.
But are parents really finished with their job once their nest is empty? Absolutely not.
Their job description has just changed.
The physical aspect is lighter. No longer does a parent have to be involved in the day-to-day "maintenance" of the child. But the emotional involvement of a parent, though it can't be often expressed, is just as great if not greater. A parent may not get as much exercise going up and down the steps to the laundry room but the level of exercise from getting up and down off their knees greatly increases.
While the role of the parent changes greatly, a parent can never "retire" from being a parent; God gave us the job for life.
From Parent to Friend
Remember that when children become adults is a time of change not only for the children but for the parents as well. They are reaching midlife and rediscovering their relationship as a couple without children living at home. It has probably been over twenty years since most parents had the house to themselves. Adult children have reached a time when they are living on their own, something they have dreamed about for a long time.
Both are in transition and find themselves in new roles.
Brenda allows her twenty-something daughter to make her own decisions. "I try to be more of a confidante than a parent. I ask for wisdom as promised in James 1 to know when and how to respond to her," she says.
"Speak to your adult kids with the same tone and words as you would a best friend your age," says Pam. "One mistake moms make is getting too emotional."
Part of the joy of being the parent of an adult child is gaining a new best friend. The trust you have been building during the first twenty years of your child's life will blossom into a connection deeper than with any other friend.
"Mom and I can almost tell what each other is thinking," says Kristi. "Sometimes it is a little scary!"
When to Offer Help
Jimmie, mother of two adult children, says, "The greatest time to offer help is when they ask. If we offer our help when it is not wanted, we interfere with the work of the Holy Spirit in their lives. It is hard to see our children suffer, but suffering molds our children into the perfect vessels God wants to use."
Sometimes our adult children want help but don't know how to ask. "If you sense your adult child has a need and pride is getting in the way of asking, ask a question to open the door for discussion," says Met, mother of four married children. "You may say something like 'I sense that things are tough for you right now. Is there anything I can do to lighten the load?'"
"When we are really concerned about something in our children's lives," says Ginny, "we will put our 'two cents' in. But we don't do that very often."
When Not to Offer Help
The first years of marriage are important for newlyweds as they cut the apron strings and establish their households. Many young couples pull back from their parents during this period of time.
Independence is an important part of the maturing process. Fair says, "Our adult children need to take responsibility for their decisions even when the penalties are so harsh it will break your heart."
When young adult children marry, parents need to remove themselves from any arguments or decisions the couple make. It is fine to offer advice when asked but realize children may not heed the advice.
"When my oldest daughter married," says Jimmie, "I told her and her husband if they had an argument and needed someone to talk to, find a godly mentor who they were both comfortable with. In my mother's heart, I knew it would be difficult for me to listen and be objective. The intimacy of marriage and the love two people share makes it easy to "kiss and makeup" and let go of difficult situations. In-laws don't have that intimate relationship and it is easier to hold on to even the little things."
What Parents Do Right 
Often we don't realize what our parents did right until long after they did it. Until we are older, we don't appreciate their sacrificial efforts to help mold us into the people God wants us to be. Sometimes that doesn't happen until we become parents ourselves.
"I feel my parents did a lot right," says Ginger now a young mom herself. "They talked very openly about everything. No subject was off-limits for us to discuss. They taught me and my brother absolute truths. They shared their beliefs openly but never made me feel like I had to adopt them for my own.
"They led by example and shared their failures and mistakes with me to help me learn. When listening to their stories and troubles as a child I probably rolled my eyes a lot. But now as an adult, the light bulb has come on."
There is no greater gift a parent can give a child than to live out their faith day by day. Often it seems that children totally ignore their parents' behavior. But parents are modeling how to live a godly life every minute.
When Margaret met the man she felt God was leading her to marry, she wrote a long letter to her mother. She was struggling with a big decision. The day her mother received that letter, she boarded a bus and traveled many hours to be with Margaret.
"That mother-daughter, face-to-face, heart-to-heart talk was just the encouragement I needed to confidently continue the relationship God had planned for me," she says.
What Parents Don't Do Right
"When we were newlyweds," says George, "our parents were constantly expressing concern that we had not moved our church membership. We felt pressured; we had so much to discuss and so many churches to explore."
Even when parents don't live in the same city as their married children, they express concern through letters or emails. It is okay to express concern; just remember your children hear you the first time. Once expressed to them, make it a matter of prayer and let God do the rest.
"Sometimes I wish my parents had given me a little more of their opinion," says Ginger, "instead of making me make the choice by myself."
There is a fine line between saying enough and saying too little. Parents must seek God's guidance continually.
"It is hard to sit back and watch your children make decisions that you know are not the best," says John. "You don't want to interfere in their lives. But sitting back and waiting is difficult."
Whatever the ages of your children, your job is not finished. Enjoy every age and stage of your children's lives. Parenting is one of God's highest callings.
…
Order your copy of  LINKED: Quick Guide to Personalities by Linda Gilden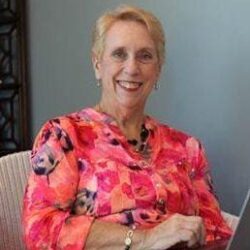 Linda Gilden is an award-winning writer, speaker, editor, writing coach, and personality consultant. Author of Articles, Articles, Articles!, the LINKED Quick Guides to Personalities series, and over a thousand magazine articles, Linda loves to share a great story almost as much as she loves playing with her grandchildren! Learn more at lindagilden.com
View Author Posts
Next Steps To Strengthen Your Walk
We are here for you. Simply click on the button below to reach us by form, email or phone. Together we will lift our hearts and voices with you in prayer.
I Need Prayer
Sow a seed of faith today! Your generous gift will help us impact others for Christ through our global salvation outreach and other faith based initiatives.
Give Online Today
Watch Christian content from your favorite pastors, christian movies, TV shows and more.
Watch Now