---
Walking the Fairways with God

By John Farrell
•
October 13, 2022
•
15 Minutes
---
Veronica Karaman almost gave up golf, but golf wasn't done with her.
Nor was God.
If she had listened to her detractors, Veronica would have hung up her golf clubs and quite possibly walked away from the fairways for good. But that's not how it turned out for her.
A Child's Prayer
Veronica, who has authored several books including The Champion's Way and My Shot of Joy, started playing golf when she was five. When her father hit the links for four hours, she'd stay behind and practice on the putting green for four hours. Noticing her putting ability, Veronica's dad entered her in national peewee putting tournaments every summer for nine years until she turned 14 and was too old to compete.
With putting tournaments no longer an option, she turned to golf and excelled. In high school, she played on the boy's team and became the first girl in her school to receive an athletic scholarship to college. While at Duke University, her competitive career blossomed, winning several tournaments. It was during college that Veronica first invited Jesus into her heart.
During the ten years in which she competed in putting tournaments, she constantly prayed for the Lord to walk the fairways with her and share in her joy of golf. She often thought to herself, "How will I know that God loves me if He doesn't show that He cares about what I care about."
Looking back years later, Veronica realized that God's always been by her side – on and off the fairways.
"I realize that not only did He answer that prayer as a teenager, but He's continued to answer that prayer my entire life," stated Veronica. "He's walked with me in my sport my whole life."
Recovery and God's Voice
One night a couple days before Christmas in 1988, Veronica found herself at a crossroads. She was lying in bed at the home of a family she didn't know in Tulsa, Okla., where she was recovering when she read an article about her in her hometown (Virginia Beach, Virginia) newspaper. The story chronicled the many struggles she had faced during her golf career.
The previous year, while playing the second hole during a Futures Golf Tour event at the Manhattan (Kansas) Country Club, Veronica collapsed. It turned out to be Chronic Fatigue Syndrome – an illness she dealt with for seventeen years. Excited to return to the links after taking five years off for graduate school, Veronica embraced every opportunity she had to pick up her golf clubs. In the timespan that most of her competitors entered two or three tournaments, Veronica competed in ten.
Back then, Chronic Fatigue Syndrome didn't have a label, but her doctors had enough foresight to prescribe rest.
"I went through a year of tragedy where I had a debilitating immune disease and I was almost bedridden for three months," Veronica stated. It was six months before she could walk nine holes on a golf course. Unfortunately, she suffered another setback when her golf instructor died in a plane crash during this time off.
During her recovery, she came across the Virginia Beach article that prompted her to look within herself and at her relationship with God.
"I remember lying in bed telling myself, 'If I quit golf now, people will think I serve a negative God," recalled Veronica. "I can't let that happen."
Instead of letting it dampen her spirit, Veronica found a hill and climbed that hill every day, putting one foot in front of the other. Within a few months she was back to jogging.
Then she heard God speak to her: "If you humble yourself, I'll exalt you."
Veronica wasn't sure what God meant. Would He exalt her as an athlete or something else? Without a clear answer, Veronica carried on as usual and played a couple of rounds of golf a week. God, however, was at work within Veronica and provided her a purpose.
"I led people to the Lord on the golf course because that's what the Lord wanted me to do."
Las Colinas
As with everything Veronica does, she dove headfirst back into golf with vigor. Shortly after returning to golf, she entered the 1989 U.S. Open Qualifier at Las Colinas in Dallas – her first tournament in over a year. She however received some unfortunate news that her caddie's grandmother had passed away. With her caddie gone to be with family, Veronica was left without a caddie and not much time to find a replacement.
Veronica stopped by the caddie shack to hire one for the weekend. With a new caddie in place and the start of the qualifying event the following day, Veronica was understandably nervous. In a moment of desperation, she turned to God and asked if she would qualify. Surprisingly, the Lord answered, "Yes."
"That's never happened before or since," Veronica recollected.
When she hit the links the next morning, her drive off the first tee soared right down the middle of the fairway. Her next shot landed on the green. On the second hole, it was more of the same thing – straight shots and sinking putts.
On the fifth hole, after another amazing hit, Veronica wasn't able to contain herself and exclaimed, "Praise the Lord!" Hearing this, her caddie asked if she was a Christian. Veronica answered, "Yes." It turns out the caddie's dad was a minister. Veronica immediately knew that her caddie wasn't just a coincidence; there was something more – it was a sign from God.
"God hand-picked this caddie for me," said Veronica. "When I was thinking I could score a four, he was thinking three. And he was right."
Veronica finished that day with a 71 on the strength of five birdies. Not only did she win the event, but she also qualified for the 1989 U.S. Open at the Old Course of Indianwood Golf and Country Club in Lake Orion, Michigan.
The U.S. Open
Prior to arriving in Michigan for the biggest tournament of Veronica's career, the Lord told her to put together a tract sharing her testimony to hand out at the event. Fearing no one would listen to her, she asked, "I'm not a great golfer. Why do You want me to do this?" God's response: "That's not the point. I'm a great God and I want you to testify of My greatness."
Veronica obeyed and made her way to the 1989 U.S. Open with God by her side. "God ended up being my sponsor and paying my way and all my expenses, and I handed out those tracks."
The U.S. Open – eventually won by Betsy King – didn't go as Veronica had hoped, failing to make the cut after the first two rounds. Although she didn't participate in the final two rounds, she still made the most of it and had a fantastic time.
"When I didn't make the second day, all I had was joy. It was such an amazing experience. I remember walking down the fairway the second day thinking, 'It'd be really nice to break 80.'"
On the 18th hole that day, Veronica struck a five iron within 70 feet of the pin. Between the ball and the hole were several mounds that she had to navigate around, but she holed the putt for a birdie. Veronica and the crowds went wild. To her, it felt like she had just won the tournament. Although Veronica didn't advance to the weekend, she did break 80.
"I didn't make the cut, but I scored a huge victory and it was an amazing experience with my heavenly father at the U.S. Open."
The Champion's Way
Although Veronica made it to the U.S. Open and broke 80 on the second day, perhaps the greatest thing that happened that weekend was that God took a game that been an idol to her and set her free.
"Golf used to be an idol for me," she told Inspiration Ministries. "I kept spelling God 'G-O-L-F.' I didn't think I could be a Christian and an athlete at the same time. Golf was the furthest thing away from experiencing God when it was my idol and I was caught up in the whole performance trap. God's soul transformed it to where now it's the place where I feel closest to God."
Through her time on the golf course, Veronica has learned many valuable lessons, perhaps most importantly that God loves her regardless of her score. She has been able to take this mindset and her experiences and develop a holistic system to peak performance that she calls "The Champion's Way."
Through her program, Veronica is able to work with athletes and non-athletes in areas of performance, personal development, and leadership. Although Veronica can apply the Champion's Way methodology to anybody seeking improvement, she's found her niche is helping teenage athletes struggling with one of four "Champion Zones."
According to her book, the four Champion Zones are physical (fitness, nutrition, mechanics), mental (mindset, focus), emotional (empowering versus disempowering emotions), and spiritual (identity, higher purpose, values).
"If you can instruct someone in what those zones are and help them identify a process in each one to help them do those things concurrently, that's when you'll see them take a leap," explained Veronica.
"With the Champion's Way, I come in and instill this framework of thought in them. Their identity is strengthened and they learn to play from the inside out. They take off."
Veronica believes the spiritual zone, more specifically identity, is often the missing link in peak performance because people struggle to perform beyond how they see themselves. When she made it to the U.S. Open, she strongly believed that God wanted her to win just as much as she did, but He wanted her to win in a way that helped her grow closer to Him because He's already paid the price for her victory.
"When I teach my students, I teach them to play from victory," Veronica said. "I think that's what faith in Christ does. It teaches you to play from victory. I think having a vital relationship with Christ only elevates your performance."
Veronica's Champion's Way brand of performance coaching doesn't only pertain to athletes, it can also be applied in various settings, such as academics and business. She believes there's a champion inside everyone and she wants to help people define who that champion is by looking at who they are and not at the score.
Whether she's crushing golf balls, sinking putts, or coaching students, Veronica is now living an eternal life because of her relationship with God and knowing that He was her source.
"While I am a golf professional, I've used the game in many ways as a platform to help people and to glorify the Lord."
…
For more information on Veronica's private coaching, workshops, keynotes, and online programs, please visit www.TrueChampionAcademy.com and www.TrueChampionCoaching.com.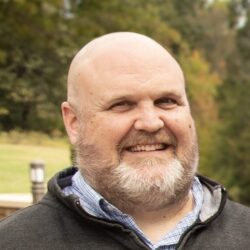 John Farrell is the Digital Content Manager for www.inspiration.org. In addition to having written more than 1,000 articles, press releases, and other pieces of content for Inspiration Ministries, NASCAR, Lionel, and Speed Digital, he authored The Official NASCAR Trivia Book: With 1,001 Facts and Questions to Test Your Racing Knowledge in 2012. John is a graduate of Appalachian State University and lives in Concord, N.C., with his wife and two sons.
View Author Posts
Next Steps To Strengthen Your Walk
We are here for you. Simply click on the button below to reach us by form, email or phone. Together we will lift our hearts and voices with you in prayer.
I Need Prayer
Sow a seed of faith today! Your generous gift will help us impact others for Christ through our global salvation outreach and other faith based initiatives.
Give Online Today
Watch Christian content from your favorite pastors, christian movies, TV shows and more.
Watch Now