---
Sidewalk Prophets' Dave Frey: One Great Big Family (Part 1)

By John Farrell
•
August 20, 2021
•
25 Minutes
---
Dave Frey is the lead vocalist and one of the founders of the hugely popular contemporary Christian band, Sidewalk Prophets. Dave and fellow founder Ben McDonald formed the band while attending Anderson University in Indiana before moving to Nashville. Once in Nashville, their career began to take off. They have four full-length albums, beginning with their debut album, These Simple Truths, in 2009. Sidewalk Prophets' song, "You Love Me Anyway" reached No. 1 on both the U.S. Christian Songs list and the U.S. Christian Airplay list in 2011. Other high-ranking songs include "The Words I Would Say" (2009), "Live Like That" (2012), "Help Me Find It" (2013), "Come to the Table" (2017), and their newest hit, "Smile" (October 2019).
I had the opportunity to talk with Dave about Sidewalk Prophets' origins, their highs and lows as a band, his walk with Christ, the beautiful sounds of a bouzouki, and food fights in heaven. I hope you enjoy.
John Farrell: How are you doing today?
Dave Frey: Doing good. Doing real good. It's a beautiful day in Nashville, so I can't complain.
JF: So, you're not currently on the road?
Dave: Not yet. We got home yesterday about three o'clock in the afternoon and then we leave tomorrow at about eight o'clock at night. This is our sweet day off.
JF: It's always nice to have one of those. So, how's your These Simple Truths tour going so far?
Dave: It's been going awesome. It's been ten years since we've released our first album, These Simple Truths. In the last decade, God has moved in such a mighty way and this tour is in honor of that. We just make it a real personable experience. We celebrate that album but at the same time, we of course play songs from all over our career that have been on the radio. We do it in an acoustic way. We have banjoes and bouzoukis and dulcimers and ukuleles and the guys are switching out instruments every song. It keeps it fresh for us, but it also keeps it laid-back. We want people to feel like they're in a family room.
We call our fans "the great big family" because we know first of all we couldn't do it without them and we're brothers and sisters in Christ. We felt that kinda love all throughout these last ten years of traveling and in those last ten years we've traveled over a million miles. So this tour is in honor of all that. We kinda lay back. We still rock, but we also tell stories. We definitely get sillier than we should on stage as you can tell by our YouTube videos. We just have a great time and it's been going amazing. It really has. It's been such a great tour so far and there's only a handful of days left, but we're going to finish strong. It's been great.
JF: Pardon my ignorance, but what is a bouzouki?
Dave: A bouzouki is a Greek instrument that looks like a giant, elongated mandolin. Dan Macal, our lead guitarist, loves his bouzouki. It's such a unique sounding instrument. The only place that I've ever heard it outside of when Dan showed it to me was the Goo Goo Dolls. They had a song called "Name," which was one of my favorite songs when I was a kid in high school, and I heard that instrument. It sounds like a really beautiful mandolin. That song had a bouzouki in it and that was one of Dan's favorite bands so he had to get a bouzouki and it's been great. It's a cool mix between a mandolin and a guitar. It sounds really cool.
JF: Your current tour celebrates the 10th Anniversary of your debut album and the fact that you've traveled a million miles, so there's probably been some reflection. Over the past ten years, as a band, what's been the highest point and on the flip side, the lowest point?
Dave: Oh man, there are a lot of mountaintops. There are personal highs and lows: I got married a couple of years ago. As far as the band goes, just seeing the ministry grow in ways that I don't think I could have fathomed. When we first got signed our record label was able to get us on Winter Jam. We went from playing a lot of small towns with just a few people in the audience who didn't know our songs to people hearing our songs on the radio and playing in front of ten to twenty thousand people in arenas. We were on tour with Third Day and the Newsboys and all these people came and they're singing our songs back to us. I think even at the beginning of these last ten years God just exploded through radio and our fans' love of music.
It was amazing to see what a song could do. You write a song for a specific purpose and one of my favorite things about it is God takes it and uses it for His glory and for ways you never expected. I think that's what makes those highs so beautiful. God is weaving all these things together. I think being on those first Winter Jams was a pretty high point and then we got to play Red Rocks Amphitheater with Casting Crowns on their tour. That was really special out there in Colorado – a venue that we never dreamed we would ever play. Those were such high moments just praising God under the stars out in Colorado.
As far as lows go, we definitely felt some anxiety and PTSD after we had our trailer fire a couple of years ago. We got woken up in the middle of the night and told that our trailer was on fire and all of us ran off the bus. We turned and it felt like we were stuck in the middle of a horror movie. There's this fire all around us and blessedly the bus was saved. Our sound guy and bus driver unhooked it while the trailer was on fire. They unhooked it from the bus and moved the bus away to safety. We got back on the bus and we'd lost so much stuff. We'd come really close to death, to be honest.
The engine of the bus is in the back so at any point it could have caught fire and might've killed some of us. To come that close, the first thing you think of is, 'Man I want to go home.' But even in the midst of our lowest low, it was my buddy Ben, our manager, that said, 'Hey, we need to go tonight even though we're feeling the way we're feeling. We need to go play our show because evidently Satan doesn't want us to do that and we need to do that.' So we did. We played the show that same night and we felt a lot of repercussions days afterward, but that night man we felt the joy of the Lord fall on us. So even in our lowest lows, we can always find blessings even when the bus breaks down on the side of the road. We try whatever way we can to make it to the show because we know that's just Satan trying to keep us from doing what we've been called to do. We've had these highs and lows, but when all is said and done you can always find the blessing in it all.
JF: Did you find out what happened to the trailer?
Dave: This is all speculative, but they think that one of the wheel bearings in the trailer just stopped rotating. So, it built up heat and the heat got so intense that it started a fire. That's what the fire department said was the probable cause.
JF: About a month after you're done with this current tour you start another tour called, "The Great Big Family Christmas Tour." What is that tour about and what can fans expect?
Dave: Oh man, The Great Big Family Christmas is so much fun. We give away gifts during the night to the audience members. The end of the night is my favorite part. We actually collect an offering for a local family that's in need. It's usually a surprise to them. Their local radio stations or local promoters have found a family that is in desperate need to be picked up this Christmas. We were able to donate to that local family through people's generosity.
Christmas, if it's about anything, is about celebrating Jesus' birth. A man that was born to bring everyone to the Kingdom. The poor, the widowed, the orphaned, those that are struggling. That's our great hope that everyone feels like they're welcomed. I know sometimes Christmas can be a tough time for people that have lost loved ones or people that don't necessarily associate it with happiness. Our hope is that when they come to this event that no matter where they're at they feel like a part of a family. They feel like a part of a Christmas special. They feel like they're seen and loved. I think that's our goal at any concert, but especially at Christmas. We want people to feel the joy of the Lord and to do it through music, through gifts, through Christmas trees. All these things bring my heart joy. I think that sometimes when you're surrounded by people that are smiling and having a great time it's infectious. And our Christmas tour hopefully feels like that because we really do love that season; we love celebrating the birth of Jesus and we love to do it with our great, big family.
JF: When did you get into music and start singing?
Dave: For me, I started singing when I was two years old in my diapers. I would rock that Fisher-Price record player no matter what was on it. I usually listened to Disney songs, but my parents got me into everything. I think my first record was Michael Jackson's "Thriller." Honestly, I sang all my life growing up. One of the most beautiful things was that my parents never told me to be quiet. They would encourage my singing even when I was a little boy.
I didn't realize I had a gift until Junior year of high school. I just thought everyone could sing and everyone can sing. I'll never forget in Junior year of high school I was singing in the hallway and my buddy overheard me – a buddy I really respected, a great musician. He came up to me and he said, 'Hey man, do you want to try out for our garage band?' I was like, 'yeah, dude!' I said, 'But can't everybody sing?' He looked at me and said, 'Not like that, dude.' I'll never forget that compliment, 'Not like that, dude.' It made me smile and then I went out and tried out for this garage band and they instantly picked me as their lead singer.
I had no idea. I had sung in church and they would give me some ovations and I thought that was just church people being polite, but no it was a gift and I didn't really understand that until toward the end of my high school career. In college, I met my buddy, Ben. I was playing Nintendo and he came in and said, 'Your roommate says you can sing. Let's write some songs together.' I put the Nintendo controller down and we started writing songs. That's how Sidewalk Prophets began. Up in a dorm room. You never know where God's going to open up doors.
JF: Nintendo, the great unifier. Where did you go to college?
Dave: We were at Anderson University in Anderson, Indiana. We were on the fourth floor of our dorm, the top floor. The way Ben and I really started the band was writing songs in the hallway. We would dangle a microphone from the ceiling in the dorm room, gather our friends in and just play those songs around this microphone. Then we'd send it out on Napster. Napster was legal then. The sharing of files was legal then.
JF: I remember that.
Dave: Yep. We'd share it all over campus. It was great for us. We were just getting our music out there. We'd hear it from one dorm room and then another. I was like, 'Okay, this is great. People are listening.' It was a lot of fun.
JF: Do you play any instruments?
Dave: I play the ukulele on the record and I also play the bass clarinet on our last record. It's very short. I begged for it to be on a song and they finally gave me a big clarinet solo on a song. I grew up playing the bass clarinet in marching band, but other than that no. I leave the instruments to my brothers on stage. They're so good at it.
JF: So, no bouzouki?
Dave: No bouzouki. Not for me.
JF: Where does the name 'Sidewalk Prophets' come from and what does it mean?
Dave: When we started the band, our first name was 4 Floorz II Heaven. That was just a name that Ben gave us because we were on the top floor of our dorm closest to heaven. We realized that was a really stupid name, but it was what we were for a while.
We were getting ready to play chapel at school and were like, 'We cannot be 4 Floorz II Heaven.' We have to think of something better or we'll forever be this terrible name. So we ended staying up late one night and Ben came up with 'Prophet' first. The Word of the Day on a calendar was 'Prophet.' It said, 'Someone who tells the truth about life.' We liked that. It was a simple definition. Something I had never heard before. So, we kept that. Prophet – we wanted to be men who are telling the truth about life.
Then 'Sidewalk' came from a Jars of Clay song – one of my favorite bands. The song's called 'Art and Me.' It's on their first album. It says, 'Images on the sidewalk / Speak of dream's descent / Washed away by the storms / To graves of cynical lament.' That little line of poetry, I pictured a man walking down the sidewalk and right in front of him is what God wants him to see. But he gets so worried about life that he doesn't even look down; he just walks right by it. He doesn't listen to God. I think it's so important for us to be listeners of God and the best way to do that is getting in the Word, praying, and having a relationship with Jesus. It is hard sometimes to hear God, but I'm telling you every day I know I probably walk right by what he's trying to tell me. Time and time again we want to be men that are listening to God and then speaking the truth about life.
JF: You've mentioned Ben, but who are the current members of Sidewalk Prophets?
Dave: Ben is actually our manager. He's not on stage anymore with me. For fifteen years he was on stage, but now he's our full-time manager. On stage with me is my buddy Cal Joslin. He's our bass player. Then we have Dan Macal. He's our lead guitarist. Blake Bratton is our keyboard player. And then Rains Wall is our drummer. They're so talented. I'm so grateful to be on stage with those four boys.
JF: How would you describe your band's sound?
Dave: Indescribable. If I had to try to summarize it I would say, 'Pure awesomeness.' It's hard for the person writing the music to describe their own music because there are so many influences. You go from bands like DC Talk, Third Day, Newsboys, Jars of Clay, Audio Adrenaline. Those are the bands I grew up on. There's definitely a lot of that in our music, as well as growing up on old '70s songs that my dad loved: Jim Croce, James Taylor, and Billy Joel. My mom loves the Beatles, Led Zeppelin, and the Monkees. There are all these eclectic things going on. My brothers in the band have their own '90s rock that they grew up on or '80s rock. We just bring it all to the table and try to make it something that reflects the love of God. I think that's my favorite part of all of it.
JF: You've mentioned Jars of Clay and a couple of other bands. Are there any other musicians or artists you look up to or consider influences?
Dave: Honestly, everyone I just mentioned, but I always quote the M's. Michael Tait from the Newsboys made me put him on the list too. Just joking, but there's five Ms: Michael Jackson, Mariah Carey, and Mickey Mouse are kinda my vocal inspirations. I loved their voices growing up. I put Michael Tait on the list too, because I love DC Talk and he laughed. He's like, 'You need to put me on that list.' I was like, 'You're right, dude.'
I'm looking at my wall right now here at home and I see on my wall a John Denver record, a Disney record, Michael Jackson, Beatles, Eagles, the American Tale soundtrack, Billy Joel, Jim Croce, Glenn Frey. Those are what I grew up listening to and then when I got to high school I fell in love with these Christian bands that showed me you can make great music that reflects God at the same time: DC Talk's Jesus Freak album, Take Me to Your Leader by Newsboys, and Audio Adrenaline's Bloom.
It really just unlocked this thing in my heart to go out and worship and do it for God. I never felt that before. I think it was Freshman year in high school that all those incredible records came out and it really changed my trajectory and helped define who I was and what I wanted to do. I'm grateful for those days.
…
Learn more at SidewalkProphets.com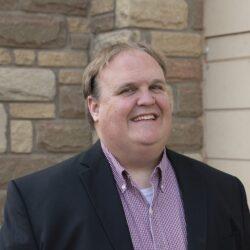 John Farrell is the Digital Content Manager for www.inspiration.org. In addition to having written more than 1,000 articles, press releases, and other pieces content for Inspiration Ministries, NASCAR, Lionel, and Speed Digital, he authored The Official NASCAR Trivia Book: With 1,001 Facts and Questions to Test Your Racing Knowledge in 2012. John is a graduate of Appalachian State University and lives in Concord, N.C., with his wife and two sons.
View Author Posts
Next Steps To Strengthen Your Walk
We are here for you. Simply click on the button below to reach us by form, email or phone. Together we will lift our hearts and voices with you in prayer.
I Need Prayer
Sow a seed of faith today! Your generous gift will help us impact others for Christ through our global salvation outreach and other faith based initiatives.
Give Online Today
Watch Christian content from your favorite pastors, christian movies, TV shows and more.
Watch Now