---
Missy Franklin: Gold Medalist for Christ (Part 1)

By John Farrell
•
May 14, 2021
•
20 Minutes
---
Missy Franklin is a five-time Olympic Gold medalist American swimmer. She previously held two world records: in the 200-meter backstroke and as a member of the U.S. 4×100-meter medley relay team. In December 2018, at just 23 years of age and filled with bittersweet emotions, Missy retired from the sport due in large part to a lingering shoulder injury and citing her desire to be able to someday hold her baby without experiencing pain. After attending church for the first time as a high school student, her faith quickly grew as she developed a personal relationship with the Lord. Since then she has remained devoted to her faith and it continues to play an integral part in her life today.
I had the opportunity to talk with Missy, who had recently returned from her "mini-moon" with her husband Hayes Johnson, about her personal walk with Christ, growing up, swimming, the Olympics, and her plans for the future.
John Farrell: Congratulations on your recent marriage to Hayes Johnson.
Missy Franklin: Thank you!
JF: So, how was your special day?
Missy: Oh my gosh, it was literally such a dream come true. The whole concept of a wedding just blows my mind. The fact that anyone that has ever been important to you throughout your entire life are all in one place because you have found your soulmate. It's the most amazing and surreal experience. It was absolutely perfect. We're still overflowing with the amount of love, support, and joy from that day. We're just so blessed.
JF: Since Hayes is a swimmer too where did you two meet?
Missy: We actually met at this event called "Golden Goggles." I describe it as the Oscars for swimming. It's once a year and rotates between LA and New York. There's this big awards show and they give awards for things like Rookie of the Year, Perseverance Award, Best Race, and Best Relay. The awards are literal golden goggles. It's super fun. We get all dressed up. So, we actually met at my first-ever Golden Goggles. I was only 15 and he was 20. He was there and I had heard he was a really good dancer and I absolutely love to dance so I walked up to him and challenged him to a dance-off. He was like, "who is this little kid." Anyways, we cracked up and we just were good friends for a couple years. We have about a five-year age gap, so of course at 15 and 20, there was nothing happening there romantically. We were just friends and we'd see each other every so often at meets and when our paths would cross. The last time we saw each other was at the Olympic Trials in 2012 and then we went five years without speaking. We continued on our own journeys. After Rio, during the Spring of 2017, he reached out to check in on me to see how I was doing. I think he knew that I had been going through a pretty hard time and, like I said, I hadn't heard from him in five years. We talked for three days and we had flights booked two weeks later to go see each other. And the rest is history.
JF: I love that story. So, where did you go on your honeymoon?
Missy: We did a little mini-moon right after the wedding. I had to get back to school. One of the best pieces of advice we got from a lot of couples was to separate your wedding and your honeymoon because a) it's tough to plan both at the same time, and b) it's really nice to have something to look forward to after all the excitement of the wedding has died down. For our actual honeymoon, at some point next year, we're going to Patagonia and get the full experience. We're probably going to stay in Buenos Aires for a couple of days. It's one of those places that neither of us have ever been. We really want that full experience. We're so active; we love nature, so we're so looking forward to that. But for this one we did a little mini-moon. We actually got married in Denver. We travel so much for work that my husband was like 'the last thing we're gonna want to do is get on a plane right after we get married.' It was so smart. So, we drove down to the Broadmoor in Colorado Springs. They have this thing called, "Cloud Camp." Three thousand feet above the actual hotel they have this big, gorgeous lodge and a set of all-inclusive cabins. We went up there for two-and-a-half days and did hiking, archery, and mule-riding. It was so much fun. We had absolutely the best time. It was so perfect.
JF: That sounds awesome! So, when did you start swimming and how did you progress from swimming locally to competing at a national level?
Missy: My progression within the sport was very natural. I started swimming when I was five on my summer club team, which is how so many of us got started. We all sing the praises of summer leagues because not only does it teach you the life skill of swimming at a young age, but it's also just so much fun. I think that really helps so many of us develop this love and passion for the sport. I was seven when I started swimming on my year-round team, my club team. After that. I just kept falling more in love with the sport and the more I loved it the harder I worked at it and the faster I got. The faster you get, the more meets you qualify for and you just start climbing that ladder. I made my first Olympics Trials Cut when I was 12. I went to open trials in 2008 when I was 13. I was on my first national team when I was 14 and started traveling internationally with the national team at that point. It was all very early for me. I definitely started young, but it was a very natural progression. I made my first World Championships in 2011. Then I made my first Olympic team in 2012. It was a very wonderful and easy way to slowly make my way going meet to meet. It just really eased me into all of it. I felt like I was able to gain so much knowledge and experience from every meet and every team that I was on.
JF: How long was it between the time you began swimming and when you realized you were good enough to swim at the international level? Did someone notice you or was it your goal to make the Olympics from Day 1?
Missy: We have a picture from Kindergarten that I drew of me on top of an Olympic podium with a gold medal in a swimsuit and cap and goggles. It was definitely a goal for me. Hopefully you ask any child in sport and they have these huge, massive, lofty goals, which I love so much because one of the best things about sport is you can set these incredible goals and achievements and you get to chase after them. For us it wasn't about being noticed – of course we had people telling us stuff and asking if we're going to move states or move coaches or teams. But first and foremost it was important to us is that I was happy, that I was still experiencing childhood to the fullest. I loved where I was and we loved living out west, so I stayed put and kept putting myself in situations where I loved going to practice every day, where I loved working hard. We just trusted that the rest would work itself out if those things were in place.
JF: Why swimming?
Missy: I loved it the most. It's as simple as that. I did every sport imaginable and I loved all sports. I still do. I love being competitive. I love racing and training, but you have to do what you love because that's our calling. We choose that as our profession for a reason. It's so worth it when you're doing what you love. No matter how hard training ever got, no matter how difficult it was getting through a plateau where I wasn't having the best time, I loved the sport of swimming and at the end of the day that was all that mattered.
JF: What other sports did you play growing up?
Missy: Oh my gosh, here we go: skiing, tennis, ice skating, basketball, soccer, dance, gymnastics, and volleyball. I think that's it.
JF: You're not kidding. You did do a lot of sports.
Missy: Absolutely. I don't think there's any reason not to.
JF: I agree.
Missy: The more you expose your children to the more they figure out what they love and what they don't. For me, I absolutely loved being on a team. I loved volleyball, basketball, and soccer. I hated running, so basketball and soccer got the nix. But I stuck with volleyball for a little while. It really gives your child a chance to truly begin trusting themselves and their instincts and what they love and don't love. My only rule growing up was you have to finish what you start. If I started playing soccer and halfway through the season I didn't want to do it anymore, my parents would be like, 'Ok, that's fine, but you have to finish the season. You made a commitment to yourself, to your team, to your coaches, and if at the end of the season you still want to be done, you don't have to play again, but right now you have to stick with your commitment.' I think that's such a beautiful way to teach kids to listen to themselves, but to also recognize loyalty and commitment to teams and groups.
JF: Between backstroke and freestyle which one was your favorite?
Missy: If you ever talk to a competitive swimmer, they always have a race that's like their baby. They have that one race that's always their favorite, their bread and butter. It's their thing. For me, it was always the 200 Backstroke. For that reason, I would say backstroke is my probably my favorite, but I love freestyle too because it gave me the opportunity to be on more relays, which was my favorite part about swimming as a whole – the teams, the relays and being behind the blocks with three other incredible women. I definitely love them both for different reasons, but I would still consider myself first and foremost a backstroker.
JF: What was training like both on the local level and as you climbed the ladder in competitive swimming?
Missy: It just gets a little more intense and complex as you get better within the sport and as you get older. When I was younger, it was very simple. It was five to six workouts a week. Just singles. As you start to work your way up and start to set those higher goals for yourself, you need to manage that and what you're doing with your training. You need to know what you're doing with what your goals are for yourself, so you start adding in two-a-days. So, you start swimming twice a day a couple times a week. I started training outside the pool doing weight training and physical therapy to prevent any kind of injury. Then of course the workouts just get harder and harder. Again, it's just like my progression as a swimmer, I think training progression is very natural. You swim, you reach your goals, you set higher ones. That has to be seen in how you're training. Going back to what I said earlier, it's never easy. I don't think I've ever heard anyone say training for an Olympics is easy, but if it's what you love, it is so much fun. Not every single day. We all have days where it is so hard, where we are exhausted beyond belief, where the thought of having to go another six to eight thousand meters just seems impossible to us. But when you truly love it and you truly believe in what you're doing, you do get through it and it is so worth it at the end of every day.
JF: What is the greatest lesson you have learned from your time in the swimming pool?
Missy: Many times when I talk to children, and even to parents, I think the beautiful thing about sport is it teaches you so many lessons that you don't even realize you're learning at the time. You're going to classes, having fun with your friends. As you gain this perspective as you get older and even as you step away from the sport a little bit, you realize just how much sport teaches you. On a small scale, swimming taught me about time management and balance and how you have to be able to have that balance in your life where for me it's not just swimming all the time. I had swimming. I had school. I had my friends. That sense of balance is something I feel so many of us struggle with in this day and age because we're constantly getting pulled one way or the other. We tend to overlook some of the areas in our life that need attention. Realizing the importance of balance.
For me, with swimming in particular, delayed gratification was a huge lesson because it's not like we have the Olympics every weekend. It's not like we get to work as hard as we do during the week and we see those results immediately. Imagine being a year and a half into a four-year cycle and you've been training so hard and you're completely exhausted and you know you may not see the benefits of what you're doing for another two and a half to three years. That's really hard to stay focused, motivated, and energized, but it's been incredible because that's so applicable in every area of life. Like for school, putting the work in every day to be present in class, to do the reading, and to do the work so that when the big final comes at the end of the semester you're ready. You're prepared for that, whether it's relationships like recognizing if there is some way you can be better to help your relationship or your spouse. If there's something you need to work on. Those changes don't happen overnight, but if you're constantly putting in the work and making the effort to be your best self those results do come eventually. Just trust in that process.
…
Featured Photo Credit: U.S. Olympic & Paralympic Committee.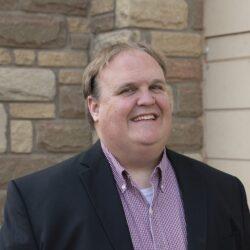 John Farrell is the Digital Content Manager for www.inspiration.org. In addition to having written more than 1,000 articles, press releases, and other pieces content for Inspiration Ministries, NASCAR, Lionel, and Speed Digital, he authored The Official NASCAR Trivia Book: With 1,001 Facts and Questions to Test Your Racing Knowledge in 2012. John is a graduate of Appalachian State University and lives in Concord, N.C., with his wife and two sons.
View Author Posts
Next Steps To Strengthen Your Walk
We are here for you. Simply click on the button below to reach us by form, email or phone. Together we will lift our hearts and voices with you in prayer.
I Need Prayer
Sow a seed of faith today! Your generous gift will help us impact others for Christ through our global salvation outreach and other faith based initiatives.
Give Online Today
Watch Christian content from your favorite pastors, christian movies, TV shows and more.
Watch Now