---
Kobe Bryant's Legacy Off and On the Court

By John Farrell
•
November 22, 2021
•
13 Minutes
---
On Wednesday, June 26, 1996, the life of high school basketball phenom, Kobe Bryant, from Lower Merion High School in Ardmore, Pennsylvania, just outside of Philadelphia, changed forever.
With the 13th overall pick in the 1996 NBA Draft, the Charlotte Hornets selected the high school shooting guard. However, Kobe never suited up for the North Carolina franchise. The Hornets made the selection with the intention of trading the draft rights to Kobe to the Los Angeles Lakers for veteran center Vlade Divac.
There was a snag though. Vlade Divac was not sold on the idea of being traded to Charlotte and seriously contemplated retirement. Vlade eventually came around and accepted his new role with the Hornets and Kobe officially became a member of the Los Angeles Lakers.
For the next 24 years, Kobe Bryant changed the lives of those around him both on and off the court.
That same offseason the Lakers were able to sign center Shaquille O'Neal with money saved by trading Vlade. Kobe and Shaquille teamed up for eight seasons and three NBA titles.
Fast-forward 20 years. When Kobe appeared in the final game of his storied career on April 13, 2016, the icon put on a clinic – scoring 60 points – at home in the Staples Center against the Utah Jazz.
He left a mark on every NBA game in which he participated and left an indelible impression on many of the men he suited up with — teammates and opponents alike. After all was said and done, with his body breaking down from years of abuse on the basketball court, Kobe left the game on his own terms and with his name firmly etched in the record books.
When he finally walked away, Kobe was third on the career points list with 33,643, only behind Kareem Abdul-Jabbar (38,387) and Karl Malone (36,928). He was the Most Valuable Player for the 2008 NBA season, two-time NBA Finals MVP, eighteen-time NBA All Star, and two-time Olympic Gold medalist. He was also a key piece to the Los Angeles Lakers' last five championships (2000-02, 2009-10).
He was such an integral part of the Los Angeles Lakers organization and their championships that they retired both numbers he wore during his career: No. 8 and No. 24. He wore both for 10 years each.
What made Kobe such a great player … one of the best of his generation? Two answers come to mind: Michael Jordan and hard work, and not necessarily in that order.
When Kobe entered the league in 1996, Michael was widely regarded as the best player to ever step onto the basketball court. Kobe wanted to usurp Michael from that throne. He not only wanted to "be like Mike," he wanted to be better than Mike. They both carried an ultra-competitive spirit with an assassin-like mentality on the court. They not only wanted to beat you, but they also wanted you to never forget it.
Myriad stories exist of how hard Kobe worked at his craft and how dedicated he was to becoming the best, often showing up earlier and staying later than everyone else did to work on his game. My favorite anecdote, however, is one Jay Williams told several years ago.
Williams played one season (2002-03) in the NBA for the Chicago Bulls before injuring himself in a career-ending motorcycle accident. One afternoon that season before a Bulls-Lakers matchup later that night Williams went to the gym early to work out by himself. However, when Williams arrived, Kobe was already there working on his game. When Williams finished his 90-minute workout session, he noticed that Kobe was still practicing so he went over to watch the Lakers guard silently practice his craft for an additional 25 minutes.
That night Kobe dropped 40 points on the Bulls. After the game, Williams went up to Kobe and asked him why he had been in the gym for so long.
Kobe's response speaks volumes about his competitive nature and his quest to be the best player: "Cause I saw you come in, and I wanted you to know that it doesn't matter how hard you work that I'm willing to work harder than you."
This August, Kobe, whom many consider one of the best basketball players to ever play the game, will likely be inducted into the Professional Basketball Hall of Fame as a first-ballot nominee.
Unfortunately, the recognition will come posthumously.
On the morning of Sunday, January 26, 2020, Kobe, 41, boarded a helicopter with his 13-year-old daughter, Gianna, at John Wayne Airport in Santa Ana, California. They were headed to an AAU basketball game at Kobe's Mamba Sports Academy along with seven others.
They never made it.
Battling foggy conditions that even grounded police helicopters, Kobe's helicopter crashed near Calabasas where all nine people on board died. In addition to Kobe and Gianna, John, Keri, and Alyssa Altobelli; Sarah and Payton Chester; Christina Mauser; and Ara Zobayan passed away that Sunday morning.
Alyssa and Payton were Gianna's teammates on the AAU basketball team that Kobe coached. Christina was an assistant coach for the team. Ara was the pilot and a close friend of Kobe's.
Although Kobe's legacy of what he did on the basketball court is immeasurable, the legacy of what he did off the court is even more impressive.
A large part of Kobe's life away from the spotlight of the basketball court was spent on his philanthropic efforts.
As a role model and hero for so many children, it's no wonder that kids involved with the Make-A-Wish Foundation chose Kobe as their wish. In all, the basketball great granted more than 200 wishes with this organization.
In 2007, Kobe and his wife founded the Kobe and Vanessa Bryant Family Foundation. According to the organization's website, the foundation "is dedicated to improving the lives and youth and families in need, both domestically and globally, and encouraging young people to stay active through sports. The Foundation provides financial resources, develops unique programs and raises awareness for relevant issues in order to strengthen communities through educational and cultural enrichment opportunities."
In addition to his own foundation and his tireless work with Make-A-Wish, according to Look to the Stars, Kobe often gave his time to the following charities: After-School All-Stars, Aid Still Required, Cathy's Kids Foundation, Stand Up to Cancer, Vijay Amritraj Foundation, and several others. His work with these organizations supported causes that directly impacted children, at-risk and disadvantaged youths, disaster relief, foster and adoption agencies, and education, among others.
In perhaps an ironic twist of fate, one of the projects nearest and dearest to Kobe's heart was his Mamba Sports Academy where he coached his daughter's AAU team. The academy has two locations in the Los Angeles area and offers a variety of youth programs, full-circle training, sports medicine, recovery options, and more.
As I still try to wrap my head around Kobe's sudden and tragic passing, I'm reminded of Isaiah 51:1 (NLT): "Good people pass away; the godly often die before their time. But no one seems to care or wonder why. No one seems to understand that God is protecting them from the evil to come."
Like all of us, Kobe was not perfect. He had some highly publicized personal and legal issues arise that threatened his marriage. As a devout Catholic, Kobe repented and apologized for his mistakes. He was forgiven and put those troubles behind him. But, at the very core of who he was, he was a good person. He was "good people."
Although we may think that Kobe and everyone else on board that helicopter died before their time, God has a master plan. Perhaps there was something just around the corner, something more evil or painful that we can't possibly comprehend, that God was protecting them from. Ultimately, we don't know.
Only God knows.
One thing, however, that cannot be disputed was the type of father Kobe was to his four daughters: Gianna, Natalia, Bianka, and Capri. According to all reports that have come out since his passing, he was an active participant in all of their lives, often joining them on class field trips or coaching them from the sidelines.
Less than 15 hours before the helicopter crash, LeBron James, in his second season with the Los Angeles Lakers, passed Kobe on the NBA career points list. Kobe congratulated LeBron on the accomplishment via Twitter: "Continuing to move the game forward @KingJames. Much respect my brother #33644". His response captures not only his appreciation for success but also his respect for LeBron and the game of basketball.
As those around the world, especially those near and dear to the nine who perished Sunday morning, wake up to a new day without their loved ones and struggle to find meaning and a way to cope and grieve, I pray they find solace in the Word of God.
I pray they remember Paul's advice to the Romans: "For we don't live for ourselves or die for ourselves. If we live, it's to honor the Lord. And if we die, it's to honor the Lord. So whether we live or die, we belong to the Lord" (Romans 14:7-8 NLT).
Now, I didn't know Kobe (or any of the people aboard the helicopter that day) personally, but I think he would be happy with this sentiment.
Kobe changed his life with basketball, but he changed the lives of others because of basketball.
…
Learn how you can receive God's promise of eternal life by clicking the button below.
Photo Credit: Neon Tommy/Kobe Greeting the Runners/CC BY-SA 2.0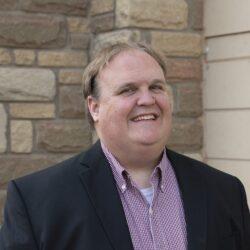 John Farrell is the Digital Content Manager for www.inspiration.org. In addition to having written more than 1,000 articles, press releases, and other pieces content for Inspiration Ministries, NASCAR, Lionel, and Speed Digital, he authored The Official NASCAR Trivia Book: With 1,001 Facts and Questions to Test Your Racing Knowledge in 2012. John is a graduate of Appalachian State University and lives in Concord, N.C., with his wife and two sons.
View Author Posts
Next Steps To Strengthen Your Walk
We are here for you. Simply click on the button below to reach us by form, email or phone. Together we will lift our hearts and voices with you in prayer.
I Need Prayer
Sow a seed of faith today! Your generous gift will help us impact others for Christ through our global salvation outreach and other faith based initiatives.
Give Online Today
Watch Christian content from your favorite pastors, christian movies, TV shows and more.
Watch Now