---
Keith Erwin: Remaining in God's Will Through Gospel Music (Part 1)

By John Farrell
•
August 6, 2021
•
12 Minutes
---
John Farrell: What was the inspiration behind your new album, This Is Love?
Keith Erwin: Honestly, this is probably an odd answer to a great question, but as far as our ministry goes, we don't really know what God is going to do with the record.
It really takes us time to know exactly where it came from as far as inspiration. For example, a couple of years ago, we did a record called Only Faith Can See. The record was chock full of songs that were leading people through hard times and giving people hope. At that time, we really didn't know why. God orchestrated the lyrics of each song to go to that emphasis.
After a year we found out that the lyrics were not specifically for anybody else, but for us. We had a bus accident a couple of months after the record came out and totaled our bus. Our bass singer and brother, Kody, had viral meningitis just a couple of months earlier and then even closer to the debut of that record.
Obviously, we always want to have songs that are gospel-centered, that will help people, and that will have substantial lyrics. Those are the pillars of our ministry and every song that we do we want those three things to be in the forefront.
As far as inspiration, before a record comes out, those things are always there. But when it comes to knowing why or the reasoning behind every lyric, we try to pray and seek God to know where He's trying to lead us as a ministry and how the songs and the lyrics are ministering to people. Like I said, we really won't know that until months later. It may take months to know what God is doing for a record.
JF: What is the message you hope people take from this album and your entire canon of music?
Keith: Just that we're gospel centered. We always want to have the gospel clearly presented.
We are a local church-based ministry. We will always be that. We always want to serve in the local church, regardless of wherever God leads us. We do so many different concerts in venues like high school auditoriums, arenas, and different things like that, but we always want our music to be centered in the local church. We know that if we can do that – if we're always centered on the local church – then our ministry will be vibrant when it comes to gospel-centered lyrics, substantial lyrics, and trying to portray our youth that really can speak for itself.
This is a genre that does not have a predominantly young artist faith. For us to be able to do this as young people – young men and a young lady – we want to use that because we know that God has given us a season in our lives to give the gospel in a different form than a lot of our peers in this genre.
We know we can attract a younger audience and the younger demographic, and we thank the Lord for that. We want to do that, but also always honoring the people that came before us in this genre.
Those are just a couple of things that we always want to emphasize. And obviously we just want to be a blessing to the many people we get to meet across the country.
A New Age of Southern Gospel
JF: Being that your family band is kind of an outlier in the Southern Gospel genre due to your age (since you're all in your twenties, which is not representative of most gospel groups), what made you decide that this was the route you wanted to take versus making Christian pop music similar to what you hear on radio stations like K-Love?
Keith: This may be another odd answer to a great question. We just want to remain in God's will. This is probably going to come across as an old ball-coach-type of an answer, you know, "Just play the game." But our biggest emphasis is just staying true to who we are and to be completely centered in the will of God for our ministry.
Regardless of whatever genre God puts us in, whether it be the song, feel, the lyrics, or whatever, we just want to remain faithful to God's will for our ministry regardless of the style of music. With that said, we so appreciate Southern Gospel music, and I guess we kind of organically fall under that label. And that's no problem to us whatsoever.
We love Southern Gospel music and it's genre, but like I said, the biggest thing for us is to always remain faithful to what God has called us to do, to remain true to ourselves in that, and to also be a local church ministry. So, regardless of what genre that fits in, we're pleased with it as long as God is pleased with it.
JF: Since your group has been together since 2011, how has your sound changed over the past decade?
Keith: I would say "organically." Most of that credit goes to our producer Wayne Haun.
This is all we've ever done. I was in the recording studio for the first time when I was 16 months old. I sang "The B-I-B-L-E." So, this is something we've always done with our father being in evangelism for so long and traveling with him.
Regarding 2011, like you brought up very accurately, that is when we started our mixed group, and our sister joined us. But I would give most credit to our producer who quickly found our vision and niche for our ministry and songs.
At first,  we had to have these conversations with Wayne: "This is what we want. This is where we want to go. This is how we're feeling. This song needs to go." Now, after six or seven records with him, we don't have to have those preliminary conversations anymore. We kind of just know what each other – our ministry and Wayne – wants to do with each song. We know what we want and we know where God is leading our ministry.
The sound that we have, we praise God for, but not only that. We thank God for Wayne and his amazing talents not only for us but for so many other artists in gospel music. He has had an impact on so many ministries, and we're thankful for him.
The Stories Behind the Songs
JF: What is the genesis for the song "Mountain in the Sea"?
Keith: It comes straight out of the Bible. There are so many verses in Scripture that talk about how if we just have a small amount of faith, even a grain of a mustard seed, the Word of God says that mountains can be moved with our faith. Wayne actually wrote this song with Joseph Habedank, who's another artist in gospel music and a dear friend of ours that we've done tours with.
It was one of the last songs we found during the song-search process. I'll never forget that Wayne told us to look up these scriptures and we'd get the thought behind this song.
Like I said before, we want our songs to have a gospel-centered base and biblically driven lyrics. That's what this song is. It clearly talks about and references so many scriptures about how our faith in Christ needs to move us more than anything because if it moves us, we can move mountains. As long as we trust Him that the mountains will be cast into the sea and that it is nothing for God to move things for us as long as we have faith in Him.
JF: Amen. Can you tell me the backstory to "When My Scars Touch Yours"?
Keith: That was actually the first song we found that a friend of ours, Kevin Winebarger, who we've grown really close to recently, wrote. He actually wrote two cuts on this record. He also wrote "The Blood of Jesus."
This song also comes from Scripture. I'm looking it up right now. It's Isaiah 53. I want to quote this scripture because I do it every single night, and I love quoting it before we sing this song every night.
"Surely He has borne our griefs and carried our sorrows; yet we did esteem Him stricken, smitten of God, and afflicted, but He was wounded for our transgressions; He was bruised for our iniquities. The chastisement of our peace was upon him, and with His stripes we are healed" (Isaiah 53:4-5).
His scars cleansed every sin that we have ever committed. There's so much grace in this song and in the truth of this song knowing that whatever sin we have committed or will commit, God's grace and His scars will cover it all. And He has so much more grace than we have sin.
…
For more information on The Erwins, learn more at erwinministries.com
Featured Image Credit: This Is Love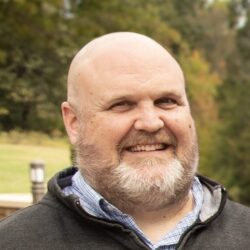 John Farrell is the Digital Content Manager for www.inspiration.org. In addition to having written more than 1,000 articles, press releases, and other pieces of content for Inspiration Ministries, NASCAR, Lionel, and Speed Digital, he authored The Official NASCAR Trivia Book: With 1,001 Facts and Questions to Test Your Racing Knowledge in 2012. John is a graduate of Appalachian State University and lives in Concord, N.C., with his wife and two sons.
View Author Posts
Next Steps To Strengthen Your Walk
We are here for you. Simply click on the button below to reach us by form, email or phone. Together we will lift our hearts and voices with you in prayer.
I Need Prayer
Sow a seed of faith today! Your generous gift will help us impact others for Christ through our global salvation outreach and other faith based initiatives.
Give Online Today
Watch Christian content from your favorite pastors, christian movies, TV shows and more.
Watch Now