---
T.C. Stallings: God's Teammate (Part 1)

By John Farrell
•
November 3, 2022
•
11 Minutes
---
John Farrell: Can you tell me a little bit about your documentary film, 24 Counter: The Story Behind the Run, and how that came to be?
T.C. Stallings: I guess the best thing to do is to start with an explanation of the title. 24 Counter is a football play. It's common for a running back to step one way and go the other way. That's symbolic of what ended up happening to me in my walk with the Lord while in college.
It has that meaning, but it also has a double meaning because it's literally a play that I ran in 2000 — my junior year in college. That was my first time playing running back at the University of Louisville. We were in a tight game and it's 34 to 34 and overtime. We get the ball and the very first play we call was 24 Counter. I ran that play and scored a touchdown, and we won the game.
The documentary starts off showing that play and everybody piles up on top of me and the crowd was going crazy. We beat the University of Kentucky. And then it just rewinds me out of that pile, rewinds all the way back to the start of the play. And then everything goes black. And I take you back to my childhood.
And so, 24 Counter: The Story Behind the Run — that's the tagline — is a documentary that tells you the story leading up to how I got to that point because that encapsulates my life testimony and how I came to know Jesus Christ as my true Lord and Savior. That story from birth all the way up to that run is an inspirational story. It basically is my testimony.
Since this is a documentary based on my testimony, we call it a "docu-mony." I don't know if we invented that word, but that's what we call it.
JF: I like that.
T.C.: So, that's the history behind the name and how it came to be.
We started working on it because I wanted to be able to share my testimony with the world and I wanted to get into filmmaking at some point, and not just acting. I thought what better project for my first than something that if I didn't do anything else, this might be the most valuable project — albeit a simple, small documentary. It might be the most valuable project I ever work on because it tells people what it truly means to make Jesus the Lord of your life. I've lived it out and I got a chance to document it for the world to see.
So, yeah, it's just my wanting to tell my testimony to the world and I was able to do that through the documentary.
JF: What an awesome way to share your testimony. So, what is the overall message you hope people take from watching your docu-mony?
T.C.: Some people are going to resonate with it, for sure, because within the story, they'll see that I was a guy that had a strong belief in God. I believed in Jesus and everything, but I didn't understand that having Him be the Lord of my life is separate from having Him be the Savior of it. The Bible says that you have to accept Jesus Christ as your Lord and Savior. I think sometimes people forget to separate those two and understand that those are two different things because for Jesus to be the Savior of your life, that actually doesn't require you personally to do anything. He's the Savior whether you accept that or not because He died on the cross. Him dying on the cross — that very act made Him the Savior and it's up to us to accept that.
But for Him to be Lord of your life — the Lord means Leader — somebody follows and somebody leads. We have to accept Jesus as the Lord, meaning we get behind Him and live out the way He wants us to live it. We give him control. And until we do that, He's not Lord.
Whenever we're giving our time to whatever we'll allow Him to lead us that's the Lord. For me, I believed in Jesus, but football was the lord. I would do anything for football.
What people will see throughout my story is how the Scripture through prayer, through other people coming into my life and showing me what it truly meant to not just believe in Jesus, but also follow him. My belief transitioned into actually becoming a Christ follower. And I gave up letting football be the leader and I let the Lord be the Leader. Let Him do what He wanted to do.
When you watch 24 Counter, you see this whole thing play out. And you see how the life that I was living leading up to this made it hard for me to actually accept this transition into becoming a true Christ follower. There'll be people who resonate with that.
You see the moment where I got called out on my faith and I had to make some tough choices. And then you also see me get persecuted because of those choices. I hope people can see that I don't just talk about these things; I actually got a chance to live it out. Everything's documented.
It will inspire them to take a look at their own life and see if they're true followers or if there's something else leading their life. If so, they can make the switch because it's a biblical switch that you have to make. There's a lot there that I hope people pick up on, but, at the end of the day, I hope they walk away from it being able to be affirmed as a true Christ follower or they are challenged to go ahead and make the switch and make sure that Jesus is actually the Lord of their life and not just somebody that they believe in.
JF: Why is it important now, 20 years after this play happened, to tell your story? Is there a significance to releasing it now versus 10 years ago or 10 years from now?
T.C.: There are a lot of reasons for that. The first thing is the movie is adapted from my book, Playing on God's Team. I wrote the book back in 2016, and that was my first attempt to tell the story.
But even before that — obviously this whole incident with me happened in 2000 — I faced a little persecution. The persecution that I faced kind of made me feel like I was more like a victim. I felt like if I had told this story back then, I would be focusing more on me and how I felt like I was done wrong. And God wouldn't have got the glory that He gets out of the current story, because it focuses more on Him because I realized that I wasn't a victim. I was a part of God. It was a part of God's plan for me to go through what I went through.
Over the years, I believed God wanted the book to be done first because the book had all the lessons that I learned from it. The book simply focused solely on my transformation. After that, the documentary came around at a point where I knew better than to make it about me. I knew I wasn't a victim. I have been true to my faith. And so the focus of the story wouldn't be about football. It wouldn't be about the coaches. It wouldn't be about Louisville. It wouldn't be about Kentucky. It wouldn't be about me. It would be about Jesus Christ and what He can do in the life of someone who would trust Him. That wouldn't have happened at any other stage between 2000 and now.
This is the time that God wanted it to be told, because this was the time that He made it really burn in my heart to do it. And it just so happened to happen during this pandemic, so I had nothing but time. Everything kind of came together in God's timing.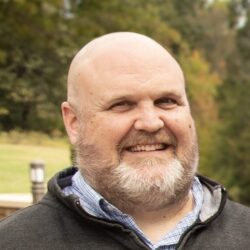 John Farrell is the Digital Content Manager for www.inspiration.org. In addition to having written more than 1,000 articles, press releases, and other pieces of content for Inspiration Ministries, NASCAR, Lionel, and Speed Digital, he authored The Official NASCAR Trivia Book: With 1,001 Facts and Questions to Test Your Racing Knowledge in 2012. John is a graduate of Appalachian State University and lives in Concord, N.C., with his wife and two sons.
View Author Posts
Next Steps To Strengthen Your Walk
We are here for you. Simply click on the button below to reach us by form, email or phone. Together we will lift our hearts and voices with you in prayer.
I Need Prayer
Sow a seed of faith today! Your generous gift will help us impact others for Christ through our global salvation outreach and other faith based initiatives.
Give Online Today
Watch Christian content from your favorite pastors, christian movies, TV shows and more.
Watch Now