---
In Awe of Sight & Sound's 'Queen Esther'

By John Farrell
•
November 19, 2021
•
12 Minutes
---
Having been involved in theater for most of my life, and having seen many shows on Broadway or touring versions of Broadway shows, I appreciate good theater. I think it's actually safe to say I love theater, from being on stage to working backstage to enjoying it from the audience. It has been a part of me for as long as I can remember — as a matter of fact, I recently finished a run of "The Miracle Worker" at my local community theatre.
Because of this passion, I find it hard to turn down the opportunity to catch a show.
That's why I jumped at the chance to see Sight & Sound Theatre's production of "Queen Esther." It didn't matter that I'd have to travel to Pennsylvania. My wife and I would make a weekend trip of it.
Where It All Began
Sight & Sound Theatres' flagship facility is in Lancaster, Pennsylvania, with a second location in Branson, Missouri. The theater was the brainchild of Glenn Eshelman, who founded Sight & Sound in 1964 as a side show to selling his artwork. According to Sight & Sound's website, Glenn and his wife, Shirley, would travel around the country showing his art and the photos he used as references. The presentations originally included only a slide projector, turntable, and microphone, but eventually "more live theatrical elements were added to the shows."
In 1976, the show's overwhelming success allowed them to open Living Waters Theatre, which is the birthplace of Sight & Sound Theatres. However, it wasn't until 1987 that they produced their first full-length biblical production. By 1991, the theatre had outgrown their facility and moved into the Entertainment Centre. Unfortunately, just six years later, in 1997, the building was destroyed in a fire.
Glenn and Shirley collected themselves and set forth on rebuilding their dreams. "Just 18 months later, the construction of a brand new building was complete. This new 2,000-seat, state-of-the-the-art theater featured a massive, 300-foot panoramic stage that wrapped around the audience, with the ability to house sets four stories tall."
The first show on their new stage was "Noah." Since then, they have also produced "Moses," "Samson," "Jonah," and "Jesus." "Queen Esther" takes the spotlight for all of 2021 in Lancaster (it premiered on July 30, 2020), while "Jesus" arrives in the Branson facility, which opened its doors in 2008. In 2022, "David" will premiere in Lancaster, while "Jesus" will enjoy a second year in Branson.
Setting the Stage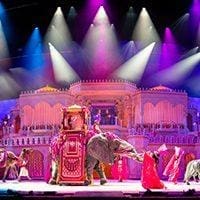 If I'm being 100 percent transparent, I didn't know what to expect from "Queen Esther." I had watched all of Sight & Sound's trailers and were impressed by them, but could they really live up to what I saw in the videos. Surely there had to be some editing "magic" done to the videos to make the shows and sets look better than they actually were.
I was wrong … emphatically wrong.
When the curtains lifted for the first time revealing 11,000-square-feet of a massive set in which most pieces moved, rotated, and rose several stories, my jaw fell open. I was in awe. There's simply no other way to describe my reaction. I love a good, complete set with plenty of details, secrets, and elements, but this was beyond anything I could have ever imagined. I have designed, built, painted, decorated, and seen many awesome sets in my life and nothing compares to the scope or detail of the set for "Queen Esther."
Instead of using various places like many of Sight & Sound's previous shows, the entirety of "Queen Esther" takes place in one location — Susa, one of the capital cities of the Persian empire. Of course, different parts of the stage bring to life different sections of the ancient city. Center stage is the massive (and impressive) palace of Xerxes 1 (aka King Ahasuerus) complete with the king's chambers, queen's chamber and balcony, garden, courtyard, and gates. The palace is the largest moving set piece Sight & Sound has ever created. The different pieces of the palace set open, rotate, and even rise from below the stage.
To the left of the audience (or stage right), the set is the main part of town where many of the political influencers and others of great import live, including Haman, who's house is also multiple levels. On the opposite side of the stage (to the right of the audience or stage left) is the Jewish neighborhood. The main building in this area of the stage is Mordecai's house. Behind the set pieces is a 480-foot wraparound backdrop that creates the illusion that the city goes on for miles.
As impressive as the size of the set was, the attention to detail in all areas was just as impressive … from the architectural features on the biggest set pieces down to the smallest props that filled the stage and made the set look real. There are millions of details in every nook and cranny, many of which you would have to see up close not to miss, that make the set both complex and beautiful.
Everyone Has a Story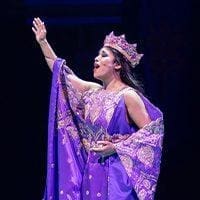 While the set is breathtaking, it's not the only part of the show that is mind-blowing. The quality of the production and performance, the acting and singing, was on par with Broadway, if not better. I've honestly never enjoyed a Broadway show more than I enjoyed "Queen Esther." The actors do an excellent job of transporting the audience back in time to the 5th century BC.
"Queen Esther" brings to life the story of Esther as found in the Bible. Hadassah is a young Jewish woman living with her cousin, Mordecai, in the Jewish section of Susa. When Xerxes banishes Queen Vashti, all of the beautiful virgins in Susa are rounded up and presented to the king. Because of her overwhelming beauty, he selects Hadassah, who had changed her name to Esther to hide the fact that she was Jewish, to be her queen. Mordecai takes a job working at the palace gates in order to keep a close eye on the new queen.
Xerxes has a rather pleasant relationship with the Jewish population in Susa and has rarely done anything to threaten them or their lifestyles. Haman, Xerxes' prime minister, however, is different. After he is appointed prime minister, Haman makes it law that all people working for the king should bow down to Haman. When Mordecai, a well-known Jew in the city, refuses to bow to Haman — he will only bow down to the one and only true God — the prime minister devises a plan to deceive Xerxes into murdering all the Jews.
Queen Esther learns of Haman's plot and appeals to Xerxes for the lives of the Jewish people, as well as her own. Xerxes overrules the edict that Haman had tricked him into agreeing to and has him hanged from a tall pole that Haman had built to hang Mordecai.
Today, the Feast of Purim (or the Feast of Lots) is celebrated annually to commemorate Queen Esther's heroic action of informing Xerxes about Haman's evil plot and saving thousands of Jews from genocide.
If you are familiar with the Book of Esther, the play follows the Scripture closely. I recommend re-reading (or reading for the first time) the Book of Esther so you're familiar with the characters and the plot. Whether or not you know the story going in, the plot is easy to follow along and the performance is more than entertaining to keep you engaged to the very end.
An Experience Worth Repeating
After seeing "Queen Esther" come to life on their massive stage, my only regret is that I waited this long to see my first Sight & Sound Theatre production. I would have loved to see all of their previous productions, especially "Jesus", "Noah", and "Moses."
I know we will be back. My wife told me as we were leaving the theatre that she knew what she wanted for her birthday every year moving forward — tickets to that year's Sight & Sound production. I'm good with that. In fact, we've already discussed with some friends about possibly coming back later this year to see "Queen Esther" again. I'm good with that, too.
If you haven't realized by now that I loved "Queen Esther" and my whole Sight & Sound experience, please understand this: I am so glad I went and it is truly worth it. You'll understand why when you go. Trust me.
For more information about Sight & Sound Theatres, visit their website.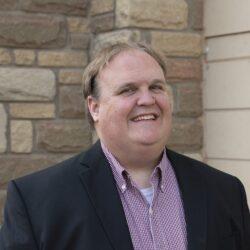 John Farrell is the Digital Content Manager for www.inspiration.org. In addition to having written more than 1,000 articles, press releases, and other pieces content for Inspiration Ministries, NASCAR, Lionel, and Speed Digital, he authored The Official NASCAR Trivia Book: With 1,001 Facts and Questions to Test Your Racing Knowledge in 2012. John is a graduate of Appalachian State University and lives in Concord, N.C., with his wife and two sons.
View Author Posts
Next Steps To Strengthen Your Walk
We are here for you. Simply click on the button below to reach us by form, email or phone. Together we will lift our hearts and voices with you in prayer.
I Need Prayer
Sow a seed of faith today! Your generous gift will help us impact others for Christ through our global salvation outreach and other faith based initiatives.
Give Online Today
Watch Christian content from your favorite pastors, christian movies, TV shows and more.
Watch Now