---
Fearless BND's Christy Johnson: 'Love More and Fear Less' (Part 1)

By John Farrell
•
May 22, 2023
•
15 Minutes
---
John Farrell: Can you please tell me a little bit about Fearless BND?
Christy Johnson: Yes. Fearless BND started out years ago as Worth Dying For, if anyone remembers that worship band that had kind of a rock style. Me and my husband were part of that. We were youth pastors at the time. We started that band from our youth ministry. It was the worship band, and we started making music from there. We wrote anthems about what was going on in our youth ministry at the time, and what God was doing in Modesto, California, which is Northern California.
We moved about eight years ago with Worth Dying For, and we wanted to start Fearless LA – our church that God put in our hearts to do. We thought, 'We're gonna need to probably change the name to gear it towards what we're saying. What our mission is – to be fearless and to live fearlessly.' So, we changed the band name from Worth Dying For to Fearless BND.
We kind of had a metamorphosis, and we went through this transformation where our music morphed a little bit. It changed from that rock style and moved into a different sound that we have here with the people in LA.
We were in a nightclub. We got a new building right before COVID happened and they shut everything down. We had been in our new building for three weeks. But before that, for six years, we were in nightclubs. The biggest nightclubs in LA. It was a nightclub with all the lights and screens. There's a certain sound that comes from that. So, Fearless BND got a new sound, a new flare, but we have the same spirit, same heart, and same mission to love people and to love more and fear less. That's what Fearless BND is about.
JF: How would you describe your band's sound?
Christy: I would say it has not one sound. I would say there's a sound for every single person. There's a style for every person. Doesn't matter if you like pop, rap, ballads, or electric. I feel there's also a little bit of a folk in there. I think there's a little bit of something for everyone. And I think that may go against a lot of rules of what people put on records or music that you're supposed to produce. Keep it streamlined. Keep it the same.
We pushed our songwriters to write whatever they love to worship to. What gets them passionate and excited when they sing and turn on the radio. Write a worship song like that. And with that came all different styles and all different formats of songs.
We just said, "Let the world go and be creative." I think what came of it is pretty cool because I think there's something for everyone. It doesn't just hit one niche and one person. I believe it's going to touch everyone.
There are thirteen tracks. One of them is the spoken word, which my husband's done on pretty much all of the albums. There's another kind of spoken word where in the past we've had videos. People take that and do these drama-type things in their church. So, we even have that element in there where he wrote a spoken word and preached that over music.
I love that it doesn't have to be a certain way or a certain sound for it to be worship. I think it could be anything. It's really opened new levels of creativity and writing within our own teams because it's not like these writers have been writing for a long time.
We challenge everyone on our worship team, "You guys can write, if you want to." There's a girl who's never written who has a song that she wrote on there. I think it's really cool that we have everyone's certain styles mixed in there.
JF: So, there's a broad range of different music to appeal to anybody.
Christy: Yeah. I think it'll appeal to a lot of people. All generations. Every movie has a soundtrack, and every movement has a sound. The eighties had a sound. The nineties had a sound. And our sound comes out like this.
In our youth ministry days, we had a sound that was more rock and heavy guitars and that kind of a vibe. But now this sound has come from being in Los Angeles with the people in this city and bringing them in. We've been able to sing these anthems, and this is the sound of the movement that God is stirring within us in LA. We love it. Our church loves it. And we're excited that finally the world can sing along to what we're singing.
JF: You mentioned that the band members are also members of your worship team. How many members is that?
Christy: To be honest, I don't have a count anymore because I think it's pretty awesome that we don't have a certain number.
In the Worth Dying For days, I would say there were certain faces that our record company really wanted. And that has definitely changed for us. Our band is like a faceless army of worship where we have decided to continue to raise up and train up the next worship leaders, the next guitarists, the next musicians and singers.
With that said, just a couple Sundays ago we had a release and we said, "Anyone that's been part of this record – singing, playing, doing anything – I want you to come up on the stage." We didn't have room on the stage for the amount of people that have been part of this record and played a role. I think over thirty people have contributed.
There's a different voice on every song. Different musicians are recording parts to every song. I love that there's different hands, and that's what it's all about. It's all about making other people happen. It's using ministry to make people happen and not using people to make ministry happen. I learned that a long time ago, and it really helped make people come alive.
I used to be the forefront singer years ago. And now I love that I'm hardly that. I sing a few things, but I've really been pushing the giftedness that's inside our own local church. Pushing them to start using their gifts. It's cool. There's so many new worship leaders on there – thirty to forty people are part of this thing.
JF: It keeps the focus on the message of the music and not so much on the face of the voice.
Christy: Yes, exactly. At the end of the day, it doesn't really matter who's grabbing the mic as long as we are moving people into a place of encountering the presence of God. And if we're not doing that, we've missed it altogether. It's needs to be faceless. We're going to be up there and we're going to worship no matter who it is.
If people want to book us to play, we're going to bring the presence of God, and we're going to strive for people to be free and healed in the presence of God and there to be an awakening when we go to that city. That's all that matters. It doesn't matter who's doing it, but that we're being used by God. That's the goal.
JF: Is that the message you want fans to take from your music? If not, what is the message?
Christy: Yeah, I think the message is streamlined. We have a church named Fearless LA. We thought it would be fitting for the first record to come out of Fearless LA to be called Fear Not. Little did we know we would be in a pandemic and going through what we're going through as a nation, and fear has gripped us in a greater way than probably ever before.
God has had His hand on this project from the very beginning. We were going to call this Fear Not. We had the song "Fear Not" written before this record came about, and I believe this message was meant to be released across this nation right now in the midst of crisis, in the midst of anxiety and depression. It's at an all-time high right now. People are losing their jobs. People are losing family members, and people are getting sick.
Fearless comes from John 4:18: "There's no fear in love, but perfect love casts out fear." The love that we have is a greater-than-less-than sign – the greater the love, the less the fear. The greater we can love, then the less we have to fear. That's the message. We're going to keep loving on this city. We say, "Fear not for He is with us."
Fearless doesn't really mean that we go skydiving now or that we go swim with sharks. Being fearless means that we don't let fear decide our future. We don't let fear tell us what we're going to do, tell us where we're going, or make decisions for us. The moment that we conquer fear when it comes at us, and we silence the shots of fear that's when we become fearless. That's the message that we're going to keep proclaiming.
We saw a quote by A.W. Tozer that said, "A scared world needs a fearless church." When we first started the church, we were trying to figure out what's the name of our church going to be, and I threw out "Fearless" when we saw that quote. Doesn't that resonate even now more than ever before? A scared world needs a fearless church. That's what we're going to be. We're going to be a fearless church of fearless people who rise up and be that voice that says you don't have to live in fear. His perfect love can cast out that fear and you can be fearless. That's the mission. That's the heart.
Me and my husband have dealt with fear ourselves. It comes out in different forms, but we've had to conquer that ourselves in our own life. We came to a city of dreamers. LA has tons of dreamers. Does it have dreams? Does it have dreams that have been crushed? Yes, but you can dream again. You don't have to be fearful. You don't have to be afraid of rejection, of failure. Get back up.
We want to be a church that's like a dream factory and continue to be a place where we can celebrate people's future, dreams, and purposes. Being fearless is just saying no to the voices and the lies of fear that will eventually defeat you if you listen to them.
…
For more information on Fearless BND, learn more at fearlessla.com
Featured Image Credit: Fear Not (Spoken Word)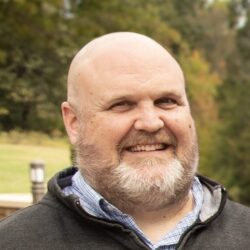 John Farrell is the Digital Content Manager for www.inspiration.org. In addition to having written more than 1,000 articles, press releases, and other pieces of content for Inspiration Ministries, NASCAR, Lionel, and Speed Digital, he authored The Official NASCAR Trivia Book: With 1,001 Facts and Questions to Test Your Racing Knowledge in 2012. John is a graduate of Appalachian State University and lives in Concord, N.C., with his wife and two sons.
View Author Posts
Next Steps To Strengthen Your Walk
We are here for you. Simply click on the button below to reach us by form, email or phone. Together we will lift our hearts and voices with you in prayer.
I Need Prayer
Sow a seed of faith today! Your generous gift will help us impact others for Christ through our global salvation outreach and other faith based initiatives.
Give Online Today
Watch Christian content from your favorite pastors, christian movies, TV shows and more.
Watch Now