---
I Am Potential: There Is No Impossible

By John Farrell
•
November 21, 2022
•
8 Minutes
---
"Everything's impossible until you try it." – Patrick Henry Hughes, I Am Potential
It's easy to get caught up in the belief that something is impossible. How often do we give up on trying something that is difficult rather than remaining resolute? The quote, "When the going gets tough, the tough get going," definitely rings true.
I hate to admit it, but I wish I was tougher. I'm sure I'm not alone. There are probably millions of people out there just like me. People who want everything to come easy. People who give up when a task or a goal seem impossible.
It's easy to give up and refocus our attention on something that is more doable, more achievable. If we're being honest with ourselves, everyone at one point or another has fallen victim to this mindset.
As I get older (and some would say "wiser," probably not all though), I've realized the value that comes with accomplishing those jobs that push me to the furthest reaches of my abilities. There is so much more to gain from pushing through than from giving up and finding an easier objective.
I now understand that if I were not presented with these tests from time to time, then I would not grow as a person or as a Christian.
But compared to others, such as Patrick Henry Hughes and Patrick John Hughes in I Am Potential (2015), I've never faced the difficult tests they face daily.
Patrick Henry Hughes and Bilateral Anophthalmia
I Am Potential, which can be viewed anytime on Inspiration TV on Demand and will premiere on Inspiration TV at 9 p.m ET on Saturday, March 13, and again at 5:30 pm ET on Sunday, March 14, is a true story based on Patrick Henry Hughes (Jimmy Bellinger, Blockers) and his father Patrick John Hughes (Burgess Jenkins, Remember the Titans).
Patrick John always wanted a son he could teach to play basketball and football, and to be able to do all the kinds of things dads do with their son. So, when his wife became pregnant with a boy, he couldn't have been more thrilled.
Unfortunately, the dream of seeing his son becoming a gridiron great or dunk a basketball vanished shortly after Patrick Henry's birth. He was born with bilateral anophthalmia, which, according to the US National Library of Medicine at the National Institutes of Health, is a rare condition "characterized by absent eyeballs in the presence of eyelids."
That wasn't the only anomaly. Patrick Henry was born with a form of dwarfism that most likely means he'll never be able to walk. Because of this, he'll most likely have to use a wheelchair for the rest of his life.
Although Patrick Henry will never score a touchdown in the Super Bowl or hit a home run in the World Series, there is one thing father and son can connect over: music. It is discovered early on that the younger Patrick is drawn to music … and what's more is that he is quite gifted when it comes to music.
Their mutual love for music and the University of Louisville sets up one of the major storylines of the film by identifying the one thing Patrick Henry wants more than anything: to be a member of the university's marching band.
Patrick John Hughes and Sacrifice
[SPOILER ALERT] In order for Patrick Henry to achieve his goal, he must find someone to push him and his wheelchair around the University of Louisville football field during the marching band performances.
Concerned about his son's safety, Patrick John, who was just offered a big promotion that would've required a lot of travel and a substantial raise, quits his job to become his son's classroom aide and marching band companion.
In order to make ends meet, Patrick John starts working nights at the local airport. Although the job means a smaller paycheck, there is no travel, allowing Patrick John to be there for his son in class and on the field.
Patrick John sacrifices his own comfort (e.g., better job and bigger paycheck) to ensure his family's needs are met, especially Patrick Henry's. In addition, Patrick John, unbeknownst to his wife at the time, sells his cherished car to help pay the medical bills.
Making the Impossible Possible
It is evident early on that Patrick Henry is a remarkable individual with an incredible outlook on life. While in high school, he gives his friend Bryce (Kwame Boateng, Not Easily Broken) a sage piece of advice: "It's not about what you see, but how you see it."
Traditionally, being a member of a marching band requires a person to be able to march and to see so they stay in formation and keep up with the routines. But from Patrick Henry's perspective, he saw it differently.
In one memorable scene, Patrick Henry is thirsty and decides to go to the kitchen for something to drink. The process, however, to go from one side of the house to the other requires a ramp, which he can't go up by himself in the wheelchair. Instead, he drops to the floor and tries to crawl up the ramp, leaving his wheelchair behind. By the end of the movie, he's devised a plan to get up the ramp and pull the wheelchair up at the same time.
What might've been impossible for most blind people, was possible for Patrick Henry. Of course, it helps to have parents who are willing to sacrifice and make accommodations that make life a little easier. The special bond that develops between father and son throughout the movie is perhaps the most endearing part.
I Am Potential demonstrates how important sacrifice and devotion is in a family that loves and cherishes each other, especially when facing difficult challenges. You'll want to watch the family-friendly movie with those you love.
…
Visit Inspiration TV on Demand to watch I Am Potential any time.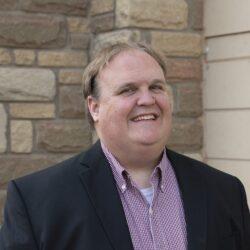 John Farrell is the Digital Content Manager for www.inspiration.org. In addition to having written more than 1,000 articles, press releases, and other pieces content for Inspiration Ministries, NASCAR, Lionel, and Speed Digital, he authored The Official NASCAR Trivia Book: With 1,001 Facts and Questions to Test Your Racing Knowledge in 2012. John is a graduate of Appalachian State University and lives in Concord, N.C., with his wife and two sons.
View Author Posts
Next Steps To Strengthen Your Walk
We are here for you. Simply click on the button below to reach us by form, email or phone. Together we will lift our hearts and voices with you in prayer.
I Need Prayer
Sow a seed of faith today! Your generous gift will help us impact others for Christ through our global salvation outreach and other faith based initiatives.
Give Online Today
Watch Christian content from your favorite pastors, christian movies, TV shows and more.
Watch Now