---
Why Is Life So Hard Sometimes?
By Callie Daruk
•
January 20, 2023
•
5 Minutes
---
Life is so good until it isn't.
Some of us find ourselves at this place after a lifelong climb. Others stare into the dark distance wondering how one bad decision, one phone call, or one diagnosis changed everything. It wasn't supposed to be this way. Said who? Who was it exactly that promised me life would be easy and where are they now because I'd like to have a word with them?
Maybe it wasn't somebody else who gave me such illusions of grandeur after all. If I'm honest, I have to lay the blame, at least in part, on my own expectations – on the rose-colored glasses I slipped over my eyes somewhere along the way.
In his farewell address, Jesus warned his disciples about what this world had to offer and of what they could expect.
"In the world, ye shall have tribulation…"
If they were listening carefully, they knew their Master had just obliterated any promise of an easy ride. He loved them too much to give them false hope in the world's system or leave them unprepared. Jesus knew the painful path better than anyone and soon they'd know it too.
I have to wonder though, did the disciples really know the difficulties they would face? Did they understand what Jesus meant by tribulation; that it literally meant affliction, anguish, persecution, and distress of life? Can anyone really know how hard life can be until they find themselves in their own deep wells and dark valleys?
Why, though?
If the whats of life don't get to us, the whys do their best to take us down and rip any shred of faith that remains.
Why does life have to be so hard sometimes? I know the answer and yet more often than I care to admit I still find myself struggling for breath amidst the unrelenting pain life brings. I need it all to make sense so I can bear it and keep fighting.
The answer to our question is ever-revealing and expanding as life unfolds. As I grow in grace and in the knowledge of God's Word, for now, my heart answers this question with two truths that are as profound as they are simple:
Jesus said it would be hard
I trust Him
We're soldiers marching Heavenward and I have yet to meet a soldier on a battlefield who had it easy. Robes will come but for now, God gave us armor to put on. We do it to protect us as flesh wars against spirit. Daily we suit up to wrestle against principalities, powers, and rulers of the darkness we can't fully comprehend yet we feel it deep in our souls.
Just as we can expect of our loving Savior, he didn't end the conversation to his disciples without giving them hope. In John 16:33, Jesus said, "These things I have spoken unto you, that in me ye might have peace. In the world ye shall have tribulation: but be of good cheer; I have overcome the world."
Though the circumstances of our lives may seem to leave us with no reason to be cheerful at times, five little words remind us that we can trust the hands and lean wholly upon the arms who carry us through every hardship:
"I have overcome the world."
One glorious day, the one for which we fight, all will be made right and if we are in Christ, no matter how hard life can be sometimes, we are never left alone. We are never left defenseless and hope, Dearly Beloved, will never be lost.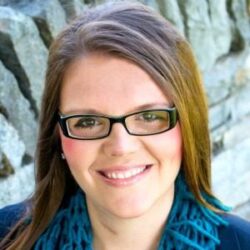 Rarely missing a sunrise just north of Nashville, TN, Callie Daruk is a grateful and smitten wife, a hands-on mother of three spirited boys, and a recovering pharisee. After a 32-year profession of Christianity, she was exposed for the hypocrite she was at the premature birth of her twin sons. After nearly a year-long stay in the NICU with one of her twins, her rose-colored glasses shattered. She is dedicated to reaching out to the countless women and men who profess Christianity but as she did, draw near to God with their mouths only while their hearts are far from him. Callie is an award-winning author and speaker who encourages others to seek Christ with their whole heart. Learn more at calliedaruk.com and thesinfulwoman.com
View Author Posts
Next Steps To Strengthen Your Walk
We are here for you. Simply click on the button below to reach us by form, email or phone. Together we will lift our hearts and voices with you in prayer.
I Need Prayer
Sow a seed of faith today! Your generous gift will help us impact others for Christ through our global salvation outreach and other faith based initiatives.
Give Online Today
Watch Christian content from your favorite pastors, christian movies, TV shows and more.
Watch Now