---
Why Do I Need to Accept Christ as My Lord and Savior?

By Caitlyn Scaggs
•
February 17, 2022
•
6 Minutes
---
You need to accept Christ as your Lord in Savior in order to restore your relationship with God that has been broken by sin. As proclaimed in John 14:6, Jesus is the way, the truth, and the life. Jesus is the only way to achieve salvation. But to really understand the depth of need you have for Jesus, it is important to go back to the beginning, the very beginning.
Sin Separates Us from God
When God created our world it was good – so very good! He said so Himself, in the early pages of Genesis. As he welcomed the first two humans to the planet, Adam and Eve, He enjoyed walking with them in direct fellowship. They enjoyed community in the garden of Eden and did life alongside each other. That is, until sin was introduced into the equation.
God had only one rule for His people, they could not eat from The Tree of the Knowledge of Good and Evil. Pretty simple. But these two humans, and all humans after them, were made with free will. Eve chose to disobey, eating the fruit from the forbidden tree. As Eve ate, she chose her way over God's clear instruction and she broke her perfect fellowship with God. As Adam followed suit, he also chose to reject God's best and instead opted for what had been forbidden. As a result, sin was ushered into this world and brokenness abounded. Sin is the obstacle between us and our perfect and Holy God.
We are so fortunate to be loved by an always-pursuing and loving God. He does not give up on us when we are lost in sin, destruction, and brokenness. He loves us so much that He immediately began a plan of rescue and redemption, so that each of us can enjoy a walk with God, again, in direct fellowship.
God Rescues and Redeems us Through Jesus
God sent his only Son, Jesus Christ, to live a fully human and blameless life. Then, Jesus died the torturous death of a criminal for our sins; sins he never committed. He did this for you, he did this for me, and he did this for all people in all nations. He was willing, perfect, and blameless sacrifice out of his deep love for us. As stated in John, "For God so loved the world that he gave his one and only Son, that whoever believes in him shall not perish but have eternal life" (3:16).
The story didn't stop with the death of Jesus. Three days after His crucifixion, Jesus rose from the grave, victorious over sin and death! "But thank God! He gives us victory over sin and death through our Lord Jesus Christ" (1 Corinthians 15:57). Jesus is our rescuer and redeemer!
The death and resurrection of Christ, and the resulting offer of salvation, provide each of us with a way back into intimacy with God. It is a decision each person will have to make for themselves. Romans 10:10-11 gives us guidance and affirmation, "That if you confess with your mouth, 'Jesus is Lord,' and believe in your heart that God raised him from the dead, you will be saved. For it is with your heart that you believe and are justified, and it is with your mouth that you confess and are saved."
Christ, Your Lord and Savior
Rather than having to spend eternity separated from God, in Hell, Jesus has made a way to resolve our relationship with God and spend eternity with Him in Heaven. Not only does accepting Jesus impact your eternity, but it impacts you here and now in beautiful and powerful ways. A love relationship with Jesus changes everything and is the first, and most important step, in pursuing God's best for yourself.
Jesus freely offers salvation and a way to have a relationship with our loving God. ​​As proclaimed in Romans 8:1, "There is therefore now no condemnation for those who are in Christ Jesus. For the law of the Spirit of life has set you free in Christ Jesus from the law of sin and death." When we receive Jesus as our Lord and Savior, and choose to walk in intimacy with Him, we are no longer bound by sin but we have been redeemed.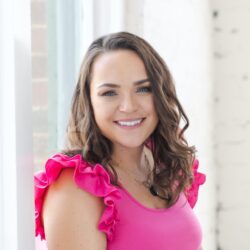 Caitlyn Scaggs is Executive Manager at New Hope Girls and author of Worth It & Wonderful. She is on a mission to positively impact others by encouraging the pursuit of whole-hearted living while reflecting a life that aligns with a faith in Jesus Christ. Learn more at boldlypursue.com or Amazon.com
View Author Posts
Next Steps To Strengthen Your Walk
We are here for you. Simply click on the button below to reach us by form, email or phone. Together we will lift our hearts and voices with you in prayer.
I Need Prayer
Sow a seed of faith today! Your generous gift will help us impact others for Christ through our global salvation outreach and other faith based initiatives.
Give Online Today
Watch Christian content from your favorite pastors, christian movies, TV shows and more.
Watch Now