---

By Caitlyn Scaggs
•
November 8, 2022
•
5 Minutes
---
Our beautiful relationship with God began in the Garden of Eden. In the early pages of Genesis, we learn of how God created our world and then He walked in intimacy and relationship with Adam and Eve. Wow, it was wonderful! However, it all came crashing down when Adam and Eve introduced sin into the world by choosing to disobey the Lord. Sin created an insurmountable obstacle between us and our Holy God. Sin removed our ability to walk in intimacy with Him.
Our sovereign and powerful God loves us so much that He immediately initiated a rescue plan for each of us. He made a way to overcome the chasm of sin — but it required the shedding of blood and death.
Sin Sacrifices
Throughout the Old Testament, sacrifices were offered to God as a way to restore relationship with Him. The shedding of blood was required for any sin against the Creator. Which meant, sin sacrifices, made with a pure heart, were a way to seek restoration with the Lord.
Sin sacrifices were required over and over — they were not a "one-and-done" type of redemption. This means God's people were stuck in a never-ending cycle of sacrifice to atone for their sins. This law found in the Old Testament was a placeholder until God's beautiful and permanently redemptive plan could be enacted.
"For it is impossible for the blood of bulls and goats to take away sins" (Romans 10:4). The sin sacrifices of the Old Testament were a temporary solution, while also being a foreshadowing of God's ultimate plan for redemption. Jesus had to die to become our ultimate sin sacrifice, once and for all.
Jesus Christ: Our Perfect Sacrifice
Jesus was born fully man and fully God and lived a blameless, sinless, "white as snow" life. When Jesus was crucified, He took on all of our sins past, present, and future. He was the perfect sin offering for each and every one of us, out of God's gracious and abundant love.
Jesus died to make a way — a permanent way. In Hebrews 10:12, we learn, "He entered once for all into the holy places, not by means of the blood of goats and calves but by means of His own blood, thus securing an eternal redemption."
The death and resurrection of Christ, and the resulting offer of eternal salvation, provide each of us with a way back into intimacy with God. Jesus is our perfect sacrifice, given to us by our loving Father.
It is remarkable that Jesus was a gift freely given to us with no prerequisite of being "good enough" in order to receive salvation. "For while we were still weak, at the right time, Christ died for the ungodly. For one will scarcely die for a righteous person — though perhaps for a good person one would dare even to die — but God shows his love for us in that while we were still sinners Christ died for us" (Romans 5:6-8).
Christ, Your Lord and Savior
The insurmountable obstacle that sin created has been overcome by the death and resurrection of Jesus. He was the ultimate, perfect, blameless, once-and-for-all sacrifice.
The death of Jesus, and the resulting salvation it offers, represents a fresh start in which we can walk in truth and sanctification. As proclaimed in Romans 8:1, "There is therefore now no condemnation for those who are in Christ Jesus. For the law of the Spirit of life has set you free in Christ Jesus from the law of sin and death."
We are no longer slaves to sin but we have been redeemed because of the death of Jesus — scripture is clear and emphatic about this transformative truth. There is such a beautiful paradox in the reality that the shedding of bright, bold, crimson blood is what washed our sin-landscape white as snow. Jesus had to die so that we can live.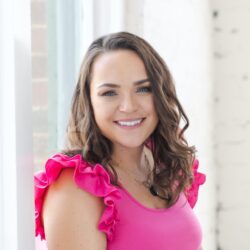 Caitlyn Scaggs is Executive Manager at New Hope Girls and author of Worth It & Wonderful. She is on a mission to positively impact others by encouraging the pursuit of whole-hearted living while reflecting a life that aligns with a faith in Jesus Christ. Learn more at boldlypursue.com or Amazon.com
View Author Posts
Next Steps To Strengthen Your Walk
We are here for you. Simply click on the button below to reach us by form, email or phone. Together we will lift our hearts and voices with you in prayer.
I Need Prayer
Sow a seed of faith today! Your generous gift will help us impact others for Christ through our global salvation outreach and other faith based initiatives.
Give Online Today
Watch Christian content from your favorite pastors, christian movies, TV shows and more.
Watch Now