---

By Caitlyn Scaggs
•
May 5, 2022
•
5 Minutes
---
Picture this. You are walking through a brand new art exhibit on opening night. The artist himself is present to interact with attendees and receive praise and kind words regarding his latest creative masterpieces. You walk up to this well-regarded artist and immediately launch into a critique of his work and all the things that could – and should – be better. If only the canvas was a little smaller, or the shade of blue just a bit brighter. And, you suggest impressionism wasn't the right approach, it should have been realism.
Can you imagine doing that? It would be awkward, brazen, uncomfortable, and inappropriate.
And yet, we are often that brazen as we interact with the Ultimate Artist.
A Sober Self-Judgment
We think unkind and untrue things about ourselves and how we could have been or should have been made differently. We wonder why we weren't made to be smarter, happier, funnier, healthier, more attractive, more successful, more focused, less emotional — the list goes on. You can surely fill in the blank with the complaints and critiques you internally voice about yourself. Here's the reality: When you are doing this, you are picking apart God's masterpiece.
Within scripture we are reminded again and again about the Father's deep and personal love for each and every one of us. It began in the womb when He lovingly knit us together with care and intention, as promised in Psalm 139. In Luke 12:7, we are reassured with the reality that He knows every hair on our head, a tiny fibrous detail that is not too small for our attentive God.
We are admonished to step into a sober self-assessment in Romans 12:3. Paul states, "For by the grace given me I say to every one of you: Do not think of yourself more highly than you ought, but rather think of yourself with sober judgment, in accordance with the faith God has distributed to each of you." This is a call to not think too highly of yourself but also not too lowly of yourself.
When assessing ourselves we must not use things of this world to determine our worth. Do not let your mind wander to physical qualities, external credentials, or job titles. Use God's perception of you and how He feels about you to be the criteria. So who does He say you are?
You Are Chosen.
But you are a chosen people, a royal priesthood, a holy nation, God's special possession, that you may declare the praises of him who called you out of darkness into his wonderful light (1 Peter 2:9).
You Are Redeemed.
We are made right with God by placing our faith in Jesus Christ. And this is true for everyone who believes, no matter who we are (Romans 3:22).
You Are Beloved.
I have loved you with an everlasting love; therefore I have continued my faithfulness to you (Jeremiah 31:3).
Made On-Purpose, for a Purpose
Our big beautiful God felt that this world needed you. Not someone like you, but YOU. You were then made by Him so that you can know Him and can be known by Him. Every detail of who you are was created by our loving God. This should bring you humbly to your knees in worship and admiration for our God, while simultaneously giving you confidence in the way you were made on purpose, for a purpose.
You are deeply loved by the Ultimate Artist. Make sure you honor His majesty as you correctly assess yourself. You are His masterpiece!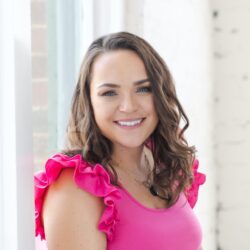 Caitlyn Scaggs is Executive Manager at New Hope Girls and author of Worth It & Wonderful. She is on a mission to positively impact others by encouraging the pursuit of whole-hearted living while reflecting a life that aligns with a faith in Jesus Christ. Learn more at boldlypursue.com or Amazon.com
View Author Posts
Next Steps To Strengthen Your Walk
We are here for you. Simply click on the button below to reach us by form, email or phone. Together we will lift our hearts and voices with you in prayer.
I Need Prayer
Sow a seed of faith today! Your generous gift will help us impact others for Christ through our global salvation outreach and other faith based initiatives.
Give Online Today
Watch Christian content from your favorite pastors, christian movies, TV shows and more.
Watch Now