---
On Mission in the Dominican Republic

By Caitlyn Scaggs
•
September 27, 2022
•
7 Minutes
---
When I first met her, she had a blank stare and hesitant way about her. Most of the time she was quiet, nearly silent, as if she wanted to invisibly occupy space. In contrast, there were moments where I watched her absence of emotion erupt into big emotions – even rage. I never heard her laugh and I rarely saw her smile. At 6 years old, she had endured the ultimate betrayal and darkness and I was witnessing the early days of her healing journey. Her rescue had come and our organization, New Hope Girls, is now her home – her safe home.
New Hope Girls fights trafficking, abuse, and exploitation in the Dominican Republic. Our primary focus is to come alongside young girls who have experienced the unthinkable and unimaginable. After their rescue has come, we provide a home that becomes their refuge as they enter into healing and identity restoration. Our average age at intake is 10 years old but we currently have multiple girls younger than five.
We raise all our girls and walk with them as we would our own daughters – providing trauma-informed therapy, educational support, great nutrition, many happy new memories, and an outpouring of love. It is incredibly special to see our girls experience "firsts" with us. Many of them have their first birthday party in our care. They swim in a pool for the first time or enjoy swinging on a swing set. Their smiles, giggles, and shrieks of delight are proof that there is no darkness too far gone for King Jesus to overcome with His redemptive light!
Do you remember that sad and despondent 6-year old? I saw her again 6 months later and barely recognized her! Her face was lighter, with an easy smile. I heard her laugh – many times! She even initiated giving me a hug and then opened her hand to reveal a gift, a pink gem that was shaped like a heart. I am a stateside employee of our organization and in the time since my last visit she turned 7! She had her first birthday party and we made sure it was everything she dreamed of – a unicorn theme.
We believe in providing nothing but the best for our Daughters of the King.
We Love Like Jesus Loves
At New Hope Girls, we follow the model of how Jesus loved. Throughout the Gospel we see our Savior enter into the darkest of places to look outcast, ostracized, and vulnerable people in the eyes. With love, Jesus healed their physical afflictions and with grace He offered salvation. His love is a never ceasing, unafraid, shame-free, persistent kind of love. That is the way we love our girls. We go all-in with them to the hardest places because we know they are supremely worth it.
Our girls have untouchable worth as Daughters of The King and we communicate that Gospel-rooted truth to them any chance we can get. We know our good and loving Father created His precious daughters to be loved, cherished, honored, and lifted up – He created them for more.
Breaking Cycles of Exploitation
We feel called to not only help those who have been exploited but to seek to break cycles of exploitation for future generations. We accomplish this by providing transformational job opportunities for women who are high-risk and; therefore, their children are also high-risk.
Our women are taught to sew and make gorgeous bags from fabric sustainably sourced in-country. Not only do these women provide for their families with honor but the sale of our bags helps fund the rescue and care of our girls. It is a strategic and proactive way to fight trafficking, abuse, and exploitation.
We don't just offer a safe job that pays a living wage, we offer transformational employment because everything we do is rooted in the Gospel. Our women have daily devotionals, prayer time, and praise and worship music accompanies the hum of the sewing machines. We have a Christ-centered community within our workshop and it is one more way we minister to those within the Dominican Republic. There is so much healing that happens while our beautiful bags are being sewn.
You Were Created for More
We know that all that is needed for darkness to retreat is light – and as followers of Jesus we are called to be that light! It is our joy to be a light and shine bright within the Dominican Republic.
We love to speak words of truth and affirmation over our girls and women any chance we can get. But we also want to speak those truths over YOU.
No matter what darkness you may have experienced, God loves you deeply with a relentless, never-ending, always-pursuing kind of love. He can redeem your ashes for beauty and restore what was once lost. Grab onto that truth with both hands and lean into the gospel truth of Jesus to restore your identity and find healing. The reality is, you, too, were created for more.
…
To learn more about New Hope Girls visit www.NewHopeGirls.com.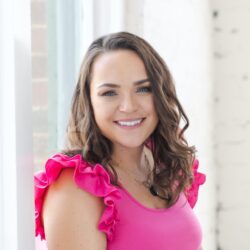 Caitlyn Scaggs is Executive Manager at New Hope Girls and author of Worth It & Wonderful. She is on a mission to positively impact others by encouraging the pursuit of whole-hearted living while reflecting a life that aligns with a faith in Jesus Christ. Learn more at boldlypursue.com or Amazon.com
View Author Posts
Next Steps To Strengthen Your Walk
We are here for you. Simply click on the button below to reach us by form, email or phone. Together we will lift our hearts and voices with you in prayer.
I Need Prayer
Sow a seed of faith today! Your generous gift will help us impact others for Christ through our global salvation outreach and other faith based initiatives.
Give Online Today
Watch Christian content from your favorite pastors, christian movies, TV shows and more.
Watch Now