---
Irrational Kindness!: People's Chicken
By Kevin Williams
•
October 15, 2021
•
16 Minutes
---
Book Excerpt from Irrational Kindness: The Crazy Pursuit of an Extraordinary Life by Kevin Williams
Chapter 4
People's Chicken
"Success consists of going from failure to failure without loss of enthusiasm."
– Winston Churchill
I don't know about you, but I love things that are deep-fried and simplified. No one got the idea of simplicity better than a chicken restaurant near the University of Georgia that felt like it was custom-built for college students. I was just beginning my college journey in Athens, Georgia when I first stepped foot inside Guthrie's on Baxter Street. I fell in love, true love. The menu was made up of chicken fingers, fries, Texas toast, coleslaw, and a secret sauce that pulled it all together. Just five things! I had never seen a place with such an intentionally small menu that was flooded with so many customers. The chicken tenders were prepared fresh and the secret sauce was good enough to drink. College students with big smiles and bubbly personalities would take your order with a genuine spirit of youthfulness. Over the next few years, Guthrie's and I furthered our relationship by spending huge amounts of time together.
After steadily pursuing Guthrie's for years, I decided it was time to take our relationship to the next level. I wanted to become an owner. Guthrie's only had a few locations, so I took a wild guess at the names of the owners and looked up Mr. and Mrs. Guthrie. I got a hold of their phone number and made the call. When Mr. Guthrie answered, I nervously asked him about becoming a franchisee. I didn't bother telling him small details, like the fact that I had zero money in my bank account, or that I was barely old enough to be considered an adult. Instead, I explained how I dreamed of owning a Guthrie's and joining the fight to conquer the world one chicken strip at a time.
He shot me down in a blaze of glory. He explained that he had explored the idea of franchising in the past, but he had no plans to allow anyone else to take part in owning another Guthrie's. I watched my dream of serving chicken as it taxied down the runway. And then I decided it was time to start my own restaurant.
I was working in banking and lived with friends in a home we called the Heron House, a name we took from a song by an Athens, Georgia band we loved, R.E.M. We asked everyone who visited the house to take a picture standing alongside a poster of R.E.M.'s lead singer, Michael Stipe, and then we posted it on a wall for all to see. In a house where there was a revolving door of activity, it made old and new friends feel welcome.
Inspired by this open-door spirit of hospitality, the Heron House became the birthplace of our soon-to-be restaurant chain, People's Chicken. My roommates and I partnered with a noble vision: chicken for everyone—all people, everywhere. It was going to be all about the guests for us; a place where everyone felt welcomed. That meant everything to us. It was going to be a place that thrived on community impact, with a heart for global causes. "Think Globally, Eat Locally," would be our slogan. The way we saw it, People's Chicken was going to change the world.
We knew that one of the biggest keys to establishing our global movement would be cracking the code on the secret sauce. We spent countless hours perfecting it and holding tasting parties to get it just right. Then we needed suppliers. We needed a place to get the chicken, the oil, the fries—all of it. Under the cover of night, we decided to dumpster dive behind Guthrie's. Parking on a side street by the restaurant and silently approaching the dumpster, we thought of ourselves like Navy Seal Team #6. It was well after closing time and everyone had gone home. In the dark of night, we scavenged that dumpster like miners. Every used label, fry bag, and mayo packet we found was like striking gold. We put everything we thought we could use as evidence and loaded our cars for the two-hour trip back home.
Once there, we inspected each piece of trash in great detail like we were on an episode of CSI. We learned what brands they used, what size products they purchased, and what manufacturers they bought from to prepare their chicken in all its saucy goodness. Armed with all this intel, People's Chicken now had the tools to begin setting up a supply chain. With a restaurant name, a marketing slogan, a global vision, and the magic sauce in hand, we knew we were gaining steam.
The next few months were a whirlwind. We met with landlords and negotiated deals. One landlord offered us a space we could have rent-free for the first few months, contingent only upon signing a lease. It was here that People's Chicken came to a crossroads. Taking this step was going to mean each of us would have to take on a significant amount of investment and debt. That was the prerequisite for being entrepreneurs. Staring down the point of no return, I had to stop and ask myself, "Am I actually going to do this? Is this a wise decision?"
I hate to let you down, but I must tell you…this was where the People's Chicken dream died. It's sad, but it's true. At the time, I was embarrassed to admit that we shelved the dream when it came time to write the check. But we all knew, deep down, that none of us was really ready to take the leap, sign the lease, and quit our jobs. The risk was just too big for a few college buddies back then.
The worst part was that I'd spent so much time telling people about the dream and the ending seemed completely anticlimactic. But here's the thing: while I could look at the People's Chicken story and easily label it a failure, that's not how I choose to see it. I'll be the first to admit it can be a total bummer to see a journey like that come to an end after investing such a great deal of time, energy, and emotion into it. Feelings like jealousy, doubt, and embarrassment may creep in unexpectedly. That's okay. You can sit with those feelings and give them grace too. Just don't stay long enough to build a house there. Moving forward in the face of feelings like these shows true bravery—and it requires nothing more than taking the first step. We all have the opportunity to see disappointing circumstances and daunting challenges in one of two ways: We can see the situation as the bigger the obstacle the bigger the chance of failure, or we can see it as the bigger the obstacle the bigger the chance for discovery. I chose the latter. Of course, I was sad the restaurant was not going to become a reality, but I never regretted pushing the idea to its brink. I could still say that I went for something and learned a ton along the way. The only wasted time is the time you spend not pursuing an idea you're passionate about.
People's Chicken taught me some practical things about business. One thing I learned is that franchises and restaurants are expensive to build—especially when your funds are so low that your rap name, if you had one, would be Lil' Money. The second thing I learned is that dumpster diving is messy and doesn't teach you everything you need to know about supply chain management. And the third thing I learned? Forming partnerships is weird because it presents its own challenge of bringing together different personalities to make an even greater plethora of things work.
People's Chicken taught me some amazing life principles too. The journey of having an "unrealistic" idea and still going after it is a journey of self-discovery all on its own. Failing at that pursuit accelerates learning. And pushing forward, even when failure is likely, can be a brave decision to make. If an appropriate risk exists and noble purpose follows, then you stand to gain more by taking that first shuffle than not. Dance the first step of your dream. Don't let those who sit on the sidelines and toss pebbles of doubt or hate dictate every move you make, every breath you take. Whenever you choose to mix and mingle with life's bold endeavors, there will almost surely be failure, ridicule, and folks trying to bring you down. Instead of letting them, learn to turn the page by celebrating your failures!
That's right, I said it. If you've ever failed, you should be celebrating. Throw a party. Build a wall of failures. I've done just that at my house, where I set up a wall that proudly displays my mountain of failures for me to see plainly. Here are just a few on my list:
After playing soccer my whole childhood, I got cut at tryouts during my senior year of high school. I have no jersey to frame, but I do have a framed picture of the Parkview High School soccer team without me in it.
A stock certificate valued at $25,000 also hangs on my wall of failures. Having poured the majority of my savings into this new bank start-up, the stock dropped to $0 when the bank went bankrupt. A hot tip gone bad; another lesson learned.
There is a picture of me in front of hundreds of people at the opening of our second Chick-fil-A location, and in it, I have the sweatiest armpits you've ever seen. Not one person told me about the awkward stains. I walked around that day as proud as a peacock in my blue dress shirt, clueless, like a dog wearing the cone of shame.
I have four counterfeit tickets to the Miami Dolphins vs. New England Patriots game, for which I paid more than $1,000. Not to mention the fact that I'd bought the tickets after reading (and making fun of!) an article about how to avoid getting suckered into buying fake tickets. Oops!
Then there's the Big Hit. One day my football coach called the kickers of them, which included me, over and suggested we were wimps. We needed to toughen up, he said, so he was putting us in a tackling drill. On the first drill he put me in, I got nailed so hard, head-on, that both my contacts popped out of my eyes. My teammates unsuccessfully scoured the dirt searching for my contacts. Since I have atrocious vision, I had to be escorted off the hot field and to the payphone—a long walk of shame—where I could call me mom's beeper so she could bring my glasses, and I could drive home. Ugh.
We all have stories like these that remind us of what seems like an embarrassing failure. My wall is designed not to remind me of my mess-ups, but to help me remember that I am alive and kicking! Each "failure" that hangs on my wall represents a yellow brick in my road to growth and success. I suggest you make your own list and hang it on the wall. Not so you can wallow in remorse or constantly be reminded of all your failures, but so you can look back at how you conquered every fear and overcame every obstacle. Calling out these past experiences helps us understand that they don't have power over us and exposes the lie our brains tell us that we are no good. Focusing on this lie can cause us to lower our heads for so long that we miss the next opportunity. Remember, recognizing your missteps is not about going around apologizing to everyone about your failures; it's simply about praying each day for the wisdom, courage, and knowledge to better understand your journey in its entirety.
…
Order your copy of Irrational Kindness: The Crazy Pursuit of an Extraordinary Life by Kevin Williams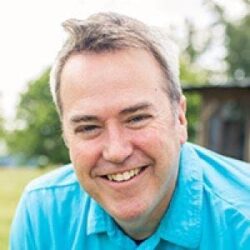 Kevin Williams is a Chick-fil-A franchisee that has the rare privilege of running three restaurants in the city of Canton, GA. Kevin is a husband, father, community leader, friend, and waffle fry cook that has a passion for inspiring the next generation and providing his team with the most amazing place to work. Learn more at irrationalkindness.com
View Author Posts
Next Steps To Strengthen Your Walk
We are here for you. Simply click on the button below to reach us by form, email or phone. Together we will lift our hearts and voices with you in prayer.
I Need Prayer
Sow a seed of faith today! Your generous gift will help us impact others for Christ through our global salvation outreach and other faith based initiatives.
Give Online Today
Watch Christian content from your favorite pastors, christian movies, TV shows and more.
Watch Now