---
How Is Christianity Relevant in a Modern World?

By Caitlyn Scaggs
•
June 15, 2022
•
6 Minutes
---
Christianity, or following Jesus Christ and the truth found in the Bible, remains as relevant and powerful today as it was 2,000 years ago when Jesus was walking this earth. Christianity is centered around the belief that Jesus Christ is the Savior of this world. He came to earth to bridge the gap between people and God, which was created by sin. Although the concept of salvation is timeless, some may wonder if the other truths found in scripture and practices of Christianity are still relevant in our modern world.
Instructing and Informing our Faith Journey
Christianity gives us guidance on what it looks like to have a faith-filled life that is rooted in Jesus. Once someone receives the good news of salvation, provided by Jesus, it is necessary to continue growing in faith and love. Through studying the Bible, prayer, and fellowship with other Christians, it is possible to develop a deeper faith in Jesus and trust in the Lord. This guidance is helpful for those who are fully confident in who Jesus is but are also eager to learn more about Him and His ways.
Guidance for Daily Living
One of the key areas of relevance for modern-day Christianity is in how it provides wisdom and guidance for everyday living. Throughout the Old Testament and the New Testament we are provided with guidance and instructions for how to live a life in alignment with God's best for us. In the Old Testament, we see this revealed as Mosaic Law is established, resulting in the Ten Commandments. We also see guidance for daily living provided in the New Testament as Jesus teaches in parables and provides a framework for how to apply our faith to everyday life, like in His instruction around forgiveness and resolving disagreements in (Matthew 6:14-15). Perhaps most beautiful though is that the Bible, in both the Old Testament and New Testament, provides guidance for daily living that is covered in grace — not a requirement for perfection.
A Framework for Facing Hardship and Heartache
Early in Genesis, we watched as sin was introduced into the world through Adam and Eve's disobedience. There is no doubt that this world is broken by the impacts of sin. From disease to war, tragedy to natural disasters, there is no shortage of hardship and heartache. Christianity helps us find a way forward in faith. It instructs us to trust in God's faithfulness through it all and prompts us to serve each other, when needs arise. Perhaps surprisingly to some, Christianity also teaches us that we can have joy, regardless of circumstances.
Steadfast joy is modeled for us by a key biblical figure, the Apostle Paul. He wrote the book of Phillipians, while actively imprisoned for his faith, and spoke extensively about our ability to remain joy-filled regardless of the oppression and hardship we face. While this world can be discouraging and disappointing, Christianity helps us navigate our challenges with a heart oriented toward God's goodness.
Teaching Us How to Love One Another
Christianity has timeless relevance in its call to love others. In fact, Jesus poignantly instructs that the two most important commandments we have are to love God and to love others (Matthew 22:36-40).
Throughout the ministry of Jesus, He consistently showed up to meet both the practical and spiritual needs of those He encountered. He loved in ways that at times surprised those around Him because of how relentless, unwavering, and sacrificial His love is. In the New Testament, we watched as Jesus healed blindness, raised people from the dead, cast out demons, turned water into wine, calmed raging seas, and provided an abundance of food to those in need. Each one of those miraculous acts was rooted in deep love and the opportunity to demonstrate His might and power as our Savior.
From the example of Jesus, we learn that we should also love sacrificially, serve others, and desire the best for those around us. Jesus ministered to the poor and brokenhearted, and we should follow suit.
Christianity Remains Relevant Today
The redeeming power of Jesus Christ will never fade in its relevance to us and for generations to come. Not only is He our savior and redeemer but through a life that is aligned with Him, we are provided guidance, instruction, and models for how to live in our modern times. Practicing Christianity, in a way that centers on a love relationship with Jesus, has the opportunity to inform every area of our life – now and forever.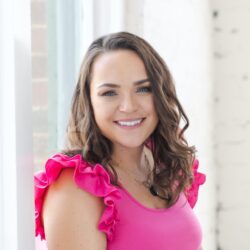 Caitlyn Scaggs is Executive Manager at New Hope Girls and author of Worth It & Wonderful. She is on a mission to positively impact others by encouraging the pursuit of whole-hearted living while reflecting a life that aligns with a faith in Jesus Christ. Learn more at boldlypursue.com or Amazon.com
View Author Posts
Next Steps To Strengthen Your Walk
We are here for you. Simply click on the button below to reach us by form, email or phone. Together we will lift our hearts and voices with you in prayer.
I Need Prayer
Sow a seed of faith today! Your generous gift will help us impact others for Christ through our global salvation outreach and other faith based initiatives.
Give Online Today
Watch Christian content from your favorite pastors, christian movies, TV shows and more.
Watch Now