---
God's Answers for Your Times of Trouble

By David Cerullo
•
October 17, 2022
•
10 Minutes
---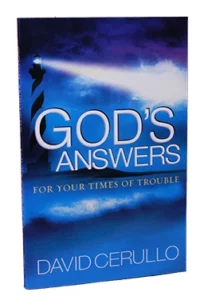 Excerpt from God's Answers for Your Times of Trouble by David Cerullo
The Eternal Conflict
Your battle against fear is not a physical confrontation: It is spiritual.
There are two forces at work in this world. You might think of them as light and darkness or good and evil. Call them what you will; they are very simply God and Satan.
The Bible clearly tells us to put on the whole armor of God, "that ye may be able to stand against the wiles of the devil. For we wrestle not against flesh and blood, but against principalities, against powers, against the rulers of the darkness of this world, against spiritual wickedness in high places" (Ephesians 6:11-12 KJV).
If this sounds fictional to you, believe me, it is very real. The spirit world may be invisible to your eyes, yet it is just as natural as the world in which you and I live.
Rejoice that you have won the victory in the battle against your soul by calling on the Name of Jesus. When you asked Christ to forgive your sins and come into your heart, He did just that. Jesus now lives inside you. He has delivered you from the kingdom of darkness and translated you into the Kingdom of His Son (Colossians 1:12-14).
The issue of spiritual warfare is one I will refer to several times in this book. I believe it lies at the heart of defeating anxiety and overcoming the troubled times in your life.
Don't Harm Your Temple!
Let me share two reasons fear should have no place in your life:
Fear denies the truth of Scripture.
The moment you allow earthly trepidation to determine your behavior, you are in direct conflict with the Word of God that proclaims, "I will never desert you, nor will I ever forsake you" (Hebrews 13:5).
I want to encourage you to replace fear with faith. Believe the Word when it says that God has all power in heaven and on earth. He does! He desires only the best for you.
Fear causes harm to the temple of God.
The instant you are born again, the Almighty miraculously takes residence in your body: "Do you not know that you are a temple of God and that the Spirit of God dwells in you?" (I Corinthians 3:16); and, "Because you are sons, God has sent forth the Spirit of His Son into our hearts" (Galatians 4:6).
Don't permit anxiety and fear to invade the temple of God—which is in your body.
Medical research has proven beyond doubt that worry can cause heart trouble, high blood pressure, ulcers, stomach disorders, and more. If fear is damaging your body—it is also destroying what God has placed within you.
Your Ark of Safety
Certainly, we must take every human precaution necessary to shield our families from danger, yet the Lord is our only Source of complete safety.
The Word affirms that through faith, we "are kept by the power of God" (I Peter 1:5 KJV).
"For in the time of trouble He shall hide me safe in His pavilion: in the secret of His tabernacle shall He hide me; He shall set me upon a rock" (Psalm 27:5 KJV).
What is your greatest weapon against fear? The mighty Word of God.
Let me share 15 Scriptures I would like you to commit to memory. I encourage you to make a copy of these pages and place the verses on your refrigerator or the dashboard of your car.
Read them aloud day after day until the words find a home in your heart and saturate your thoughts and spirit.
I will keep my mind on Christ.
"Thou wilt keep him in perfect peace, whose mind is stayed on Thee, because he trusteth in Thee" (Isaiah 26:3 KJV).
The Lord will give me strength.
"Do not fear, for I am with you; do not anxiously look about you, for I am your God. I will strengthen you, surely I will help you, surely I will uphold you with My righteous right hand" (Isaiah 41:10).
God is holding my hand.
"For I am the LORD your God, who upholds your right hand, Who says to you, 'Do not fear, I will help you'" (Isaiah 41:13).
I will trust the Lord.
"When I am afraid, I will put my trust in You. In God, whose word I praise, in God I have put my trust; I shall not be afraid. What can mere man do to me?" (Psalm 56:3-4)
I will not be afraid.
"The LORD is my light and my salvation; whom shall I fear? The LORD is the strength of my life; of whom shall I be afraid?" (Psalm 27:1 KJV).
I will be confident.
"Though a host encamp against me, my heart will not fear; though war arise against me, in spite of this I shall be confident" (Psalm 27:3).
God is on my side.
"The LORD is for me; I will not fear; what can man do to me?" (Psalm 118:6).
My Father knows all about me.
"Indeed, the very hairs of your head are all numbered. Do not fear; you are more valuable than many sparrows" (Luke 12:7).
God is my salvation.
"Behold, God is my salvation, I will trust and not be afraid; for the LORD GOD is my strength and song, and He has become my salvation" (Isaiah 12:2).
The Lord will be with me.
"Do not fear, for I have redeemed you; I have called you by name; you are Mine! When you pass through the waters, I will be with you; and through the rivers, they will not overflow you. When you walk through the fire, you will not be scorched, nor will the flame burn you" (Isaiah 43:1-2).
God will not fail me.
"Be strong and courageous, do not be afraid or tremble at them, for the LORD your God is the one who goes with you. He will not fail you or forsake you" (Deuteronomy 31:6).
I will not be dismayed.
"'You need not fight in this battle; station yourselves, stand and see the salvation of the LORD on your behalf, O Judah and Jerusalem.' Do not fear or be dismayed; tomorrow go out to face them, for the LORD is with you" (II Chronicles 20:17).
I will replace fear with God's perfect love.
"There is no fear in love; but perfect love casts out fear" (I John 4:18).
I am secure in God's hands.
"The fear of man bringeth a snare: but whoso putteth his trust in the LORD shall be safe" (Proverbs 29:25 KJV).
I will rest in the Lord.
"When you lie down, you will not be afraid; When you lie down, your sleep will be sweet" (Proverbs 3:24).
Now you are armed for battle! The next time Satan attempts to launch his arrows of fear and his darts of doubt, boldly begin to speak the Word and watch him flee!
…
Order your copy of God's Answers for Your Times of Trouble by David Cerullo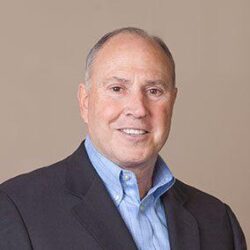 David Cerullo is the founder, chairman, and CEO of Inspiration Ministries, located in Indian Land, South Carolina ­– a ministry dedicated to impacting people for Christ worldwide through media. The son of international evangelist Morris Cerullo, David took a less traditional approach to ministry, graduating from Oral Roberts University with a degree in business administration and management. He has authored over 20 books, and operates a global media ministry that powerfully impacts the world for Christ. Learn more at inspiration.org
View Author Posts
Next Steps To Strengthen Your Walk
We are here for you. Simply click on the button below to reach us by form, email or phone. Together we will lift our hearts and voices with you in prayer.
I Need Prayer
Sow a seed of faith today! Your generous gift will help us impact others for Christ through our global salvation outreach and other faith based initiatives.
Give Online Today
Watch Christian content from your favorite pastors, christian movies, TV shows and more.
Watch Now