---
Andrew Peterson: Speaking Light into the Darkness

By John Farrell
•
November 29, 2021
•
24 Minutes
---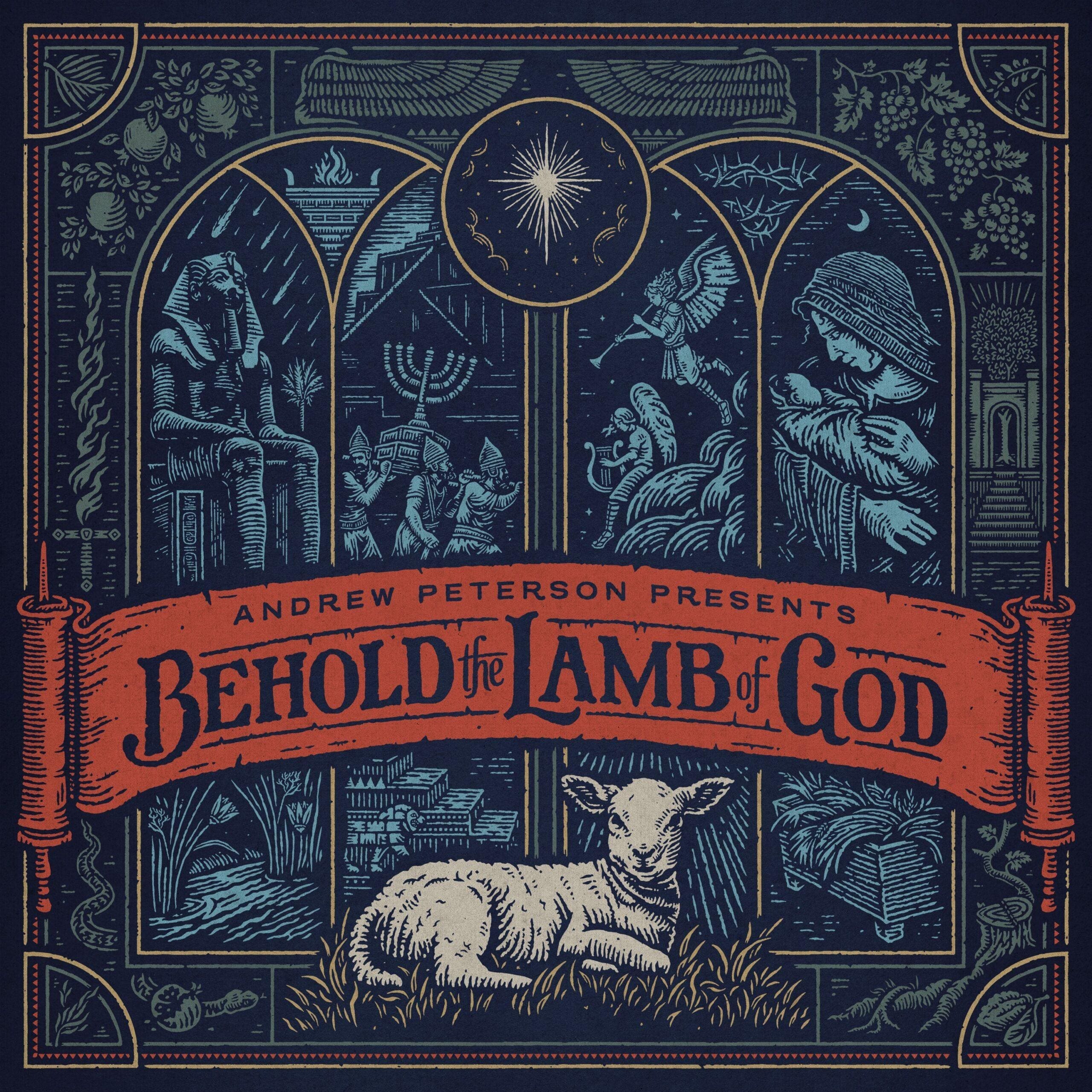 In October 2019, Dove-nominated singer and songwriter Andrew Peterson released a re-recorded edition of his 2004 Christmas album, Behold the Lamb of God. Many of the same artists from the original recording returned, as well as many other new voices, to join Andrew in re-crafting the original album's twelve songs. The new album also celebrates the 20th Anniversary of the Behold the Lamb of God Tour.
I recently had the opportunity to talk with Andrew about his Christmas album, tour, and his relationship with Christ. I hope you enjoy.
JF: At the end of November, you began the 20th Anniversary Behold the Lamb of God Tour. What can fans expect?
Andrew: It's not much different in spirit than any of the other tours that we've done in that the format is the same. We're going to open the show with singer-songwriters in the round. All the songwriters on the tour are going to get to take turns playing songs.
The second half of the show is where everybody comes back out and plays through this record, Behold the Lamb of God. It tells the story of the coming of Jesus. The difference to this year because it's the 20th is that we are bringing more friends than ever. We usually bring one tour bus, which holds twelve people.
For fifteen years, it's been pretty much the same band from start to finish but then when we do the show in Nashville at the Ryman Auditorium it's always a bigger show because we invite more friends who are local. We have a string section and a bluegrass band, and we have all this fun stuff that happens.
So, this year we decided to bring an extra tour bus and make the roadshows feel more like the Ryman show. It's going to be a big party.
JF: Where are you headed and who will be on the road with you?
Andrew: We're headed all over the place. The usual suspects are Jill Phillips, Andy Gullahorn, and myself. Then we have Andrew Osenga, who's a great songwriter; Sierra Hull; Jeff Taylor; and Ron Block, who plays banjo for Alison Krauss and Union Station. Scott Mulvahill is on the tour. Just an amazing bunch of people.
JF: What do you hope to accomplish with the tour and what do you hope fans take away from the tour?
Andrew: For twenty years we've been doing this thing. It's been around a long time and the whole point of the show is to have a concert where people can get away from all the extra stuff that happens in the Christmas season in America. The idea was to do a Christmas concert where Santa Claus wasn't invited.
I love Bing Crosby and the Elvis Christmas record and the Santa stuff is all fun, but I just felt this compulsion two decades ago to put on an evening where people could be reminded that Christ is the center of the season and to tell the story in a way that was a little different than they're used to.
The show starts in the Old Testament with Passover, moves to King David, then Isaiah, and marches through the Old Testament to lay the groundwork for the need for a Messiah. By the time you get to the part of the show where Jesus is born, you've been reminded of this great, sweeping epic story that God is telling all of creation and the center of that story is Christ. That's the point of the show.
The point of the show is to draw attention to His goodness and His glory. We do that by singing a bunch of songs that tell the story. It's not a musical. It's not a pageant at all. It's a song cycle, like a rock opera almost, only it's got hammer dulcimers, dobros, and mandolins, along with electric guitars and cellos.
It's a community effort; so it's a whole bunch of people who are friends with separate careers who travel around the country on their own the rest of the year. Then, because of this community and this friendship and the fact that we happen to believe that this crazy story is true – that God put on flesh and dwelt among us – we put everything aside and go on the road in December to tell this story.
I grew up in the church. I'm a pastor's kid and I did not realize until I was nineteen or twenty years old that the Bible – among all the many wonderful things it is — is a narrative. It's a story. The fact is that the Bible is this unfolding story that traces the history of God redeeming creation through His Son. I was like, 'How did I miss this? If I grew up in the church and I missed this, then chances are there's a lot of other people out there in the church who grew up without realizing that Jesus was the center of not just the New Testament but the Old Testament too.'
That's our goal. If you knew that Jesus was the center of it all, but you forgot, we want to dust off the cobwebs and help you remember how amazing the Christmas story really is. If you've never heard it before, we want to be the ones to tell you, 'Hey, check out this amazing thing God has been doing through all of creation that we get to be a part of.'
JF: How has the show changed over the past twenty years? Or has it remained pretty much the same because it's been so successful as it is and there's no need to fix it?
Andrew: If it ain't broke, don't fix it. The format of the show's the same. We started the tour in 2000 and it took about four years of touring before we were able to record the album. So, for the last fifteen years we've had this same recording, which is fine. We're happy with it, but when I went back and listened to the recording last year I was amazed at how different the current live show feels from that recording fifteen years ago just because we've tweaked things and tightened things up a little bit.
We haven't added a bunch of stuff, but the show has become more refined and I think there's an energy to what we do now that wasn't there fifteen years ago. We wanted to capture that and celebrate two decades. That's what the record is. It's subtly different, but the heart of it is the same.
JF: You spoke to this a little bit, but could you go into a little more about the differences between this current version of Behold the Lamb of God and the original album?
Andrew: There's just an energy to it that wasn't there before. Fifteen years is a long time to play the same songs again and again, so there is going to be a flavor to the music that bears more energy to what we do live.
There are a few subtle changes instrumentation-wise that we've made. It's going to evolve over fifteen years, so we wanted to capture what it is now. That's the main thing. We added a couple of verses to one of the songs and invited some new friends to join us.
One of the big things about the record and the tour is that it says "Andrew Peterson Presents Behold the Lamb of God" because I wrote the songs and came up with the idea for the show, but it is definitely not my show. There's this whole array of wonderful singer-songwriters and musicians that are on this tour and I love getting to highlight those people.
With this new record, we invited even more voices to sing some of the songs. Jess Ray is one of my favorite young singer-songwriters. Scott Mulvahill sings on one of the songs. Andy Gullaorn sings on one of the songs. People who've been to the show in the last few years won't be that surprised. If you haven't seen the show in twenty years, you'll be like, 'Whoa, this actually a lot tighter and more beautiful sounding than the old one.'
I've never heard of this happening in the universe that the same band plays the same twelve songs every December for twenty years and then goes into the studio to re-record it after that long. And we recorded it live in two days. It wasn't like we pieced it together in the studio over the course of two months. Every single person who walked into that studio intimately knew every note they played on the show. So, when we went in to record it, we were capturing that energy. It is really something.
JF:  How has the album, which was released on October 25, been received?
Andrew: It's been great.
JF: Of the twelve songs on the album, which is your favorite?
Andrew: I don't have a favorite. The songs don't really stand alone; they all lean on each other. It's almost like it's a forty-five-minute song with twelve movements.
JF: What was the recording process like?
Andrew: Everybody already knows the music. We all knew the songs already. The amazing thing about it, having made many records over the years, is usually as an artist you go into the studio with a producer and maybe you have a band, but you usually pick the musicians that are going to be playing and they come in for their day. Then you spend the day working with them and then you call the next person and the next person comes in the next day. It's very seldom that everybody on the record is in the room at the same time.
With this album, we rented out Sound Emporium, which is a famous, historic studio here in Nashville. It was big enough to handle it and I think we counted thirty-eight people played on this record. Most of those people were in the room on the same day. Imagine thirty-eight of your best friends showing up to spend two days recording music.
Once again, it was just a party. It was a delightful celebration not just of the community and these friendships, but of the great gift it is that we've gotten to do this for all these years.
JF: Obviously, you're a busy person, because in addition to the album and tour, you also had a book that came out in October. What was the motivation and inspiration behind writing Adorning the Dark? And what is the message you hope readers will take from it?
Andrew: In addition to music, I've written a series of fantasy novels and between the novels and the albums and the non-profit that I'm a part of called, "The Rabbit Room," I've made a zillion mistakes over the years and I've learned a fair bit about what the creative life looks like.
About four or five years ago, I was going into the studio to make an album and was journaling the process. I would come home from the studio that night and write about everything that was going on in my brain when I was in the studio. The truth is most people who make things who are artists of any sort know what it's like to deal with the internal – the self-doubt, the frustration of not knowing what to say next, the feeling that you've used up all your good ideas, and the constant voice saying, 'Who do you think you are anyway? Why should anyone listen to you?'
The choruses of negative voices in your head is so loud. So, I was journaling that whole process just to get it out of my system and break through a writer's block so I could get busy writing songs. After the record was finished – it may have been two records later — I happened upon that journal and started reading it. I remember thinking, 'I wonder if it would be helpful to other writers if they knew that they were not crazy? If they knew that this was what it's like.'
The book started out as a really intimate look at what's going on inside the heart and mind of a person trying to make something. The goal was two parts. It was part commiseration – reminding people that they are not alone in feeling this way. It's not a reason to quit. The second one is what little I've learned over the last twenty-five years of doing this and I wanted to use this as a chance to nudge people and shift their thinking a little about what it is they're doing.
If you're a Christian, then you believe that you're made in the image of God and that in some mysterious way God has given us the ability to speak light into the darkness. I think that applies to you whether or not you're an interviewer, teacher, homemaker or mathematician. There is a creative impulse that we have and a creative well that we're drawing from. There's a lot of common ground between all of the disciplines. This book was written as a way to encourage people.
JF: For you, how does the book-writing process compare to the music-creating process?
Andrews: The creative process for me is always difficult no matter what I'm doing. The way I usually put it is that songwriting is like track and novel writing is like cross-country. Songwriting is these little bursts of energy. It's still taxing. It still takes a lot out of you, but you can write a song and play it for somebody the next day and know whether or not it's good.
With a book, you're working on it for a year, maybe two, and it's a long time before anybody reads anything you've written. The chances that you start questioning your own sanity are much greater in the book-writing process because it takes so long and you're in your head for so much of the time. The point is that there's way more in common than there is different between any creative work.
JF: How did you get into music?
Andrew: I started writing songs in college, and started touring around.
JF: Do you play any instruments?
Andrew: Yeah. Guitar and piano.
JF: If someone who's never heard your songs were to ask you about your music, how would you describe your sound?
Andrew: I usually just tell people it's singer-songwriter music. It's in the vein of singer-songwriters that have been around for a long time – guy with a guitar music: Paul Simon, James Taylor, Marc Cohn, and Rich Mullins. Those are all my heroes and the people I resonate with the most.
JF: What is your relationship with Christ like and how does it impact your music?
Andrew: The nature of the music that I do is confessional and narrative, but it's usually about my life. It's really intimate autobiographical stuff, so there are all kinds of songs about my kids, my family, and places in the world that I love to visit. That kind of thing.
Because I actually believe this thing called the Gospel and I believe that God is real and that He came to us in Christ, if Jesus shows up in a song it's not because I thought, 'I'm going to write a song about Jesus.' It's because it's a part of who I am. At a DNA level, my thinking and my imagination has been affected by my belief in Him and His love for us. So, I can't help but write about it.
JF: What is your testimony?
Andrew: I grew up in the church, but I didn't believe that God loved me until I was about nineteen. I just didn't know the story of the Bible until I encountered the music of a guy named Rich Mullins, who helped me believe that God wasn't mad at me.
There was a sense in which I heard a version of Christianity, but what I had grown up within the Bible Belt of the South did not stick. It wasn't their fault, it was my fault. I wasn't paying attention to the part of the Bible that was – how do I put it? – Jesus.
It's possible to be a Christian in America and operate completely as if it's a moralistic religion and ignore the fact that the whole thing centers on this Person who's actually real, who actually knows you and loves you. I was nineteen when I realized that God was knowable, that He was a person, and that Christ was pleased with me. That was something that changed me forever and I've been trying to help people believe that ever since.
JF: Do you have a favorite verse or book of the Bible.
Andrew: I don't have a favorite. It changes depending on what I had for breakfast.
JF: What's next for you?
Andrew: Having just released a book and a record in two weeks' time I'm a little bit exhausted right now. I'm looking forward to some space next year so I can figure out what I should do next.
JF: What do you do outside of music and writing that helps you rejuvenate?
Andrew: I live in the country and I garden, build stone walls, and I'm a beekeeper. I enjoy getting my hands dirty. That's the thing that resets me the most.
JF: Thank you for your time, Andrew!
…
Order your copy of Adorning the Dark: Thoughts on Community, Calling, and the Mystery of Making by Andrew Peterson
For more information on Andrew's music, tour, and book, please visit Andrew-Peterson.com.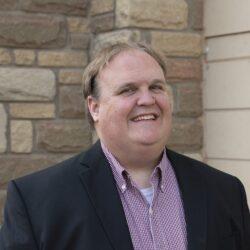 John Farrell is the Digital Content Manager for www.inspiration.org. In addition to having written more than 1,000 articles, press releases, and other pieces content for Inspiration Ministries, NASCAR, Lionel, and Speed Digital, he authored The Official NASCAR Trivia Book: With 1,001 Facts and Questions to Test Your Racing Knowledge in 2012. John is a graduate of Appalachian State University and lives in Concord, N.C., with his wife and two sons.
View Author Posts
Next Steps To Strengthen Your Walk
We are here for you. Simply click on the button below to reach us by form, email or phone. Together we will lift our hearts and voices with you in prayer.
I Need Prayer
Sow a seed of faith today! Your generous gift will help us impact others for Christ through our global salvation outreach and other faith based initiatives.
Give Online Today
Watch Christian content from your favorite pastors, christian movies, TV shows and more.
Watch Now