---

By Steve Johnson
•
March 2, 2023
•
9 Minutes
---
Excerpt taken from God Is Always with You: 31 Days of Hope and Healing for Grief and Loss by Steve Johnson, Lee Bailey-Seiler, and Jon Watje.
Day 2
Why, God?
Cindy and her husband, Jerry, had a unique marriage, and she was just fine with that. They met when Cindy worked at an elementary school and Jerry was a deputy sheriff with the county. He would visit the school for its Drug Abuse Resistance Education (D.A.R.E.) PROGRAM. They had a fun romance. Cindy had three daughters, and Jerry had no children of his own. They got married, and Jerry treated her daughters like his own. He was a great stepfather. Since Jerry worked in law enforcement, there were times Cindy would go on ride-alongs with him. It was a unique time together that they both enjoyed. Being married to a police officer was a journey for Cindy and her family, but they loved it.
Cindy eventually left her job at the elementary school, and she soon became a staff member at the family's church and oversaw the church's addiction recovery ministry. Jerry also volunteered his time to that ministry.
Jerry had seen many things during his time in law enforcement. He had experienced some traumatic things in the field, and over time, that started to take a toll on him mentally. He was diagnosed with PTSD and depression.
One day, Cindy and Jerry were driving to one of their daughter's houses to see their grandchildren when they were in a head-on collision. Cindy was in worse physical shape than Jerry, but after they recovered from their injuries, it became clear that the accident had more seriously affected Jerry's mental health. He became a different person; he was haunted by visions of the crash and by other scenes he had witnessed over the years as a deputy. Cindy and Jerry loved their hometown, but after the accident, Jerry felt they have to move somewhere new. Everywhere he went he would replay horrible memories over and over. When Cindy and her family would drive somewhere, Jerry would have them take a different route to avoid the scene of the accident. Other times, he would express that he could not get the sights and sounds of the accident out of his head. He would just put his hands on his head and say, "What's going on in my head? I don't understand. Something's not right. It's getting worse, and I can't understand why this is happening to me."
Cindy knew she needed to do something to help her husband. She reached out to a couple of treatment facilities. However, since Jerry never abused substances, they turned him away. Jerry was getting sicker and more tormented. Cindy found that he had searched "suicide and your salvation" on his phone. She confronted him about it, but he denied that he had suicidal thoughts.
Cindy and her brother got together to remove all the guns from their home. She now knew that her husband wanted to kill himself, which caused a sickening feeling in her. She got so scared that she reached out to Jerry's sergeant. He came over to talk to Jerry and decided he needed to go to the hospital. Jerry was admitted for treatment, but once he was released, things continued to get worse.
One morning, Cindy left to go to the chiropractor, and Jerry stayed home. When she returned, she noticed that Jerry wasn't home, and her heart sank. She couldn't find him anywhere. Her brother came over and looked around the house, but he had no luck either. Her brother decided to look along a trail in the woods near their home, and that's where they found Jerry. He had taken his own life.
Cindy and Jerry had been married for twenty years. She never in her wildest dreams could imagine her own husband dying by suicide. The grieving process was long and painful. There were moments of despair after Jerry's death. Cindy would cry out to God, Why me? Why Jerry? However, Cindy realized that God was in control and had a plan that she did not understand at the time. She didn't understand why Jerry died and what that meant, but she was going to trust God.
Cindy volunteered as a chaplain for two law enforcement agencies. She used her own experiences to bring more awareness to the effects of the job on the mental health of police officers. She also united more families with husbands and dads who were police officers. She would meet with the wives for coffee and talk about their struggles and issues. Sharing stories together was effective and helpful, both for Cindy and for the other women, to know they were not alone.
Today, Cindy still misses Jerry, but she knows that he is now with God and that his suffering is over. She also knows that ultimately, God has a perfect plan, and she is willing to allow him to use her for his perfect plan, no matter what that entails.
Trials Will come, Even More So to Believers
Pastor Paul Johnson says God watches over us no matter what is happening in our lives. "God is watching over these kinds of situations, and the Bible is very clear on that," Johnson said. "There are trials in life, but Jesus is there with us. God is always with us. God has a plan, and there's a tremendous future waiting for us as believers."
God Has a Perfect Plan for Our Lives
Cindy never thought her husband would commit suicide until it actually happened. This turned her life upside down and made her question God at times. Why did God allows this to happen to her? To her husband? Afterward, Cindy realized that God's plan is still perfect, and beautiful things can happen out of tragedy and trauma.
God Blesses Those Who Persevere
"Blessed is the one who perseveres under trial because, having stood the test, that person will receive the crown of life that the Lord has promised to those who love him" (James 1:12 NIV).
PRAYER
Dear Lord, I am experiencing a very difficult trial. I know that you told us these storms would happen in our lives, but I don't know how I can keep going. Give me the strength to persevere through this time in my life. I trust that you have a perfect plan for me. Amen.
…
Order your copy of God Is Always with You: 31 Days of Hope and Healing for Grief and Loss by Steve Johnson, Lee Bailey-Seiler, and Jon Watje.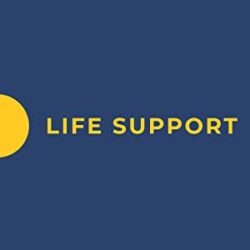 In collaboration with Five Stone Media, "The Team at Life Support Resources" (Steve Johnson, Lee Bailey-Seiler, and Jon Watje) compiled this resource to help the grieving. Learn more at lifesupportresources.org
View Author Posts
Next Steps To Strengthen Your Walk
We are here for you. Simply click on the button below to reach us by form, email or phone. Together we will lift our hearts and voices with you in prayer.
I Need Prayer
Sow a seed of faith today! Your generous gift will help us impact others for Christ through our global salvation outreach and other faith based initiatives.
Give Online Today
Watch Christian content from your favorite pastors, christian movies, TV shows and more.
Watch Now