---
Ripped Apart: Living Misdiagnosed

By David Black
•
July 17, 2023
•
10 Minutes
---
Excerpt from Ripped Apart: Living Misdiagnosed: Gary and Carol Stern's Epic Fight Against Malpractice in the American Health Care System by David Black
17
Gary's gut hurt when he took a breath. The pain was ten out of ten. But he couldn't take pain medication when his blood pressure was low.
"And," Carol said, "there were times he was so afraid of being in pain, that it didn't matter how much pain medicine you gave him."
Gary's ulcer was in his duodenum, where the stomach attaches to the small intestine. The pain radiated to his chest. He came to Sinai Hospital Emergency Room on May 12 about 11:16 at night and was seen by an emergency room physician, who recorded Gary's complaints as severe pain in the left upper quadrant that got worse when he breathed or changed position. The doctor confirmed that when he pressed Gary's belly the area was "tender."
He ordered blood work and a CAT scan of Gary's abdomen and pelvis. Carol worried that doctors were not paying sufficient attention to Gary's complaint that the pain radiated to his chest.
After examining Gary's CAT scan, another doctor—Dr. Suzette Johnson-Futrell—suspected the inflammation in Gary's colon was related to Crohn's Disease, partly because of Gary's history.
On May 13, Dr. Johnson-Futrell admitted Gary to the hospital. She requested a consult with a gastrointestinal specialist from Woodholme Gastroenterology, an established firm in Pikesville that had been founded in 1986. She wanted someone with GI expertise to examine Gary. That was Dr. Todd Heller.
In 1980, Heller graduated Summa Cum Laude from Yeshiva College in New York City. In 1984, got his medical degree from Albert Einstein College at Yeshiva. From 1984 to 1987, he did his residency in the Bronx at Montefiore Hospital. In 1989, he got a fellowship at St. Luke's Hospital in New York City to further study gastroenterology—an admirable record.
Heller saw Gary on the 14th, around 9 a.m.
Heller had short hair, wore dark framed glasses, and had a ready smile. He had a commanding and comforting presence.
Carol trusted him, at first. Years before, in 2000, Heller had treated Gary for his Crohn's, but he didn't recall Gary in 2011. He reviewed Gary's medical records and asked Gary what was going on, and about Gary's past medical history. He did a physical examination and went over the previous diagnostic studies, and wrote a report back to Dr. Johnson-Futrell, who had requested this consult, telling her about his findings and his recommendations.
Even though Gary kept telling Heller that the pain did not feel like his previous Crohn's, which had been in the lower right quadrant and not where the pain was now, in the upper left quadrant, and even though Heller confirmed that Gary's "tenderness" was in the upper left quadrant, Heller was inclined to agree with Johnson-Futrell's diagnosis: Crohn's.
The final report of the CAT scan, unlike that preliminary interpretation, indicated no inflammation. The radiologist who issued that final report stated, "Findings do not suggest active disease." Despite that, when Heller wrote his note to Johnson-Futrell, he indicated that what was going on here was Crohn's Disease, and as a result, he recommended to Johnson-Futrell that they continue to give Gary steroids, which is one of the treatments for Crohn's Disease—and which many doctors say can make ulcers worse.
---
18
Heller wanted Gary to have a colonoscopy, a large bowel study, mostly of the lower abdomen. Heller did not order any testing to evaluate the upper left quadrant, or the upper half, where Gary indicated he had pain. He did not do any tests to evaluate Gary's esophagus, stomach, gallbladder, pancreas, and duodenum; no endoscopy, which, according to other doctors, might have revealed Gary's ulcer.
On the next day, May 15, Dr. Heller got the results of the tests he had ordered. There was no sign of active Crohn's.
"I put doctors on pedestals back then," Carol said. "I assumed they knew what they were doing."
Heller concluded that Gary was suffering from a Crohn's flare-up.
On May 17, Gary was discharged—partly because, Carol was convinced, "Gary didn't have the proper medical insurance."
Get out, like the government had told Jeanette about military housing after Carol's father had disappeared.
Gary's ulcer had been undiagnosed and untreated.
---
19
Eight days later, on May 25, 2011, Carol called another ambulance. Gary's pain was still eight out of ten, ten out of ten. He felt as if there was a gas bubble in his abdomen.
He couldn't go back to Sinai, Carol was told, because they had no beds available in the ER. She suspected the real reason had to do with Gary's insufficient insurance.
The ambulance took Gary to Northwest Hospital on Liberty Road in Randallstown.
Again, Carol followed Gary's ambulance. Again, she ran red lights. Again, the EMS Techs figured Gary was suffering from a heart attack.
Northwest was "where things got really bad," Carol said. "That's where he got opened up for the first time."
In the emergency room, Gary complained about his left side abdominal pain. The doctors said he was guarding: when someone pressed on Gary's abdomen, he tensed his muscles in reaction to the pain.
Gary was admitted to the hospital and put on "nothing by mouth," or NPO. A doctor in the radiology department consulted with Dr. Steven Epstein.
Like Dr. Heller, Dr. Epstein got his undergraduate degree Summa Cum Laude at Union College in Schenectady, New York, in 1998. He had been an excellent student. In 2002, he went to medical school at the University of Maryland, where he did his internship and residency. About 10 to 20 percent of Epstein's patients suffered from Crohn's Disease. He also was experienced in treating peptic ulcers, which he explained were more common than Crohn's.
On May 26, Dr. Epstein examined Gary, who seemed to be a typical case, one of many unmemorable patients.
In general, Dr. Epstein's note said, the patient is walking around the room, appearing comfortable, in no acute distress.
Dr. Epstein didn't order an upper endoscopy or any testing of Gary's upper gastrointestinal tract, which might have revealed Gary's ulcer.
Dr. Epstein seemed to agree with the charts from Sinai that Gary was suffering from Crohn's, although the charts also reported that Gary was complaining about pain in his left upper quadrant—which many medical experts agree is not consistent with a diagnosis of Crohn's.
At the time, Carol was fighting the government about getting Gary a disability claim. The doctors speculated that Carol's fight may have exacerbated Gary's stress, which can trigger Crohn's flares.
On May 28, just after midnight, 12:38, about thirty-three hours after Dr. Epstein had seen Gary, Gary's pain became unbearable. Possibly during the early morning hours of May 28, Gary's ulcer perforated his bowel wall and allowed gastric content to seep into his abdomen.
A physician's assistant noted Gary's pain was in the upper right quadrant. His blood pressure dropped. He was diaphoretic—pouring sweat. He had none of the normal sounds a bowel makes when it's working properly. The medical records described Gary as being in distress. He developed lactic acidosis; his tissues and organs were not getting enough oxygen.
Gary had exploratory surgery by a different doctor, a surgeon, who noticed that in the lower right quadrant, Gary's intestines didn't look normal, partly because of Gary's previous Crohn's operation in 2000. The surgeon cut out a piece of Gary's bowel, which he sent to a hospital pathologist, who didn't find any inflammation.
Note: Direct quotes are in quote marks. Indirect quotes are underlined.
…
Order your copy of Ripped Apart: Living Misdiagnosed: Gary and Carol Stern's Epic Fight Against Malpractice in the American Health Care System by David Black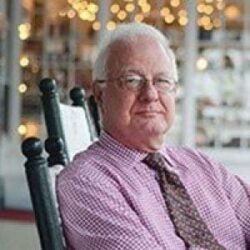 David Black is an award-winning journalist, novelist, screenwriter, and producer. He has taught writing at Mt. Holyoke, NYU, Columbia, the Norman Mailer Colony, Yale, where he was a Fellow at Pierson College, and Harvard, where he is a scholar-in-residence at Kirkland House. He is a Senior Fellow at The Schuster Institute for Investigative Journalism at Brandeis University. Learn more at davidblackwriter.com
View Author Posts
Next Steps To Strengthen Your Walk
We are here for you. Simply click on the button below to reach us by form, email or phone. Together we will lift our hearts and voices with you in prayer.
I Need Prayer
Sow a seed of faith today! Your generous gift will help us impact others for Christ through our global salvation outreach and other faith based initiatives.
Give Online Today
Watch Christian content from your favorite pastors, christian movies, TV shows and more.
Watch Now