---
In Love with the Word of God

By John Farrell
•
December 8, 2021
•
12 Minutes
---
There's a playground in heaven. It's filled with children. Children racing down slides, spinning on merry-go-rounds, hanging from monkey bars, climbing ladders, and running around.
They're all having fun. There is an infectious sound of laughter and joy in the air.
At the far end of the playground stands Jesus with outstretched arms. He's welcoming a little boy to heaven's playground. A big smile stretches across the young child's face. He's eager to join the other children in a game of tag.
The little boy has a name—Niklas. He was stillborn on January 8, 2014. Niklas had four different birth defects. On earth, he probably wouldn't have been able to run or play with the other children. In heaven, he's perfect—a picture of perfect health.
Regardless of his earthly defects, he was perfect and Jesus accepted him with open arms just as Jesus accepts so many people, including children who pass away during pregnancy or infancy.
The above vision came to Becky Nordquist in Spring 2019 while reflecting on a past moment from her life that she still struggled with: burying and leaving Niklas at the cemetery on that cold January day in 2014. She had wanted to dig him up and take him home with her although she knew she couldn't.
Earlier that Spring day, Becky had finished recording her song "Heaven's Playground" with Dove Award-winning songwriters Steve Siler and Tony Wood. She was back in her hotel room in Nashville listening to a rough cut of the song when she began to sob and the above scene played out in her head.
In all, Becky and her husband, Dave, have fourteen kids. Their blended family consists of six kids from previous marriages ranging from 23 to 28 years old. Together Dave and Becky have Grace (six) and Sam (four). The couple, who lives on a hobby farm in western Michigan with a pony, horses, chickens, cats, dogs, and one earless goat, also has six children who already have gone to be with Jesus, including Niklas. All of them with the exception of Niklas were lost during pregnancy.
In the span of two years, Dave and Becky experienced so much loss. In addition to their six babies, Dave lost his dad and Becky's mom and brother both passed away. Becky also found one of her friends dead in Becky's basement and she was unable to revive her. At one point, Dave and Becky were averaging one death per month.
"We were in funeral homes more than we were anywhere else for those two years," Becky stated.
During that two-year span, they attended the funeral for Dave's father. While sitting graveside Becky miscarried. She couldn't tell anyone at the time and waited until they were on their way home to break the news to her husband.
"I was concerned I might bleed out or have physical problems," recounted the musician. "I was like, 'I have to tell you and I'm really sorry that I'm doing this today. There's not much I can do about it.'"
While Becky was writing "Heaven's Playground," she realized she had never grieved her child that she miscarried at the funeral. The tears shed that night in her hotel room were because with the completion of the song she finally felt a release from the pain she had from not grieving the loss of one of her children.
"Heaven's Playground" is just one of three parts of her project, Before We Said Hello, which she created with Music for the Soul. Music for the Soul is a collection of like-minded individuals working together to support people facing life's toughest challenges.
According to their website, MusicfortheSoul.org they "tackle life's toughest issues in ways that can be heard, remembered, and revisited. Each song is crafted with input from those who've suffered through the hurt, as well as professional counselors and clergy. The results are honest and real, offering a path to healing and the promise of hope."
The second and third pieces of the project are a devotional book and another song both titled "Before We Said Hello." Sprinkled among the thirty devotions in the book are thirteen different stories from real people who have lost babies.
"The heart and soul of all this is the journey of people," Becky said. "It's their journey and how hope can come from the most desolate places and how there can always be a strand of something good in so much bad."
Becky wrote and recorded both songs with Steve and Tony, sometimes even meeting in Tony's living room to discuss the message behind the songs and the painful experience of losing a child. However, being in the presence of two accomplished songwriters was a little nerve-racking for Becky.
"There are people that wait their entire careers to write with these two," said Becky. "So, I was extremely humbled as well as slightly intimidated."
All three elements of the Before We Said Hello project provide hope, comfort, and encouragement to women and men who have experienced pregnancy or infancy loss.
"I want people to know that they're not alone," Becky commented. "Their baby's life matters.
"With pregnancy loss and infant loss you often carry an invisible grief. People haven't experienced your child the way that you have. Your child is very real to you. There's a lot of guilt involved. Women carry a lot of guilt for losing babies like if only I had eaten better or if I would have followed this advice."
The prevalence of miscarriages and stillbirths today is perhaps more widespread than most people realize. One in every four women have experienced a miscarriage and one in one hundred pregnancies have resulted in a stillborn birth.
According to Becky, "we need to talk about it more because the grief is not dealt with. We can't fix what we don't face, but God has such riches in facing our grief and walking through it. I really hope people are encouraged to walk through it, process it, and see what God has for them in it. They're not alone and their baby's life matters to God. It's okay to grieve."
Music for the Soul released the Before We Said Hello project on October 15, 2019. The date is no coincidence. In 1988, President Ronald Reagan declared October 15 as National Pregnancy and Infant Loss Remembrance Day.
Just as Becky leaned on music to help her cope with the loss of Niklas and her five pregnancy losses, she learned at a young age to rely on the Word of God. After suffering from years of abuse at the hands of leaders in the church where she grew up, Becky fell in love with the Bible.
"As soon as I was able to read, I would read my Bible and mark it up," Becky recounted. "It was a little weird for a kid of nine to evangelize her friends.
"You know what I love about the Bible is that there's not a wasted word in it. It's all to reveal His glory to us, which is all about our belief in Him, which is all about eternal purpose. I just love the Word of God!"
She believes God knew what was coming in her life and that she would need Him and His power to survive. During some of her darkest days, Becky contemplated suicide and nearly walked away from God.
Although she was battling some internal demons, Becky knew that if she just trusted God He'd put her where she needed to be just as Proverbs 3:5-6 states:
Trust in the Lord with all your heart, and lean not on your own understanding. In all your ways acknowledge Him, and He shall direct your paths.
In her opinion, she wouldn't be alive today if it hadn't been for her affection for the Bible and her relationship with God.
"I'm grateful for God's mercy in my life and that He would reveal Himself to me at such a young age."
Through all her trials, Becky is able to turn to the Bible that she loves so much and to her music to find comfort; however, it's songs like "Heaven's Playground" and "Before We Said Hello" that provide her with a special kind of comfort.
Comfort in the knowledge that Niklas will never know tears or experience pain.
Instead, Niklas will only know love and happiness playing with other children on heaven's playground.
…
Order your copy of Before We Said Hello: Finding Hope After Pregnancy Loss and Infant Loss by Becky Nordquist. Find Becky's music on every streaming device. For more information on Music for the Soul or the Before We Said Hello project, visit MusicfortheSoul.org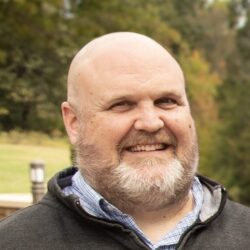 John Farrell is the Digital Content Manager for www.inspiration.org. In addition to having written more than 1,000 articles, press releases, and other pieces of content for Inspiration Ministries, NASCAR, Lionel, and Speed Digital, he authored The Official NASCAR Trivia Book: With 1,001 Facts and Questions to Test Your Racing Knowledge in 2012. John is a graduate of Appalachian State University and lives in Concord, N.C., with his wife and two sons.
View Author Posts
Next Steps To Strengthen Your Walk
We are here for you. Simply click on the button below to reach us by form, email or phone. Together we will lift our hearts and voices with you in prayer.
I Need Prayer
Sow a seed of faith today! Your generous gift will help us impact others for Christ through our global salvation outreach and other faith based initiatives.
Give Online Today
Watch Christian content from your favorite pastors, christian movies, TV shows and more.
Watch Now