---

By David Cerullo
•
April 6, 2022
•
10 Minutes
---
Does God want to bless you with prosperity and abundance? Of course, He does! What father would want his children to live in poverty and suffer lack? The pages of Scripture are full of references to God as your loving Heavenly Father who wants to give you His best—everything you could ever need.
If you are willing to "ask," "seek," and "knock," Jesus promises that your Father will gladly respond:
Ask, and it will be given to you; seek, and you will find; knock, and it will be opened to you. For everyone who asks receives, and he who seeks finds, and to him who knocks it will be opened.

Or what man is there among you who, if his son asks for bread, will give him a stone? Or if he asks for a fish, will he give him a serpent? If you then, being evil, know how to give good gifts to your children, how much more will your Father who is in heaven give good things to those who ask Him! (Matthew 7:7-11)
There are hundreds of similar Biblical promises about God's desire to bless and prosper His children when we walk in a Covenant Relationship with Him. Yet a fierce battle is raging today over the Bible's teachings about prosperity. Many well-meaning Christians have accepted the lie that God takes pleasure in giving them hardships and financial lack instead of blessing and abundance.
How sad this is! When told about God's desire to bless and prosper them, these misinformed folks say, "I believe that God chooses some people to abound and others to suffer lack—so none of us has a right to expect His blessings." Humble as that may sound, it is completely contrary to the teachings of God's Word!
Misunderstanding the Message
Much of the confusion about prosperity and abundance stems from a failure to properly define them from a Biblical perspective. Critics often wrongly assume that advocates of the "prosperity message" are focused only on material blessings. "It's all about believing God for a big house or a Mercedes," they complain.
However, although God's prosperity certainly includes financial blessings, that is only a small part of what the abundant life is all about. In addition to providing His children with material abundance, the Lord wants to bless us with good health…strong relationships…peace of mind…victory over addictions…and an intimate relationship with Him.
God wants to bless us in every possible way: in our spirit, soul, and body…in our finances, marriages, children, health, and spiritual lives. The apostle John describes this kind of all-inclusive prosperity like this:
Beloved, I pray that you may prosper in all things and be in health, just as your soul prospers (3 John 2).
Do you see the amazing scope of the prosperity God desires for His children? His plan is not just to prosper us in some things, or just spiritual things: He wants us to "prosper in ALL things"!
This lines up perfectly with the powerful Hebrew and Greek words used in the Bible to describe God's blessings:
Blessing (Hebrew barak) – "To bestow good upon." This word is used a remarkable 330 times in the Bible!
Peace (Hebrew shalom) – "To be made whole, healthy, happy, prosperous, and at peace."
Salvation (Greek sozo) – "To be saved, delivered, healed, restored, or kept safe." Like the Hebrew word shalom, the Greek word sozo speaks of God's desire not only to give us salvation in Heaven when we die, but also to bring restoration to every area of our lives today.
Prosper (Greek euodoō) – "To help on one's way, act wisely, and be successful and wealthy." Biblical prosperity stems from receiving God's wisdom and obeying His instructions on your journey. He promises that when you meditate on His Word and obey it, "you will make your way prosperous, and then you will have good success" (Joshua 1:8).
Based on these potent words describing the majestic scope of God's prosperity, it's clear that the abundant life (John 10:10) includes much more than material wealth. If critics would recognize the totality of God's desire to bless us, it would be much more difficult for them to reject the prosperity message as being unbalanced, self-serving, or materialistic.
The prosperity message is actually just an extension of what the Bible says about the loving nature of our Heavenly Father. One of His core traits is that He's a GIVER, as we're told in John 3:16 and a multitude of other verses.
The Land of "More Than Enough"
The first thing God did after creating Adam and Eve was to BLESS them! (Genesis 1:27-38) There were so many other ways He could have begun His relationship with humankind, but He chose to bless them, placing them in a beautiful garden where they had no lack.
Adam and Eve were placed in the land of "More Than Enough," and that continues to be God's intention for His people. But instead of such a life, many Believers are living in the land of "Just Enough" or "Not Enough." Because of ignorance, unbelief, or disobedience, they forfeit God's intended blessings and live below their inheritance in Christ.
If you are continually living with "Just Enough" or "Not Enough," I have good news for you today: Your Heavenly Father loves you, and He wants to bring you into a land of overflowing abundance. He wants to overwhelmingly bless you, so you can, in turn, be a great blessing to others.
What does it look like to go from lack to abundance? In Matthew 14:14-21, the disciples had "Not Enough" to feed the thousands of hungry people who had come to hear Jesus teach. But after they brought their five loaves and two fish to Jesus, a miracle happened: Everyone had plenty to eat, and they ended up with 12 full baskets of leftovers!
Within mere moments, Jesus' disciples went from a place of lack to an experience of "More Than Enough." And the same can happen for you…if you put your life and your resources into the hands of Jesus.
Believe and Receive!
If you don't believe in God's prosperity, it's unlikely you will receive His prosperity. Why? Because faith is an indispensable key to receiving the promises of God.
Jesus said, "It shall be done to you according to your faith" (Matthew 9:29). What an incredible principle! If you believe God will prosper you, He will. But if you don't believe He will prosper you, He won't! Either way, He will honor your faith!
The story is told of a man during the Great Depression who lost his job and became homeless. Living on a street corner, he begged every day from those who passed by, hoping for enough spare change to buy a meal.
One day a wealthy man passed by and took pity on the homeless man. He stopped and wrote a large check, telling the man, "Here, this will help."
However, the homeless man looked at the check in disbelief, unable to believe that a total stranger would give him so much money. He put the check in his pocket and continued to beg, not comprehending how rich he had become.
My friend, like the homeless man in this story, in Christ you've become richer than you can even imagine. You don't have to keep begging, looking to the government or other people to meet your needs. God's Word says He's given you a huge check—with your name on it!
Friend, I pray today that you will see God's amazing love for you. May your life overflow with such abundance that countless others are impacted, both in this life and in eternity.
God bless you,

David Cerullo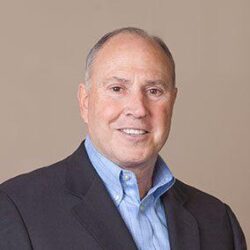 David Cerullo is the founder, chairman, and CEO of Inspiration Ministries, located in Indian Land, South Carolina ­– a ministry dedicated to impacting people for Christ worldwide through media. The son of international evangelist Morris Cerullo, David took a less traditional approach to ministry, graduating from Oral Roberts University with a degree in business administration and management. He has authored over 20 books, and operates a global media ministry that powerfully impacts the world for Christ. Learn more at inspiration.org
View Author Posts
Next Steps To Strengthen Your Walk
We are here for you. Simply click on the button below to reach us by form, email or phone. Together we will lift our hearts and voices with you in prayer.
I Need Prayer
Sow a seed of faith today! Your generous gift will help us impact others for Christ through our global salvation outreach and other faith based initiatives.
Give Online Today
Watch Christian content from your favorite pastors, christian movies, TV shows and more.
Watch Now