---

By John Farrell
•
February 6, 2023
•
10 Minutes
---
When three former PayPal employees created YouTube in 2005, they probably didn't expect the type of impact their website would have on society almost from the start. Sixteen years later, the website is the second largest search engine in the world, behind only Google.
Today, people from all walks of life are turning to the popular social media platform looking for popularity and money … lots of money. There are even some YouTubers who have made careers out of creating and posting videos on the website. It's a lucrative business that can reward the most creative content creators with fame and money.
As a testament to the platform's worldwide significance, here are some shocking YouTube stats from the January 2021 article, "10 YouTube Stats Every Marketer Should Know in 2021," posted on Oberlo.com:
720,000 hours of video are uploaded to YouTube daily,
3 billion monthly active YouTube users,
79% of Internet users have a YouTube account, making it the second-most popular social media platform, and
More than 1 billion hours of video on YouTube are watched daily.
With numbers like these, it's hard to argue the power of YouTube. And it's impossible to ignore the platform's allure of possibly striking gold when so many others have come before and succeeded. According to the article, "The Highest-Paid YouTube Stars of 2020," published on Forbes.com on December 18, 2020, 10-year-old Ryan Kaji (star of "Ryan's World") earned a whopping $29.5 million. Jimmy Donaldson (aka Mr. Beast) was second with an impressive $24 million in earnings. Rounding out the top five were Dude Perfect ($23 million), Rhett and Link of Good Mythical Morning ($20 million) and Mark Fischbach or Markiplier ($19.5 million).
Trouble in the Office, Trouble on the Homefront
A video-streaming social media platform similar to YouTube but named "UTOO" is at the heart of the 2020 comedy Selfie Dad, starring Michael Jr., Chondra Pierce, and Karen Abercrombie.
Ben Marcus (Michael Jr.) is an editor for a popular UTOO channel, "Rosie's Roses," and he's good at what he does. He was just nominated for Best Reality Show Editing on UTOO – the first three-time nominee in the category. However, he's not interested in attending the awards ceremony.
Rosie (Pierce) isn't the most pleasant person to work with and is often mean, demeaning, and uncompromising in her demands. When Ben's editing software freezes up while working on an episode of "Rosie's Roses," Mickey (Johnny Pacar), who works in the company's IT department while studying to become a pastor, stops by to fix the issue. Mickey is writing his senior thesis, "You Need to Read the Bible," about how when men read the Bible it gets into their hearts and affects their families. He wants to pick Ben's brain about the subject, but Ben isn't too familiar with the Bible.
At home, Ben isn't much help around the house, often avoiding necessary home repairs and helping his son and daughter with homework. When his wife, Jessica (Dahlia Waingort Guigui) asks him to either fix their toilet or help their son, Jack (Jalon Christian), with his homework, he reluctantly chooses the latter.
Instead of doing his math, Jack is watching a gaming video on UTOO; however, he's using UTOO videos to practice fractions: "This guy has 87,000 views on this video. I rounded it up to 90. He posted it three days ago, which means he gets 30,000 views a day because one-third of 90 is 30. This other video, he posted seven days ago. It has 1.4 million views, which means he gets 200,000 views a day because one-seventh of 1.4 million is 200,000."
Incredulous at the notion that there are that many people watching other people play video games, Ben asks, "Who wants to watch someone else play a video game?" Jack replies, "Everyone, Dad. He's funny. I mean, he has to be – he's a millionaire."
Jack explains to his father that UTOO pays popular content creators millions of dollars, which gives Ben an idea. At work the next day, he decides to record and post a UTOO video of him telling some jokes. The video bombs, garnering only three views.
Everything changes when Ben finally decides to fix the broken toilet and record him making the repair. The project is a disaster; however, he caught it all on video but leaves the phone in the bathroom. Jack finds the unattended phone and uploads the video to his dad's UTOO page, where it goes viral.
The Bible Is the Answer
The popularity of the video quickly generates thousands of new subscribers and views. Buoyed by finally knowing the secret to increasing his UTOO presence, Ben starts looking for more opportunities to make other videos of him poorly doing things around the house.
His videos are a hit with everyone, earning him endorsement deals and awards. But fame and popularity often come at the expense of family and faith, which Ben learns the hard way. After a family emergency, Ben finds himself struggling with his emotions and his marriage and family at a crossroads. He calls Mickey to come over and talk.
Mickey: "Look, man, I know you're a mess. We're all a mess. That's why we need Jesus. I mean, He's the way. He's the only way."
Ben: "Well, if He's the way, man. I just …"
Mickey: "Look, God is … Sometimes you can relate God to a navigational system. You put in the directions. It says to go two blocks and turn left, but you go two blocks and you turn right. Now that doesn't change the destination. It just recalculates what you need to do to get there from where you are now. And if we keep making the wrong turns, you know the roads, they change. They get rougher. But that's where Jesus comes in. The Jesus of the Bible."
Ben: "I don't even know where I got off track. Maybe 'cause I wanted to be noticed or I wanted to be somebody. Then I come home, I see my family and I know, like, I know what they need is they need for me to be, like a father who … you know, and he's there no matter if he can't be because if he moves like he needs to and then they're eating and you know he's supplying the stuff, but he's nurture, and I got to be that. You know?"
Mickey: "What I think you're trying to say is you love your family. Right?"
Ben: "Absolutely."
Mickey: "They know that. But what if the greatest somebody you can be is a man all in for God? What if you dove deeper into the Bible than you ever have before?"
Ben: "Look, man, you're young, dude. I got kids, my wife. I can't afford to be sitting around reading the Bible."
Mickey: "See … you have a wife and kids and a family and responsibilities. You can't afford not to read the Bible."
Shortly after their conversation, Ben starts reading the Bible. He's so moved by the Word and the directions for life it provides. He starts incorporating the Bible into his UTOO videos, but the decision is met with unfavorable results.
Regardless of what happens to his endorsement deals and subscription numbers, Ben is finally all in for God. Are you all in?
Watch Selfie Dad today on Inspiration TV on Demand.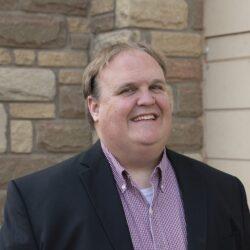 John Farrell is the Digital Content Manager for www.inspiration.org. In addition to having written more than 1,000 articles, press releases, and other pieces content for Inspiration Ministries, NASCAR, Lionel, and Speed Digital, he authored The Official NASCAR Trivia Book: With 1,001 Facts and Questions to Test Your Racing Knowledge in 2012. John is a graduate of Appalachian State University and lives in Concord, N.C., with his wife and two sons.
View Author Posts
Next Steps To Strengthen Your Walk
We are here for you. Simply click on the button below to reach us by form, email or phone. Together we will lift our hearts and voices with you in prayer.
I Need Prayer
Sow a seed of faith today! Your generous gift will help us impact others for Christ through our global salvation outreach and other faith based initiatives.
Give Online Today
Watch Christian content from your favorite pastors, christian movies, TV shows and more.
Watch Now