Voice of Victory with Pastor Henry Madava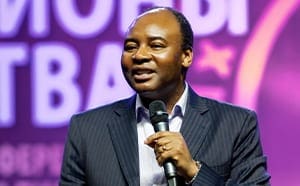 Bio: Henry Madava is the founder and Senior Pastor of Victory Christian Church in Kyiv, Ukraine, as well as the founder of Christ for All Cities Ministries. His mission is to help people find salvation through Jesus Christ and take full advantage of productive life in society.
Pastor Henry was born in Zimbabwe and founded Victory Christian Church in 1992 after graduating from Kyiv Institute of Civil Aviation Engineers. He continues to work in God's vineyard, teaching and preaching the truth in Kyiv, Ukraine, and all around the world. Consistent, clear teaching of the Word of God makes his preaching easy to understand.
Pastor Henry is a well-known preacher and speaker at many conferences. He has preached the Word of God in more than 46 countries. His annual Jesus Festivals in Asia, Europe, and Africa are healing evangelical campaigns where God performs miracles, freeing people from serious illness and restoring broken relations. Thousands of people come to hear the preaching and get answers to their questions, to find salvation and be healed.
Pastor Henry, his wife, and three children live in Kyiv, Ukraine.
---
Watch on Inspiration TV:
Saturdays at 4 p.m. ET | 16:00 UK
(Subject to Change without Notice)