---
Is There a Prayer for Protection?

By Caitlyn Scaggs
•
February 28, 2022
•
7 Minutes
---
It seems as if every time we turn on the TV, scroll social media, or pick up a newspaper we are confronted with frightening news. From disease to natural disaster, tragedy to evil acts, it is clear that this broken world is fraught with danger, risk, and prompts for fear. Naturally, it makes sense that we would want to turn to God and ask him to draw near. You may even wonder, "Is there a prayer for protection?"
The Bible, God's living word to us, graciously models how we can call out to him for protection and call upon His sovereignty. While there is no singular prayer for protection noted within the pages of scripture, we can pull from multiple areas from our Holy text to determine how we can cry out to God in our times of fear and need.
Psalms Provide a Model for Prayers of Protection
The entire book of Psalms is a powerful and honest heart-cry from David directly to God. David is one of the greats of the bible, a man that God noted was, "a man after his own heart" (1 Samuel 13:14). Since the Lord looked so favorably upon David, it is a reason for us to take note about how David sought the protection from the Lord. With humble beginnings as a Shepherd, a young boy who successfully fought a giant, and later a mighty king, David knew a thing or two about fighting battles — both literally and figuratively.
Within the 150 chapters of Psalms there is one chapter that speaks beautifully about our need to call upon the Lord in times of need; Psalm 23.
The Lord is my shepherd, I lack nothing.
He makes me lie down in green pastures,
he leads me beside quiet waters,
He refreshes my soul.
He guides me along the right paths
for His name's sake.
Even though I walk
through the darkest valley,
I will fear no evil,
for you are with me;
your rod and your staff,
they comfort me.
You prepare a table before me
in the presence of my enemies.
You anoint my head with oil;
my cup overflows.
Surely your goodness and love will follow me
all the days of my life,
and I will dwell in the house of the Lord
forever.
In this Psalm we see David call upon God to provide comfort and care. He asks God to go before Him and make a way, in the face of his enemies. He also claims God's gracious abundance as he notes that God overflows his cup. It is also powerful that this prayer not only speaks to physical needs but also God's ability to comfort us in times of fear. David is modeling for us a prayer that reframes fear, tragedy, and oppressive circumstances with a reminder that God is a Good Shephard and draws near to His people, as they call upon Him.
Jesus Also Modeled a Prayer for Protection
Jesus, our Lord and Savior, also helped us learn how to pray. We find this prayer in both Matthew and Luke, within the New Testament of the Bible. While it was not shared specifically as a prayer related to the need for protection, there are clear elements that point to how we can find our shelter in God. In Matthew 6:9-13 Jesus instructs the following.
This, then, is how you should pray:
'Our Father in heaven,
hallowed be your name,
your kingdom come,
your will be done,
on earth as it is in heaven.
Give us today our daily bread.
And forgive us our debts,
as we also have forgiven our debtors.
And lead us not into temptation,
but deliver us from the evil one.
Jesus instructs us to ask for deliverance from the evil one, a request for protection from temptation and the schemes of the evil one, Satan. He also instructs us to ask for our daily bread, which is the equivalent of asking God to provide for each and every need we have for that specific day. If protection is what you most need, this portion of the Lord's Prayer will be especially impactful and relevant to your circumstances.
There is also power in affirming God's sovereignty as you pray this prayer. In verse 10 scripture affirms "your kingdom come, your will be done," which is a reminder that God is in control, even when we feel afraid. The bottom line of this prayer is turning our hearts to God, asking Him to meet every need we have, and affirming that He is in control regardless of circumstances. It will not only call upon Him to shield us from harm but will praise Him for how he provides. As you pray this prayer be prepared for His peace to wash over your troubled heart.
Call Upon the Lord in Prayer
While the Bible models examples of prayers we can use, while we are feeling the need for protection, remember that you do not need a specific set of words to approach Him with your concerns. He affirms throughout scripture that He hears our prayers and petition and loves us deeply. Turn to Him with honesty about your fears, concerns, and needs and while doing so, trust that He is actively listening to your prayers.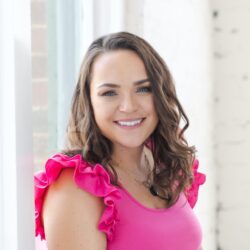 Caitlyn Scaggs is Executive Manager at New Hope Girls and author of Worth It & Wonderful. She is on a mission to positively impact others by encouraging the pursuit of whole-hearted living while reflecting a life that aligns with a faith in Jesus Christ. Learn more at boldlypursue.com or Amazon.com
View Author Posts
Next Steps To Strengthen Your Walk
We are here for you. Simply click on the button below to reach us by form, email or phone. Together we will lift our hearts and voices with you in prayer.
I Need Prayer
Sow a seed of faith today! Your generous gift will help us impact others for Christ through our global salvation outreach and other faith based initiatives.
Give Online Today
Watch Christian content from your favorite pastors, christian movies, TV shows and more.
Watch Now