---
How to Respond to Fearful Headlines in the News

By Caitlyn Scaggs
•
October 18, 2022
•
5 Minutes
---
Modern headlines can make fear feel all but impossible. From global conflicts and war-torn countries to tragedy and heartache in our own backyards. Beyond death and destruction are the fears associated with the economy, rising costs of living, and talk of a recession. If we are not careful, we can allow ourselves to be consumed by all the frightening things in this world.
It is critically important to consider your response to fearful headlines in the news and if you are fighting back with God's truth and biblical wisdom. Not only does it matter for our ability to live a vibrant life marked by joy, but it also matters because throughout scripture we are commanded not to fear.
Our instruction not to fear is found in both the Old Testament and the New Testament. You can turn to Isaiah 41:10 and Matthew 10:29-32 as two great starting points. God knows His people well and He knows that left to our own devices, we have a tendency to slip into fear-based living. It is helpful to remember that He provided encouragement and guidance within the pages of scripture to support our fight against fear.
Time to Battle Fear
Ephesians 6:10-20 is a great place to turn when we are unsure how to handle all the fear-inducing headlines found in the news. Early on within this passage of scripture we are reminded that the darkness of our days is rooted in spiritual battles.
For we wrestle not against flesh and blood, but against principalities, against powers, against the rulers of the darkness of this world, against spiritual wickedness in high places.
This realization is important because it opens our eyes to the spiritual nature of fear and anxiety. It is a reminder that we need to immerse ourselves within our faith-walk as a means of not letting fearful headlines consume us. The rest of this passage walks us through how we can prepare and respond as we battle against the hardships, struggles, and tragedies of our time. Ephesians tells us to take up the Armor of God.
Within our armor, we are told to put on the belt of truth, breastplate of righteousness, shoes of readiness, a shield of faith, a helmet of salvation, and the sword of the Spirit. I don't know about you, but that is exactly the kind of armor I need to persevere through dark and turbulent times! In light of God's majesty and strength, the fearful headlines become less consuming.
It is important to remember and intentionally remind yourself of God's power and sovereignty. We are reminded to take captive our thoughts (2 Corinthians 10:5) and intentionally choose to think about things from above – rather than the "here and now" things that can be so scary. This means you must take an intentional role in fighting back against fear.
Practical Steps to Fight Fear
After first turning to scripture and our faith it is important to exercise wisdom as it relates to the headlines and content we consume. There is nothing wrong with being concerned about what is taking place globally. It makes sense to seek awareness about current events and how they may impact you and your family. However, it is problematic when your pursuit of awareness becomes consuming and detrimental to your mental health and spiritual well-being.
If you feel yourself struggling in this way, consider the wise boundaries you can put around the information you consume, how much of it you can handle, and the accountability you need to navigate it forward. It may require limiting your time on social media or turning off your TV to avoid saturation from fear-inducing headlines. God encourages us to exercise wisdom throughout all of scripture, make sure you do exactly that as it relates to processing the broken aspects of this world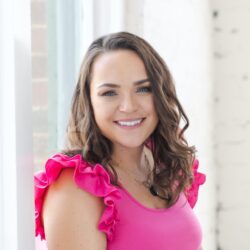 Caitlyn Scaggs is Executive Manager at New Hope Girls and author of Worth It & Wonderful. She is on a mission to positively impact others by encouraging the pursuit of whole-hearted living while reflecting a life that aligns with a faith in Jesus Christ. Learn more at boldlypursue.com or Amazon.com
View Author Posts
Next Steps To Strengthen Your Walk
We are here for you. Simply click on the button below to reach us by form, email or phone. Together we will lift our hearts and voices with you in prayer.
I Need Prayer
Sow a seed of faith today! Your generous gift will help us impact others for Christ through our global salvation outreach and other faith based initiatives.
Give Online Today
Watch Christian content from your favorite pastors, christian movies, TV shows and more.
Watch Now