---
At My Age, Faith Takes a Lot of Work

By Stan Toler
•
November 7, 2022
•
18 Minutes
---
Excerpt from I've Never Been This Old Before by Stan Toler
Chapter 4
At My Age, Faith Takes a Lot of Work
When I was preaching in Elizabethtown, Kentucky, my three points and a poem were going exceptionally well, and the crowd was expressing its approval with liberal doses of "Amen!"
One young man in the audience was a new convert, and his former biker lifestyle was quite obvious. He was a walking advertisement for Harley-Davidson, with a leather vest that covered most of a T-shirt (that covered most of a beer belly), and leather breeches that sat atop huge, scuffed biker boots with even bigger buckles on the side.
At least one of my points must have hit home. The newly redeemed biker didn't have the church lingo down, but he wanted to add his two cents. The heads of the "Amen-ers" snapped around like a bobblehead doll with a bad spring when the biker excitedly voiced his own brand of approval. "GO, BUBBA! YOU DA MAN!"
Golden-agers sometimes struggle with issues of faith—not so much getting or keeping it, but working it out in a brand-new "bubba" environment. The language and practices of our "old" church have been replaced with "new" church, and we're huffin' and puffin' to keep up.
Weekend Warriors
We face worship weekends with determination. We are weekend warriors, Christian soldiers valiantly standing guard over faith stuff that a new generation hasn't even heard about. They have a new way of expressing our mature faith.
I heard of a pastor who was using the unusually high attendance of an Easter week Sunday to give his fiery sermon on the judgment. Emphasizing his point with a fist to the podium, he said, "Everyone in this church is going to die!" Silence fell over the small auditorium. Then a youngster on the second row shouted out, "Not me, Preacher! This ain't my church. I'm just visitin' here with my cousin!"
Sometimes the church "ain't my church." It has a new paint job, and we're still getting used to the color scheme. For example, our eyesight has changed. We read God's Word faithfully, but now the print in our favorite Bible seems smaller than the eyelashes of a mosquito. And ending up with the wrong version can freeze our brains when the sermon notes on the church's overhead screen don't match our version.
Of course, we're still "glad when they said unto me, Let us go into the house of the LORD" (Psalm 122:1 KJV), but even the fellowship opportunities are a bit different. For some, the last all-church activity in their church was a gospel paintball war. That's a problem! First, we don't duck as fast as we used to. Second, we're not used to killing our brothers and sisters in the Lord, even if it's just a paint job. Third, most of our stretch-waist clothes are new, and we don't want to risk getting paint on them.
Serving is often a challenge as well. We golden-agers need our rest. When it's time to go to bed, some of us have to be dragged from a sound sleep in the recliner to the bedroom, where we have to remember our number on the Sleep Number bed. And once we get the right number (bingo!), we wage war with the Insomniacs (cousins of the Jebusites) until morning. So something like helping with the youth department all-nighter the next day is just about out of the question.
Oh yes, and for some, church music has left them with a blank stare on their faces and an ache in their heads. They began to think of praise and worship times as a boot camp, and the worship arts pastor as the drill sergeant. By the time they've memorized the newest song, Sergeant Pepper and his band will have pulled it to announce a new one—one that only they know, and they're keeping it a secret.
For golden-agers in the modern church, it's like picking up a dusty hymnal and having a twentysomething usher tap us on the shoulder, point to the hymnal, and whisper, "Put it down slowly… and nobody gets hurt." But it's not just the worship changes that put a cloud over our head. Some of us don't volunteer for the praise dancers team because we've been dealing with medical issues all week. We went to the minute clinic at a discount store and put our well-being in the hands of a physician's assistant who looked about the same age as our grandchild. She gave us a banker's box full of pill samples, charged us $85, and reminded us that we're not getting any younger.
So sitting in that church/former K-Mart store, where the former song leader's picture is on a "Have You Seen Me?" poster stapled to the bulletin board, is often as comfortable as riding a porcupine bareback.
"That Ain't Spurchel!"
Let's put all this through the filter of the Old Testament book of Habakkuk. The prophet was preaching to the Jewish nation about facing the Chaldeans, who were intent on throwing down their religious traditions and introducing a strange new religion—one that focused on idolatry. They were about to be attacked by an army of change.
Chapter 3 is the prophet's prayer for the kingdom. He starts by reminding them of the One who never changes: "LORD, I have heard of your fame; I stand in awe of your deeds, LORD. Repeat them in our day, in our time make them known" (verse 2).
Then he prophesies that Judea was about to have its whole world shaken. What would be the result? Barrenness (Habakkuk 3:17):
The fig tree does not bud and there are no grapes on the vines.
The olive crop fails and the fields produce no food.
There are no sheep in the pen and no cattle in the stalls.
Habakkuk must have longed for the good ol' days of prosperity and peace instead of barrenness and turmoil. But he had to face things as they were and not as he hoped they would be or used to be. He had to adjust to the present so he could have peace in the future.
It's the same for us golden-agers. Working out our faith in the "new church" starts first in the mind. Of course, we live in a day of spiritual barrenness, when there seems to be a lack of "grapes on the vine" (fruit) and a lack of "sheep in the pen" (growth), but that doesn't mean new methods for sharing the gospel can't be used.
We might need to tweak our thinkers and remember that what was familiar to us in the beginning of our Christian life was radically new to the generation before us, and it wasn't accepted without a battle. There was a time when using a flannelgraph to teach a Bible lesson was considered worldly. And playing anything but the piano or organ during a worship service could get you five-to-life in the church nursery. Why, there was even a time when "Amazing Grace" was considered too racy to be sung in church. And "Rock of Ages" was too contemporary for some. "That ain't spurchel!"
But the God who brings new mercies to our day, morning by morning, can use new methods (and yes, new music) that have been dedicated to him for the spreading of the old gospel and the discipleship of new saints.
 5 Things to Say When You're Caught Sleeping in Church
"I donated blood yesterday."
"My sleeping pill just kicked in."
"Somebody didn't mark decaf on that coffee in the lobby!"
"I'm contemplating."
"I was resting my eyelids."
Does Will Still Go to This Church?
I like the story of one family's contribution to the church supper. It was the Friday night before the church supper on Sunday. Mother had signed up to bring her famous lemon cake with white icing. Because Father always liked to raid the refrigerator during football games on TV, she decided to put the leftovers on a plate, cover it with aluminum foil, and put it on the top shelf in the fridge.
Sunday afternoon came, and sure enough, Father made his way to the refrigerator. "Honey! Where's that plate of leftovers you said was in here?" he hollered. "It's on the top shelf of the fridge, covered with tin foil!" Mother answered.
Father's next words brought cold chills to Mother. "No, it's not! The only thing covered in tin foil on the top shelf of the fridge is a plate of your lemon cake!" Mother could only imagine the look on the faces of the volunteers at the church supper when they uncovered what they thought was her lemon cake and discovered the carcass of a dead chicken, two slightly smashed deviled eggs, a smattering of broccoli and beans, and a cob of sweet corn with only one row of kernels left uneaten.
Habakkuk the prophet had to make some adjustments to keep his faith in working order. "Yet I will rejoice in the LORD, I will be joyful in God my Savior" (verse 18). He wasn't going to let the stuff of life get in the way of his worship. The obstacles weren't going to be bigger than the object: worship. That's a pretty good goal for us. We might not like the order of service, but we didn't come to church to order the service. We came to worship the God who made order out of chaos, and who can turn a thunderstorm into a symphony.
The question is, "Does Will still go to this church?" The one thing that can't be missing in any church experience is the will to worship. We might come to church expecting lemon cake and have to settle for one row of kernels on the cob, but we can keep our eyes on the cross (even if its replica isn't on the platform anymore).
"Cracker, Please."
Habakkuk's prophesy also included a promise: "He enables me to tread on the heights" (verse 19). Whatever we want from God, he is willing and ready to give. God will always help us reach new heights. We might have to maneuver around some orange cones in the road to get there, but our determination combined with God's inspiration can make any church—or church experience—a temple.
It's like the brother and sister in a communion service at a Methodist church in Arkansas. The church had some pretty strict rules about participating in the communion service. No one under five years of age was allowed to go up to the altar.
The pastor gave the solemn invitation. Brother started out, and then he turned to his four-year-old sister and said, "C'mon. Aren't you going up there?" Upset, the little girl reminded her brother out loud, "No! The preacher says I'm too little!" And then she quietly added, "But could you bring me back a cracker?" If all we can get is a spiritual cracker out of a worship experience, then let's eat it to our heart's content!
Faith works even if you have to work at it. David said, "The righteous will flourish like a palm tree, they will grow like a cedar of Lebanon; planted in the house of the LORD, they will flourish in the courts of our God. They will still bear fruit in old age, they will stay fresh and green" (Psalm 92:12-14).
Whether we're within reach of Social Security or just a few blocks away from assisted living, God will give us enough of his "flourish" to please him, to grow in our faith, and to serve others. Maybe there will be a time later on when we'll have to be tied up to a support stake like a tomato vine. But like that ol' vine, we'll still be bearing fruit if we keep our heart aligned with the Gardener.
The end of our beginnings doesn't necessarily mean the beginning of the end. Hair, teeth, nails, and brain cells may not be producing much new anymore, but God promises us a "fresh and green" heart.
Where Are You Calling from Again?
Mr. Johnson, a businessman from Wisconsin, went on a business trip to Louisiana. He immediately sent an email back to his wife, Jean. Unfortunately, he mistyped a letter, and the email ended up going to a Mrs. Joan Johnson, the wife of a preacher who just passed away.
The preacher's wife took one look at the email and promptly fainted. When she was revived, she nervously pointed to the message, which read: "Arrived safely, but it sure is hot down here!"
…
Order your copy of I've Never Been This Old Before by Stan Toler
I'VE NEVER BEEN THIS OLD BEFORE, Copyright © 2020 by Stanley and Linda Toler Trust. Used by permission of Harvest House Publishers, Eugene, Oregon 97408. www.harvesthousepublishers.com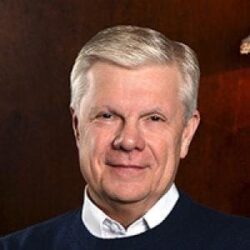 Stan Tolerhas spoken in over 90 countries and written over 100 books with sales of more than 3 million copies. Toler for many years served as vice president and instructor for John C. Maxwell's INJOY Leadership Institute, training leaders on how to make a difference in the world. Learn more at stantoler.com
View Author Posts
Next Steps To Strengthen Your Walk
We are here for you. Simply click on the button below to reach us by form, email or phone. Together we will lift our hearts and voices with you in prayer.
I Need Prayer
Sow a seed of faith today! Your generous gift will help us impact others for Christ through our global salvation outreach and other faith based initiatives.
Give Online Today
Watch Christian content from your favorite pastors, christian movies, TV shows and more.
Watch Now