---
Don't Allow Past Sins to Limit Your Future

By Jeanne Dennis
•
May 27, 2022
•
8 Minutes
---
Do you ever struggle to forgive yourself for your past sins? Reminding us of our failures is a favorite trick of our enemy. If we wallow in the memory of our offenses, we could miss fulfilling God's call on our lives. Don't allow past sins to limit your future service to God.
Don't Listen to the Devil
The devil tries to make us believe we can't serve God because of our former sins. But why should we listen to him?
God alone equips us to serve him. Granted, some of our failures will limit what we can do in the future. Scripturally, for instance, a divorced man cannot serve as a pastor. However, God can still redeem the future of every repentant sinner. He has a plan for every one of us to serve him.
We need to remember what God says about us as believers. We have become the righteousness of God in Jesus because he, the sinless one, became sin for us (2 Corinthians 5:21). We are not perfect, but God sees us through the righteousness of his perfect son.
Haunted with Doubt? Check It Out
Perhaps reminders of your past sins make you doubt your salvation. I have struggled with that problem and found the solution in God's Word.
First, we need to make sure we are truly saved. Paul instructed the Corinthians to test themselves to see if they were in the faith (2 Corinthians 13:5).
We can ask ourselves these questions:
Was there a time when I confessed my sin – agreed with God that I am a sinner (Romans 3:23)?
Do I believe Jesus died for me (Romans 5:8) and was resurrected from the dead (Romans 10:9)?
Have I repented – turned away from my sin and toward God (Luke 13:3)?
Have I truly made Jesus lord of my life (1 Peter 3:15)?
Do I acknowledge to others that Jesus is Lord (Romans 10:9)?
Has God made me a different person than I was before (1 Corinthians 5:17)?
These questions are not a to-do list if you're not saved. Think of it more as a list of evidences that you are saved.
If you cannot answer yes to the questions above, then read the referenced verses as you prayerfully ask God to save you and help you live for him.
Remember, salvation is by grace alone through faith alone in Jesus Christ. It's a gift of God. We can do nothing to earn it (Ephesians 2:8–9). But we can know if we have eternal life in Jesus (1 John 5:13).
The Definitive Test: New Creations
We can know for sure we're saved if we're not the same persons we were before. Not by anything we did, but by a miraculous work of God in our hearts.
Praise God, we no longer want to sin! Instead we desire with all our hearts to live for Jesus. Amazingly, through the Holy Spirit's power, we actually can do it. And we're miserable whenever we let Him down.
In short, we have become new creations. "Therefore if anyone is in Christ, he is a new creature; the old things passed away; behold, new things have come" (1 Corinthians 5:17 nasb).
By God's grace, our past sins have fled from us as far as the east is from the west (Psalm 103:12). But sometimes our past sinful experiences open the door to ministry with people who have sinned in similar ways.
God Doesn't Waste Anything
I met a lady once who ministered to the most hardened criminals. This tiny woman would get right in the face of a six-foot-six man and say, "No matter what you did, you can't shock me. Are you a murderer? I murdered four of my own babies. Are you a (fill in the blank)? Well, so am I." She followed her challenges with the gospel and said, "If God can forgive me, he can forgive you too."
Many murderers, rapists, and other prisoners broke down in tears and repented when they finally recognized God's tender love for them through this woman's testimony.
Let Go of Guilt
If you know you're saved, don't hold onto guilt you no longer own. Jesus took our guilt onto himself on the cross. We can trust that God has forgiven us because Jesus took God's just wrath for our sin and paid the price.
Instead of guilt, God invites us to a place of rest, refreshment, exhilaration, inspiration, and intimacy through the Bible and prayer. He calls us to the power not to sin and the ministry to serve others in his name.
Let's rejoice in all God has done! As sinners saved by his grace, we can spread the wonderful news of his gift of salvation. We have the Holy Spirit living inside us to comfort, empower, and guide us in all he wants to do in and through us. And we can access his joy, peace and love all the time, because he has promised never to leave us or forsake us (Hebrews 13:5).
God is Faithful
So the next time the devil tries to haunt you with your past, put your faith in God's faithfulness. You have been washed clean by the blood of Jesus.
Turn the enemy's ruse into a reminder to praise and thank God for his faithful forgiveness. "If we confess our sins, He is faithful and righteous to forgive us our sins and to cleanse us from all unrighteousness" (1 John 1:9, NASB).
Then determine to do what Paul did: "…but one thing I do: forgetting what lies behind and reaching forward to what lies ahead, I press on toward the goal for the prize of the upward call of God in Christ Jesus" (Philippians 3:13b–14, NASB).
Press on toward the future God has for you. All in his strength and for his glory!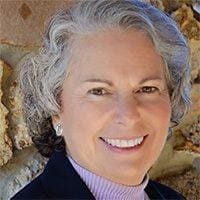 As an author, speaker and online host Jeanne Dennis helps families understand and apply biblical truth, answer tough spiritual questions, and pass on their faith in a confused culture. She is a commissioned Colson Fellow and Centurion and an award-winning author of a dozen books. She and her husband of over 40 years produce Heritage of Truth TV. Learn more at jeannedennis.com
View Author Posts
Next Steps To Strengthen Your Walk
We are here for you. Simply click on the button below to reach us by form, email or phone. Together we will lift our hearts and voices with you in prayer.
I Need Prayer
Sow a seed of faith today! Your generous gift will help us impact others for Christ through our global salvation outreach and other faith based initiatives.
Give Online Today
Sign Up For Inspiration On Demand
Watch thousands of hours of Christian content from your favorite pastors, christian movies, TV shows and more.
Try 30 Days Free