---
Look to Love: The Longer You Look

By JL Gerhardt
•
May 16, 2022
•
7 Minutes
---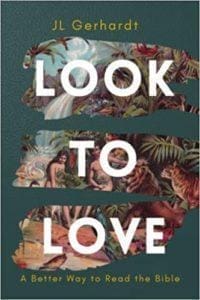 Excerpt taken from Look to Love: A Better Way to Read the Bible by JL Gerhardt
The Longer You Look
I'm standing with Eve on the rocks by the sea. With windswept hair and eyes as blue as the English Channel beside us, she squints and stares.
"Look mom, a shrimp!" She smiles and points until the shrimp disappears in the kelp.
She looks again.
"Mom, an anemone!" We bend down and touch gently, watching the creature shrink inward.
She looks again for longer. "A crab!"
She's twelve. I'm thrilled she hasn't stopped looking for treasure in tide pools.
Eventually she takes my arm in hers, wrapping herself around me like these creatures wrapped around steadying rocks. "Mom," she says, "The longer you look, the more you see."
…
Charles Spurgeon said, "Nobody ever outgrows Scripture; the book widens and deepens with our years." Is that it? Or was it wide and deep all along, and it takes us a lifetime to see it all? To see Him all.
I pray that you, being rooted and firmly established in love, may be able to comprehend with all the saints what is the length and width, height and depth of God's love, and to know Christ's love that surpasses knowledge, so that you may be filled with all the fullness of God. (Ephesians 3:18-19)
…
Recently I asked a few friends for advice on how to stay in love. Some mentioned date nights, some shared hobbies—investing in quality time together. Others said communication—try to understand each other, listen, don't hide how you feel.
My friend Pam said this: "Whenever I look at Danny, I still see that 21 year old long haired hippie I married almost 46 years ago. He tells me he can see that 20 year old in hip hugger bell bottoms. So maybe the secret is to be slightly delusional."
My friend Linda, married for more than 30 years herself, chimed in: "I'm different from Pam. I don't see the kid I fell in love with in the late 80s; I see the man I'm still in love with in these 2020s, gray hair in his beard, no hair on top and all."
I wonder if the trick to staying in love isn't some combination of Pam and Linda, an ability to remember the one you fell in love with and to simultaneously see them as they are right now. Maybe we gather the heaps of data we've collected over the years (so many years of looking to love) and we carry it in our purse or pocket, accessible should we need it in the checkout line at IKEA.
Staying in love with God isn't so different.
I remember the God I fell in love with—powerful, right, good for me. And I think of the God I love now—still powerful but also compassionate and gentle, creative, mischievous, and patient. With every year of looking, every occasion to see Him in scripture yet again from yet another angle in yet another light, I discover some new virtue or delight.
David writes, "Take delight in the Lord, and he will give you the desires of your heart." I'm learning that the more you delight in the Lord, the more solidly He becomes the desire of your heart.
More of Him, more of Him, more of Him…
…
Eve didn't always live in Eden. For 800 years or more she lived in a place with constant pain and toil. She bore children in that cursed place. And buried a child in that cursed place. She was buried there herself—outside, away, apart.
We don't know what life looked like for Eve for those 800 years. If you don't read Genesis carefully you might imagine she stormed out of the garden and never looked back, every year away from the garden drawing her further and further away from her Father. It's easy to think of Eve as God's opponent, kicked out, good riddance.
But that's not at all what happened. In fact, it's exactly the opposite. Here's how we know:
When Eve gives birth to her first son, in that moment when she first experiences the God-ordained consequence of her sin, " I will intensify your labor pains; you will bear children with painful effort," Eve looks at her baby, tiny, covered in blood, screaming, perfect, and she makes a pronouncement:
Eve says, "I have had a male child with the Lord's help." She names him Cain. Scholars connect this word to the Hebrew word "kana." To get.
Eve looks at the fruit of life squirming in her hands, and she sees God in the gift.
Later she'll have another son and name him "Given."
Maybe it was harder to look to love in the new fallen world than it was in the garden, God's light dripping like dew from every perfect thing. But Eve had a long time to look and the longer you look the more you see.
I wonder whether she relived her walks with God, grasping to remember the sound of his voice, the joy of His light of her face. I wonder if she told her sons stories about her Father, the one who made her.
I wonder if she dreamt of walking with Him again in a new perfect place.
One day after 800 years of looking, Eve closed her eyes to sleep.
And one day, Eve will open her eyes and see the One she loves.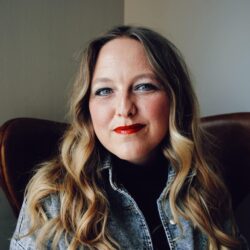 JL Gerhardt is an author and Bible teacher devoted to the work of helping people see, know, and love God. A former Storytelling Minister, college English teacher, and newspaper journalist, Gerhardt is currently traveling around the world with her family and hosting conferences for families called, The Storied Familiy. Learn more at jlgerhardt.squarespace.com
View Author Posts
Next Steps To Strengthen Your Walk
We are here for you. Simply click on the button below to reach us by form, email or phone. Together we will lift our hearts and voices with you in prayer.
I Need Prayer
Sow a seed of faith today! Your generous gift will help us impact others for Christ through our global salvation outreach and other faith based initiatives.
Give Online Today
Sign Up For Inspiration On Demand
Watch thousands of hours of Christian content from your favorite pastors, christian movies, TV shows and more.
Try 30 Days Free