---
Is It Safe to Open Schools?

By John Farrell
•
June 10, 2020
•
8 Minutes
---
The Coronavirus pandemic has impacted everyone. Regardless of whether you've contracted the illness or know someone who has, your daily routine has probably been disrupted in some way … most likely in multiple ways.
For me personally, my sons' schools closed and switched, almost overnight, to online learning. This was quickly followed by my company implementing a work-at-home order. While this may sound like a dream come true – reducing my daily commute from more than an hour to a mere thirty-two steps – I would soon learn that this new lifestyle was not without its challenges.
I was quickly reminded by my seventh-grader's math homework as to why I didn't pursue a career path that relied more heavily on numbers. Additionally, I realized that it's a good idea every now and then to brush up on the basic building blocks of education that you learn in elementary school.
The thing that has stood out the most to me, however, is what teachers go through on a daily basis. I just want to quickly say "thank you" as a parent for all of the unseen work that goes into managing a classroom full of different learning styles and for the structure and safety of our youth. While my sons are somewhat self-reliant when it comes to completing their homework, they both have distinctly different learning styles. I could not imagine teaching twenty-plus kids with varying levels of understanding and learning styles.
As we approach the end of the school year and my boys prepare for the summer – a summer in which most of their camps, sports, and other activities have already been canceled or altered significantly – I can't help but wonder when schools will open back up and, when they do, what will they look like?
But, perhaps, most importantly, will it be safe for the students and staff?
As many states and cities start to lift their stay-at-home orders and other restrictions, it's likely that schools will be open in time for the start of the 2020-21 academic school year. In order to ensure a safe transition, the CDC published their suggested recommendations for re-opening K-12 schools and camps in their May report, "CDC Activities and Initiatives Supporting the COVID-19 Response and the President's Plan for Opening America Up Again."
Curious about the environment our children will encounter when school resumes, I read the CDC's suggestions. The introductory paragraph to the four-page section on "Interim Guidance for Schools and Day Camps" states that they're providing these "following recommendations to keep communities safe while resuming peer-to-peer learning and providing crucial support for parents and guardians returning to work."
The CDC recommends a three-step process that will allow for "a gradual scale up of operations" at K-12 schools. The restrictions and guidelines will decrease as schools move from Step 1 to Step 3. All schools will fall into one of these three steps and some form of effort to slow the spread of the coronavirus will remain in place until a vaccine or therapeutic drug is readily accessible.
Step 1: Schools remain closed and e-learning continues.
Step 2: Schools open with increased guidelines for children in the surrounding areas only.
Step 3: Schools open with less restrictive guidelines for children from areas with low transmission rates of the coronavirus.
After reading the CDC's suggestions and recommendations for re-opening schools, there were some items that jumped off the page at me. (It is important to note that the CDC does not set the guidelines for schools reopening; state and county/city governments determine those.)
Teachers and staff should wear face masks (or something similar), while students should be encouraged to wear them (Steps 1-3).
Students should stay in the same group/classes as much as possible throughout the day without mixing (Steps 1-3).
All gatherings, events, and extracurricular activities should be limited to those in which social distancing, proper hand hygiene, and attendance regulation can be enforced (Steps 1-3).
Seats and desks should be spaced at least six feet apart from each other (Steps 1-2), if possible (Step 3).
Desks should all face the same direction and/or students should all sit on the same side of tables (Steps 1-2).
If possible, cafeterias and playgrounds should remain closed. If not, they should be used on a staggered basis and disinfected after every use (Steps 1-3).
Meals should be served in classrooms (Steps 1-2).
Arrival and drop-off times or locations should be staggered (Steps 1-3).
Wherever possible, students should sit one per seat every other row on school buses (Steps 1-2).
When our children finally return to school, it will likely be in a different environment. While I can't say whether or not it's safe for students and staff to return to school (I'll leave that up to the governments and school administrations to determine), there are two things I can do: 1. Make sure my boys adhere to whatever guidelines and restrictions are in place, and 2. Pray.
Please join me in a short prayer for the safe re-opening of schools, the safety of our students and school staff, and our country:
Almighty God, we come to You in this time of uncertainty. We pray that Your direction and knowledge be bestowed upon those responsible for the decision regarding re-opening our schools. May the students and staff be blanketed with Your unwavering love and grace as they return to the unknown. Please be with each and every one of us and help us remember that You are with us at all times, both good and bad. We pray that when schools re-open, they're filled with learning, growth, and joy rather than fear, sadness, and anxiety. Lord, as a country, we seek Your guiding hand to watch over us, heal us, and protect us. As the Great Physician and Teacher, let us look to You for guidance and protection, not only now, but forever. In your heavenly name we pray, Amen.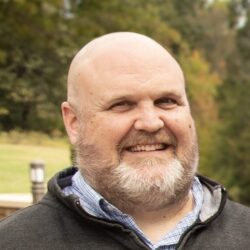 John Farrell is the Digital Content Manager for www.inspiration.org. In addition to having written more than 1,000 articles, press releases, and other pieces of content for Inspiration Ministries, NASCAR, Lionel, and Speed Digital, he authored The Official NASCAR Trivia Book: With 1,001 Facts and Questions to Test Your Racing Knowledge in 2012. John is a graduate of Appalachian State University and lives in Concord, N.C., with his wife and two sons.
View Author Posts
Next Steps To Strengthen Your Walk
We are here for you. Simply click on the button below to reach us by form, email or phone. Together we will lift our hearts and voices with you in prayer.
I Need Prayer
Sow a seed of faith today! Your generous gift will help us impact others for Christ through our global salvation outreach and other faith based initiatives.
Give Online Today
Watch Christian content from your favorite pastors, christian movies, TV shows and more.
Watch Now